Spanish Language I
西班牙語課程 第一級
---
Lifelong Learning Office (LLO) is offering a course to students who interested in studying Spanish. In this course, the students will acquire basic vocabulary and practice reading, speaking, listening and writing and they will learn to have a simple conversation on an everyday topic, such as family, work and holidays. Knowledge of Spanish and Latin American culture, life and facts will be also transmitted within the course. After finishing this course, the students are halfway through the A1 level according to Common European Framework of Reference for Languages.
Key Features:
Communication and interaction oriented
Interdisciplinary aspect
Focused on students' needs
Balanced exercising of all language skills
Learning with modern technologies
Creativity
Friendly atmosphere
Learning Outcomes:
To pronounce correctly
To introduce themselves and their family
To use and understand basic vocabulary – greetings, numbers, colors, etc.
To have a simple basic conversation on familiar topics
To write a short simple text
---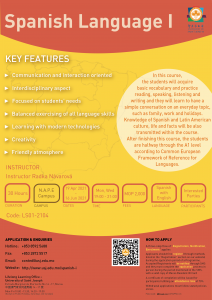 Instructor: Instructor Radka Návarová
Duration: 30 Hours
Campus: NAPE Campus
Date: 19 April 2021 – 16 June 2021 (03, 19 May and 14 June excluded)
Time: Mon, Wed 19:00 – 21:00
Fee: MOP 2,000
Language: Spanish (with English)
Participants: General Public
Delivery of Mode: Face-to face Lecture
The D.S.E.D.J. 2020-2023 Continuing Education Development Subsidy Scheme is NOT available for this course.
---
HOW TO APPLY
A three-step flow of "Registration, Notification, Enrolment" applies.
Applicants should first register (through methods listed in the "Registration" section on our website) during the application period of a Programme. Accepted Registrants will be notified through SMS and they must complete the application process in person during the period mentioned in the SMS, with a valid copy of Macao Resident ID Card.
A certificate of completion will be issued for participants fulfilling an attendance rate of 70%.
Withdrawal applications must follow stated policies.
Remark: Programmes may be cancelled due to insufficient registration.