Matriculation Information
Matriculation is the formal process of admitting students to the University of Saint Joseph (USJ). Please find below the Matriculation Information to complete applications to all USJ degree and non-degree programmes.
If there is any question about how to complete the matriculation, please contact the Academic Affairs Office – Academic Records by email (acadrecords@usj.edu.mo) or telephone (+853 8592 5744). The office hours are from 09:00 to 19:00, Monday to Friday, except public holidays.
---
Matriculation Venue:
Matriculation Period:



     The following timeline maybe subject to change:

Fall Semester: around July to August
Spring Semester: around December to January

Documents required for matriculation:

Photo – please confirm the uploaded photo is suitable for your student card via your online admission portal

.

Identification Document or Passport

– original and one copy, both sides of an ID card on the same page.

Transcript

– original and one copy; for information about the entry requirement please refer to

Admission Handbook

.

Diploma

– original and one copy.

Tuition Fee Payment Slip
Vaccination Certificate

– original and one copy; please refer to

Appendix 1

for details.

Health Certificate Form*

– download Form

here

.

CV

– in English, only applicable to Master and Doctoral students.

Student Health Insurance

– only applicable to non-local students.


*Note: Newly admitted students must complete all the required medical examination. A blank form for Health Certificate is sent to the applicant with the acceptance letter, and the medical assessment (the 2nd page of the Health Certificate Form) must be completed by the hospital, accredited medical clinic or Macao Health Bureau. The University reserves the right to revoke acceptance to an applicant if s/he is reported to be unfit to study. The medical assessment is valid for three months.
---
Matriculation Flowchart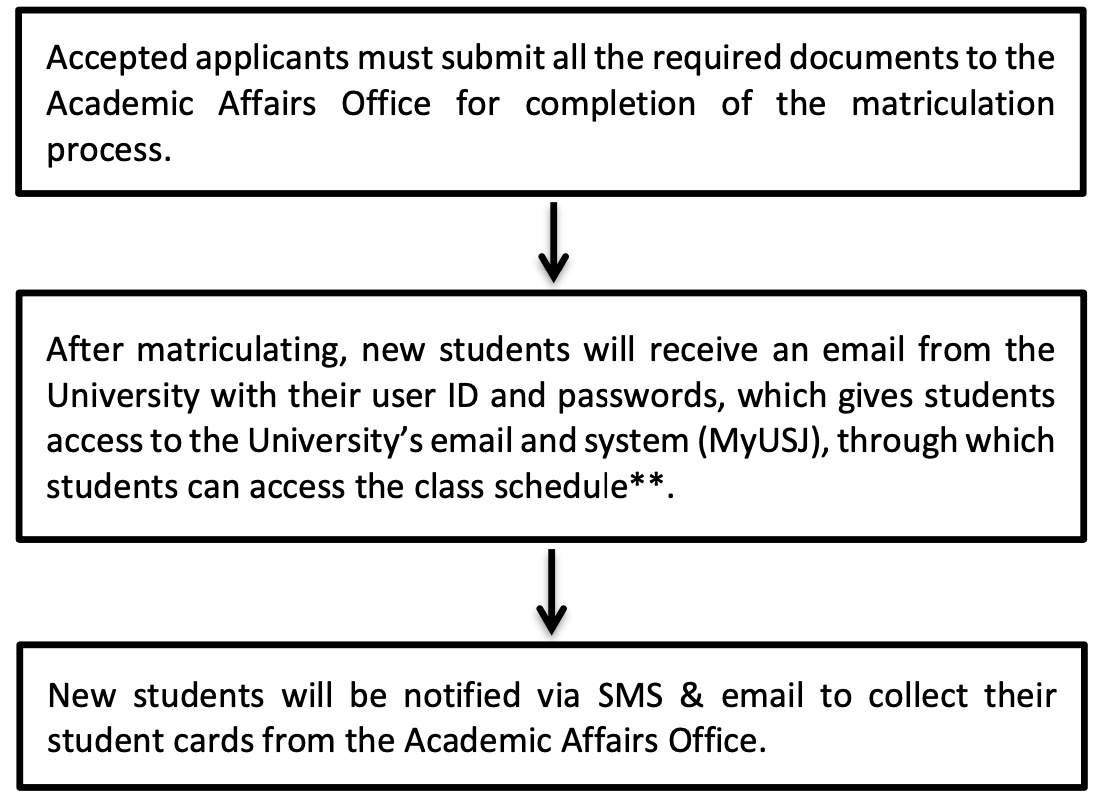 **NOTE: The class schedule for the 1st semester will be available on the MyUSJ system at the end of August every year.