Japanese – Basic III
日語課程 第三級
---
---
[Notice – Updated on 25 March 2020]
Course resumption for "Japanese Basic III" has been confirmed, the resumption arrangement details and guidance have been sent to participants' E-mail, please check. In order to prevent Novel Coronavirus infection, participants are invited to comply with the regulations "Arrangements for Class Resumption for the Lifelong Learning Programmes" issued by our Office. Relevant information will be sent to participants' E-mail, please take a look and follow its arrangement.
If you have any questions, please contact us at Tel: (+853 8592 5688) or E-mail (conted@usj.edu.mo). Operation hours for enquiry services (Hotline and E-mail) have been adjusted temporarily as 10:00—13:30; 14:30—18:00 (Monday to Friday, closed on Saturdays, Sundays and Public Holidays).
Once again, thank you for your patience and understanding.
University of Saint Joseph Lifelong Learning Office
[通告 — 更新於2020年03月25日]
"日語課程 第三級"已確定復課,復課安排詳情及指示已發送到閣下的電子郵箱,請查閱。為預防新型冠狀病毒感染,請各參與持續進修教學活動的學員須遵從由我部發出的《持續進修課程復課指引》,相關指引將以電郵形式發送到學員的電子郵箱,敬請 閣下細閱及遵守其安排。
如有任何疑問,歡迎致電話(+853 8592 5688)或電郵(conted@usj.edu.mo)聯絡。查詢服務(電話熱線及電郵)服務時間亦暫時作出調整,最新服務時間為:星期一至五 10:00 – 13:30 ; 14:30 – 18:00(星期六、日及公眾假期除外)
再一次 感謝閣下的耐心等候及諒解!
聖若瑟大學持續進修部謹啓
---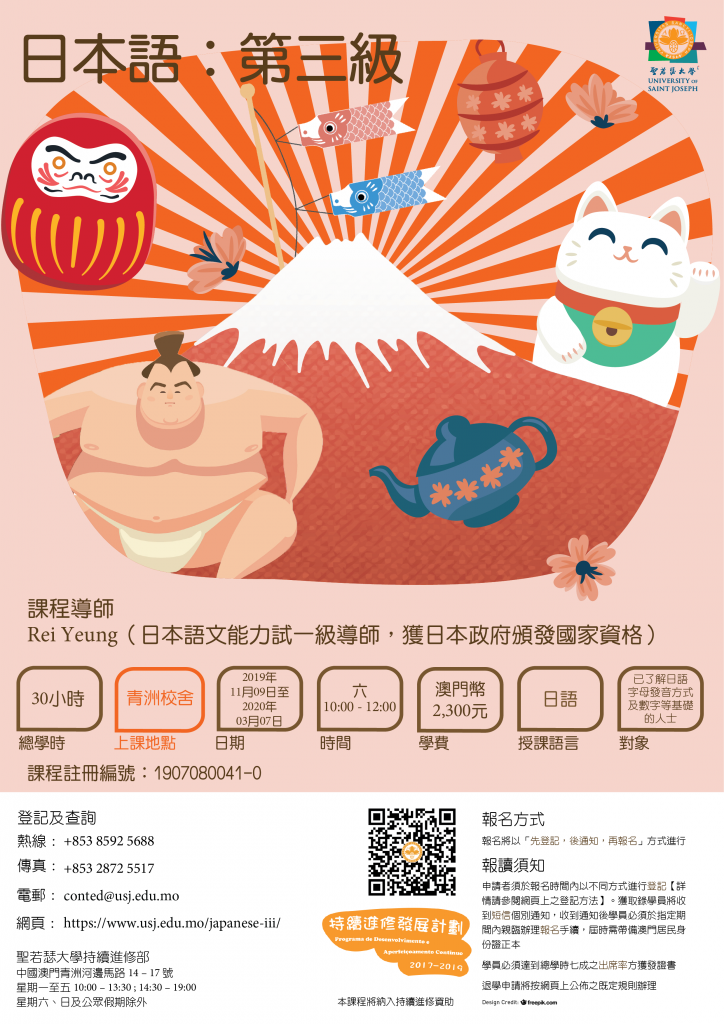 ---
課程概述及目標
本課程為已接觸日語一段時間的學員而設。課程會以「溝通教學法」及「直接教授法」去教授日語,全方位提升學員整體日語的「聽」、「講」、「讀」、「寫」能力,配以簡單易明的講義,由簡單的句子開始慢慢去理解日語的文法結構。導師亦會透過分享居日時的各種經歷,讓學員了解書本外的日本文化,從而增加對日語的興趣。
課程概述:
– 正確表達自己對事物的意見
– 說明自己去某地方的目的
– 敘述事情的發生順序及經過
– 簡單描述事物的外在特徵
– 尋求其他人的幫忙或協助
– 表達自己的能力及不足
– 能用日語書寫較長篇的文章
評分方法
作業 Course Work / Assignment——————————————————— 20%
測驗 Test——————————————————————————————– 30%
考試 Final Examination———————————————————————  50%
---
HOW TO APPLY
A three-step flow of "Registration, Notification, Enrolment" applies.
Applicants should first register (through methods listed in the "Registration" section on our website) during the application period of a Programme. Accepted Registrants will be notified through SMS and they must complete the application process in person during the period mentioned in the SMS, with a valid copy of Macao Resident ID Card
A certificate of completion will be issued for participants fulfilling an attendance rate of 70%
Withdrawal applications must follow stated policies
Click here to know more: click here
---
報名安排將以「先登記,後通知,再報名」方式進行。
申請者須於報名時間內以不同方式進行登記【詳情請參閱網頁上之登記方法】。獲取錄學員將收到短信個別通知,收到通知後學員必須於指定期間內親臨辦理報名手續,屆時需帶備澳門居民身份證正本
學員必須達到總學時七成之出席率方獲發證書
退學申請將按網頁上公佈之既定規則辦理
【詳情請參閱登記方法】 點擊此處