USJ HARDSHIP FUND | Donate to Support our Students in Need
1004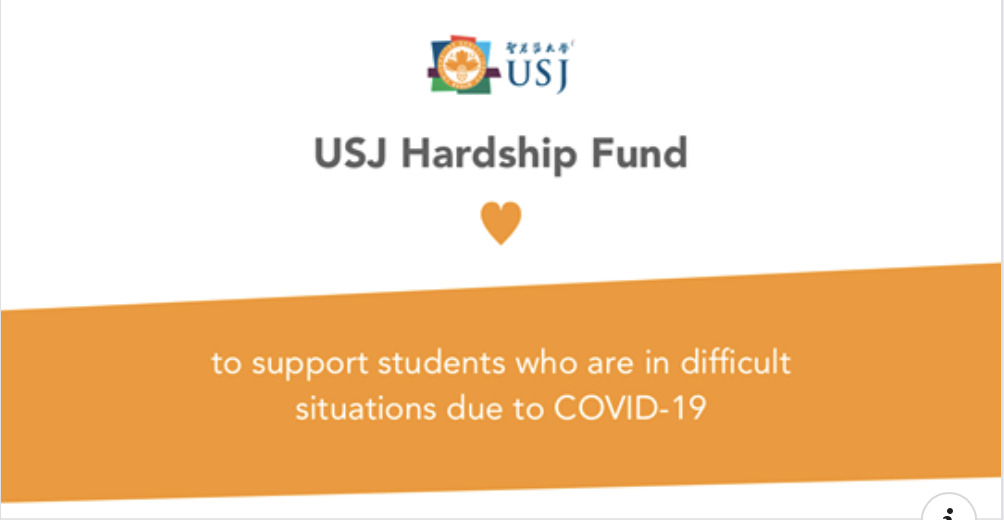 news
USJ HARDSHIP FUND | Donate to Support our Students in Need
01/01/1970
USJ HARDSHIP FUND | Donate to Support our Students in Need
---
---
The University of Saint Joseph (USJ) would like to send our heartfelt gratitude to all USJ Hardship Fund donors for offering financial assistance to the USJ students being negatively impacted by COVID-19 pandemic.
In April 2020, four international students received financial support from the Fund and the University has received requests for assistance from a growing number of students who are struggling financially. Thus, your continuous support of the USJ Hardship Fund is greatly contributing to the wellbeing of our students.
How to Donate
Please make your donation by clicking here! For further information, please contact the Office for Student and Alumni Affairs (OSAA) via email (osaa@usj.edu.mo) or telephone (+853 8592 5699).
How to Apply
USJ students (including both Local and International Students) can download the application form and return the completed form to OSAA via osaa@usj.edu.mo. USJ will evaluate applications on a case-by-case basis, and all information will be kept confidential.
---
The present Coronavirus Pandemic and its consequent preventive measures are having a dramatic effect on some students' to sustain themselves financially.
This is especially true of some of our international students. They chose Macao to pursue their Higher Education studies but now find the revenue from their home country compromised and they are not permitted to work locally. Some are unable to pay full tuition, housing and, in more extreme cases, food.
To tackle this serious problem, the University established the USJ Hardship Fund to collect online donations that will support any students in exceptionally difficult situations. It is being managed by our Scholarship and Fellowship Committee with the regular publishing of audited reports. The list of beneficiaries is strictly confidential and all beneficiaries must receive support from USJ's Counselling Centre.
---