Spanish Basic III
西班牙語課程 第三級
---
---
[Notice – Updated on 04 April 2020]
"Spanish Basic III" course will be maintained online distance teaching method, the latest arrangement details and guidance have been sent to participants' E-mail, please check. Face-to-face teaching resumption for this course is still suspended until further notice.
If you have any questions, please contact us at Tel: (+853 8592 5688) or E-mail (conted@usj.edu.mo). Operation hours for enquiry services (Hotline and E-mail) have been adjusted temporarily as 10:00—13:30; 14:30—18:00 (Monday to Friday, closed on Saturdays, Sundays and Public Holidays).
Thank you very much for your understanding.
University of Saint Joseph Lifelong Learning Office.
[通告 — 更新於2020年04月04日]
"西班牙語課程 第三級"將繼續維持網上授課形式進行,最新安排詳情及指示已發送到閣下的電子郵箱,請查閱。有關此課程面授復課安排,我部會視乎實際情況再向各學員作出通知。
如有任何疑問,歡迎致電話(+853 8592 5688)或電郵(conted@usj.edu.mo)聯絡。查詢服務(電話熱線及電郵)服務時間亦暫時作出調整,最新服務時間為:星期一至五 10:00 – 13:30 ; 14:30 – 18:00(星期六、日及公眾假期除外)
感謝 閣下的諒解!
聖若瑟大學持續進修部謹啓
---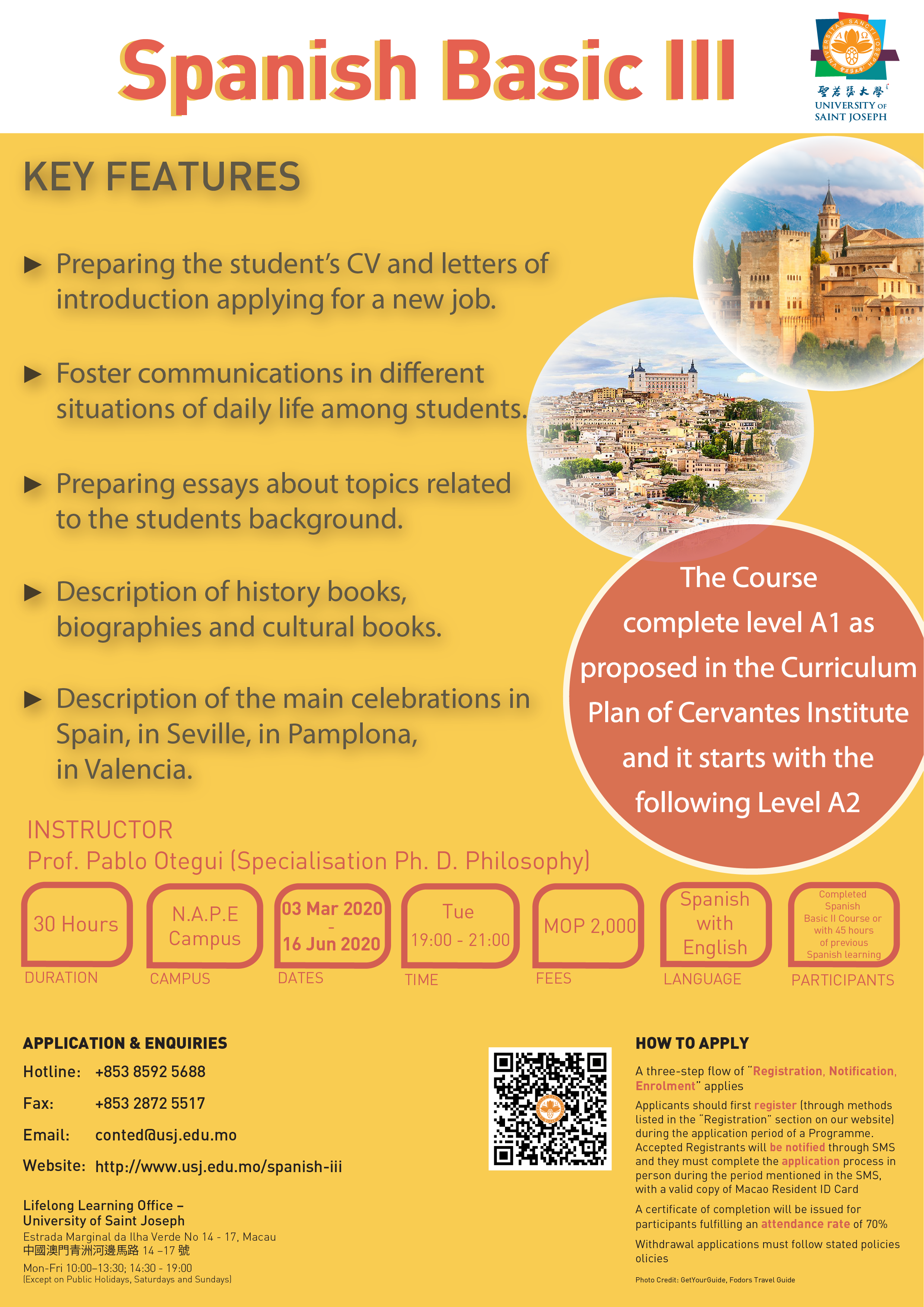 ---
HOW TO APPLY
A three-step flow of "Registration, Notification, Enrolment" applies.
Applicants should first register (through methods listed in the "Registration" section on our website) during the application period of a Programme. Accepted Registrants will be notified through SMS and they must complete the application process in person during the period mentioned in the SMS, with a valid copy of Macao Resident ID Card
A certificate of completion will be issued for participants fulfilling an attendance rate of 70%
Withdrawal applications must follow stated policies
Click here to know more: click here
---
報名安排將以「先登記,後通知,再報名」方式進行。
申請者須於報名時間內以不同方式進行登記【詳情請參閱網頁上之登記方法】。獲取錄學員將收到短信個別通知,收到通知後學員必須於指定期間內親臨辦理報名手續,屆時需帶備澳門居民身份證正本
學員必須達到總學時七成之出席率方獲發證書
退學申請將按網頁上公佈之既定規則辦理
【詳情請參閱登記方法】 點擊此處