MRI Event | The Contemplation and leadership course 2018 | 靈修與領導力課程2018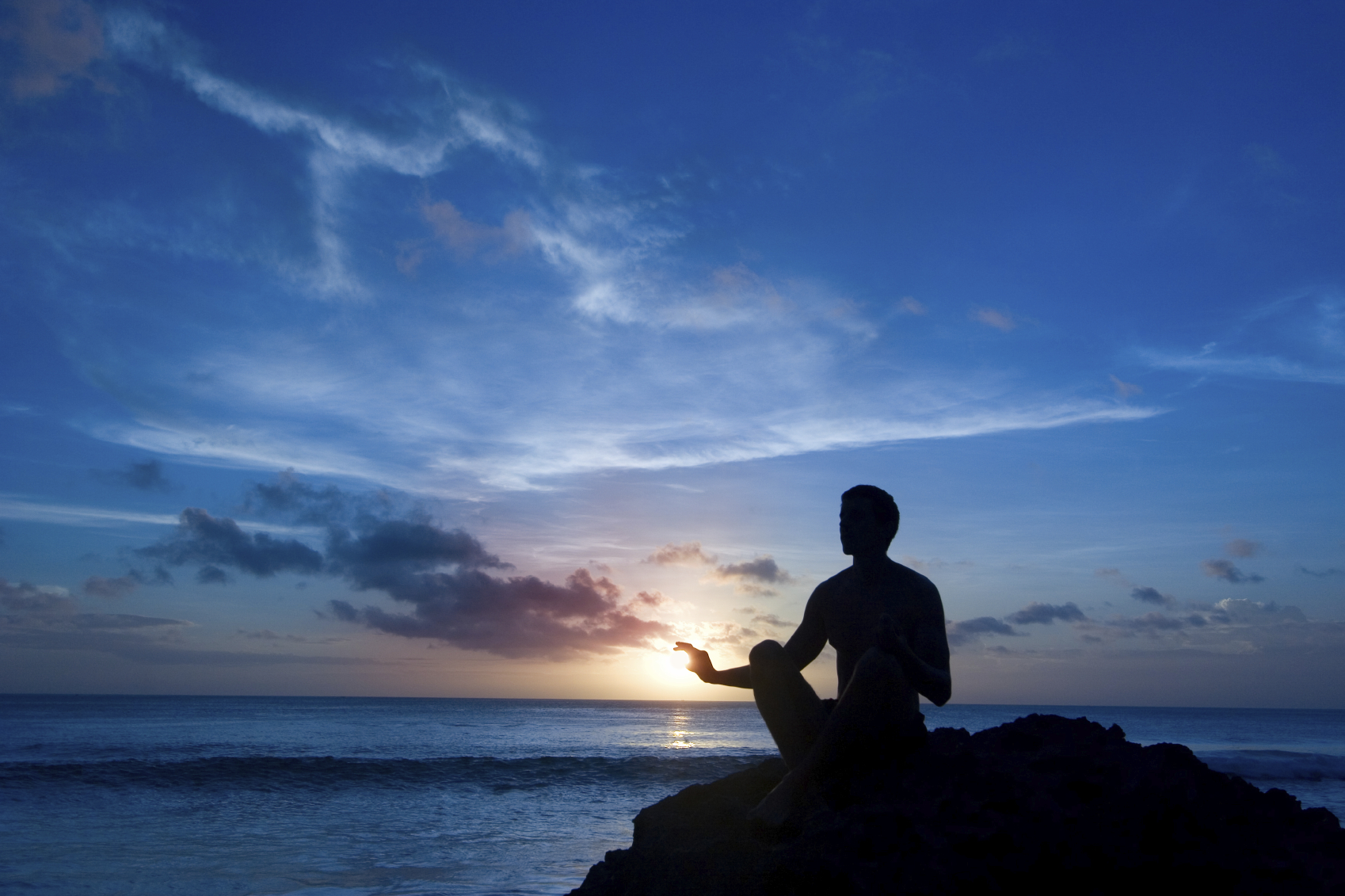 event
MRI Event | The Contemplation and leadership course 2018 | 靈修與領導力課程2018
MRI Event | The Contemplation and leadership course 2018 | 靈修與領導力課程2018
---
---
The Macau Ricci Institute is organising a subject course aiming to offer a way to release stress for people in the midst of a busy life by opening a space of inner silence and emptying one's mind from negative thoughts. Based on the key elements of the Spiritual Exercises of Ignatius Loyola (1491-1556), Contemplation is done with biblical texts, images and symbols as well as with mantras. The Contemplation and Leadership course will be separated into two parts, with two identical sessions offered for each on different dates as follows:
The Contemplation and leadership course 2018 is now accepting applications!
靈修與領導力課程2018現正接受報名!
The next Contemplation and Leadership course will be held on the following date:
FOCUS on VOCATION & COMMITMENT TO THE COMMON GOOD
Date & Time   : Saturday, 12 January 2019; 10:00 a.m. – 5:30 p.m.
Venue              : Cheoc Van Conference Center (Estrada de Cheoc Van no. 748, Coloane, Macao)
Language        : English / Mandarin
Instructor        : Dr. Stephan Rothlin S.J.
Course fee       : MOP 500 (Light meal included)
The one-day course aims to offer the key focus of the Spiritual Exercises by Ignatius Loyola on finding its own personal vocation and passion. The daily practice of Contemplation frees naturally from navel gazing and shapes the qualities of genuine moral leaders who are committed to the good of the greater society.
主題:對大眾利益的使命與承諾重點剖析
日期及時間         :2019年1月12日; 上午10時至下午5時30分
上課語言             :英語 / 普通話
地點                      :竹灣會議中心 (澳門路環竹灣馬路748號)
導師                      :羅世範博士 (耶穌會士)
費用                      :澳門幣 500元 (費用包含午飯簡餐)
課程旨在通過打開內心寧靜的空間,清空參加者內心消極的想法,為忙碌的都市人釋放壓力,同時亦解釋靈修學如何在基督教的傳統、耶穌的禱告中被開展,並有助加深參加者對自己心靈的瞭解。此外,靈修學亦對其他傳統宗教、如佛教、伊斯蘭教、道教和儒家等打開了一扇門、引領人們認識真正的靈修。
提供由靈修學大師Ignatius Loyola提出的精神和心靈上的鍛鍊、探索對自身使命及熱情的過程所發現的關鍵要素。 在日常的靈修練習中,透過真正的沉思,認識真正的自我,從沉澱的心靈中孕育出具備真正的道德,為社會負責的仁德領袖。
Online Application form 網上報名連結 : https://goo.gl/forms/SnlrAvthYl0OMsCJ2
Please feel free to contact Ms. Sofia Sou via Email: sofiasou@riccimac.org or 8592 5638 during the office hours (Mon to Fri: 9:00am-1:00pm; 2:30pm-6:00pm, Public Holidays: Closed) for further information.  Thank you.
活動報名表及詳情請查閱附件,如有查詢,可透過電郵  sofiasou@riccimac.org 或於辦公時間內(週一至週五: 9:00am-1:00pm; 2:30pm-6:00pm, 公眾假期休息) 致電 8592 5638聯絡本社蘇小姐,謝謝。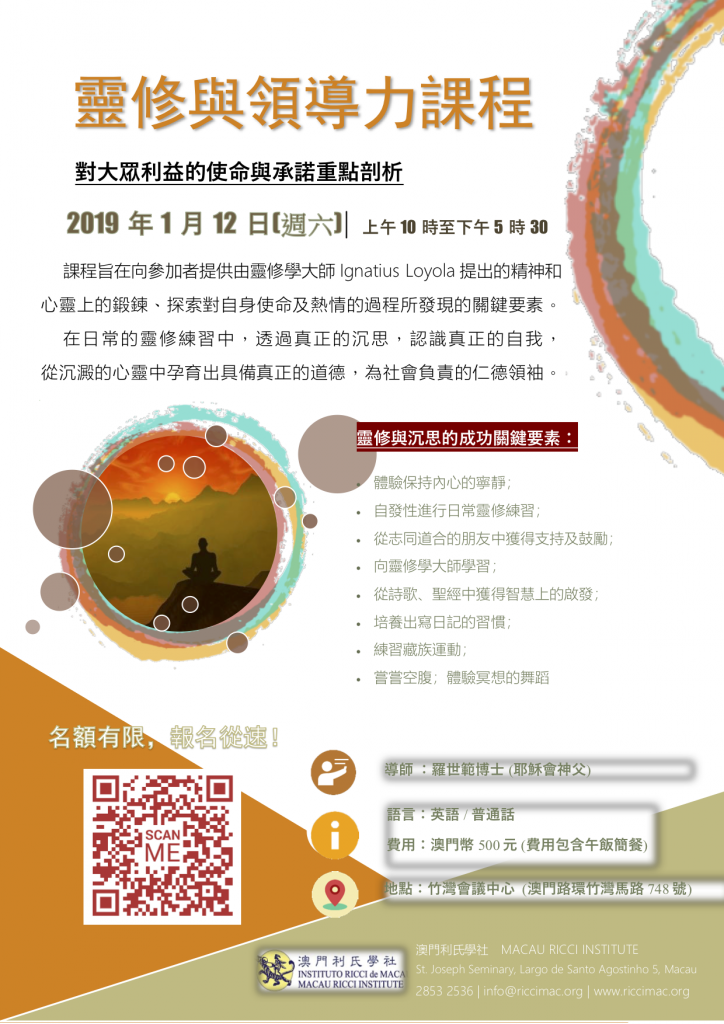 English Application Form (download here)
Chinese Application Form (download here)
---