Public Lecture: Sign Bilingualism and Co-enrolment in Inclusive Education for the Deaf
event
Public Lecture: Sign Bilingualism and Co-enrolment in Inclusive Education for the Deaf
Public Lecture: Sign Bilingualism and Co-enrollment in Inclusive Education for the Deaf by SED on 12th May 2017
---
---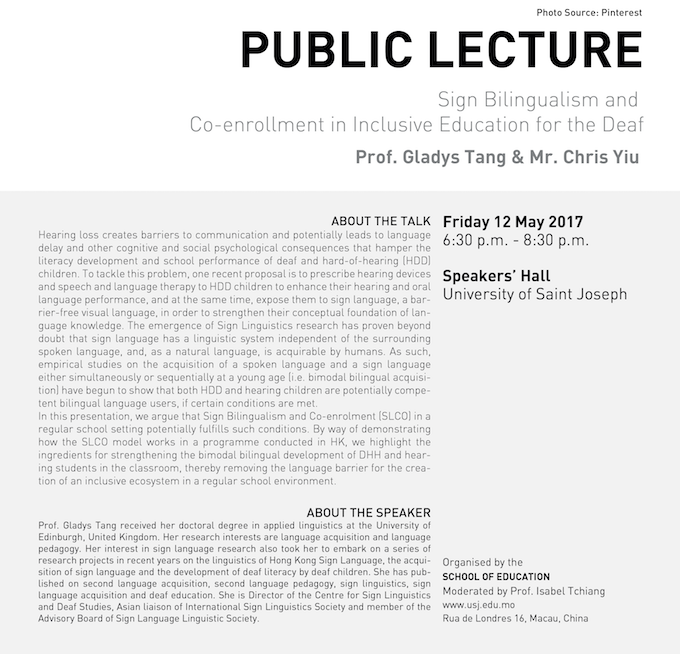 About the Talk
Hearing loss creates barriers to communication and potentially leads to language delay and other cognitive and social psychological consequences that hamper the literacy development and school performance of deaf and hard-of-hearing (HDD) children. To tackle this problem, one recent proposal is to prescribe hearing devices and speech and language therapy to HDD children to enhance their hearing and oral language performance, and at the same time, expose them to sign language, a barrier-free visual language, in order to strengthen their conceptual foundation of language knowledge. The emergence of Sign Linguistics research has proven beyond doubt that sign language has a linguistic system independent of the surrounding spoken language, and, as a natural language, is acquirable by humans. As such, empirical studies on the acquisition of a spoken language and a sign language either simultaneously or sequentially at a young age (i.e. bimodal bilingual acquisition) have begun to show that both HDD and hearing children are potentially competent bilingual language users, if certain conditions are met.
In this presentation, we argue that Sign Bilingualism and Co-enrolment (SLCO) in a regular school setting potentially fulfills such conditions. By way of demonstrating how the SLCO model works in a programme conducted in HK, we highlight the ingredients for strengthening the bimodal bilingual development of DHH and hearing students in the classroom, thereby removing the language barrier for the creation of an inclusive ecosystem in a regular school environment.
About the Speaker
Prof. Gladys Tang received her doctoral degree in applied linguistics at the University of Edinburgh, United Kingdom. Her research interests are language acquisition and language pedagogy. Her interest in sign language research also took her to embark on a series of research projects in recent years on the linguistics of Hong Kong Sign Language, the acquisition of sign language and the development of deaf literacy by deaf children. She has published on second language acquisition, second language pedagogy, sign linguistics, sign language acquisition and deaf education. She is Director of the Centre for Sign Linguistics and Deaf Studies, Asian liaison of International Sign Linguistics Society and member of the Advisory Board of Sign Language Linguistic Society.
---