Public Lecture & Screening – Environmental Sustainability in Documentaries and in Christianity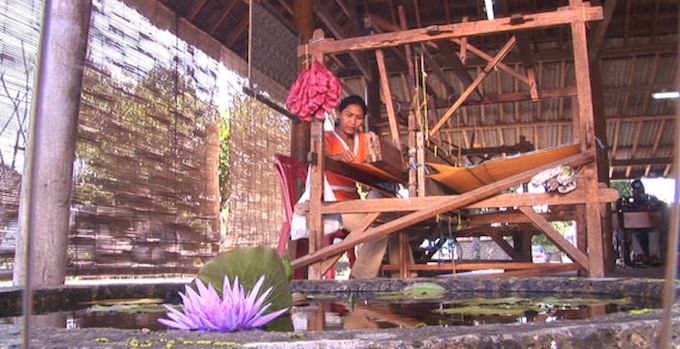 event
Public Lecture & Screening - Environmental Sustainability in Documentaries and in Christianity
Public Lecture & Screening – Environmental Sustainability in Documentaries and in Christianity by FCI on 28th and 29th September 2016
---
---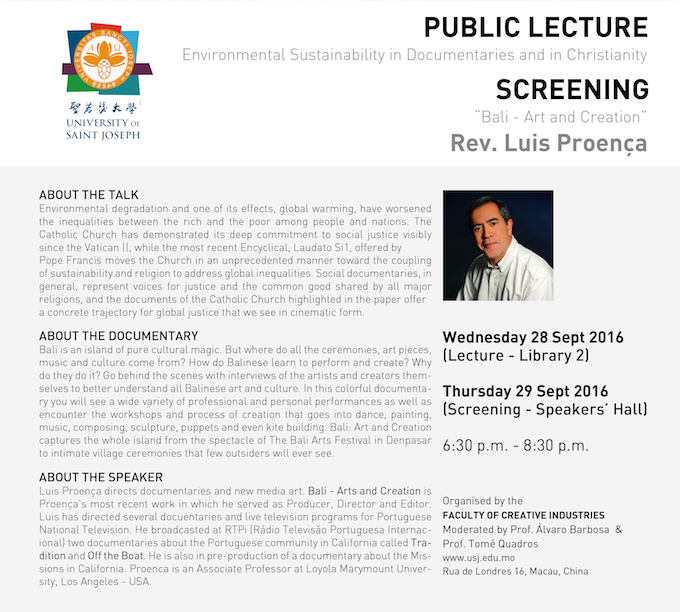 About the Talk
Environmental degradation and one of its effects, global warming, have worsened the inequalities between the rich and the poor among prople and nations. The Catholic Church has demonstrated its deep commitment to social justice visibly since the Vatican ||, while the most recent Encyclical, Laudato Si1, offered by Pope Francis moves the Church in an unprecedented manner toward the coupling of sustainability and religion to address global inequalities. Social documentaries, in general, represent voices for justice and the common good shared by all major religions, and the documents of the Catholic Church highlighted in the paper offer a concrete trajectory for global justice that we see in cinematic form.
About the Movie
Bali is an island of pure cultural magic. But where do all the ceremonies, art pieces, music and culture come from? How do Balinese learn to perform and create? Why do they do it? Go behind the scenes with interviews of the artists and creators themselves to better understand all Balinese art and culture. In this colorful documentary you will see a wide variety of professional and personal performances as well as encounter the workshops and process of creation that goes into dance, painting, music, composing, sculpture, puppets and even kite building. Bali: Art and Creation captures the whole island from the spectacle of The Bali Arts Festival in Denpasar to intimate village ceremonies that few outsiders will ever see.
About the Speaker
Luis Proença directs documentaries and new media art. Bali – Arts and Creation is Proença's most recent work in which he served as Producer, Director and Editor. Pukiki – The Portuguese Americans of Hawaii was internationally broadcast over five continents on RTPi (Rádio Televisão Portuguesa Internacional) and was an
Offical Selection of the Hawaiian International Film Festival (October 2003). His
documentary, Touchstone – The Rock Art of Côa Valley concerns rare forms of art produced 20,000 years ago and it has been distributed in Europe. Luis has directed live television programs for Portuguese National Television. He broadcasted at RTPi (Rádio Televisão Portuguesa Internacional) two documentaries about the Portuguese community in California called Tradition and Off the Boat. He is also in pre-production of a documentary about the Missions in California. Proenca is an Associate Professor at Loyola Marymount University, Los Angeles – USA.
---