FSSE Forum of Psychology 2021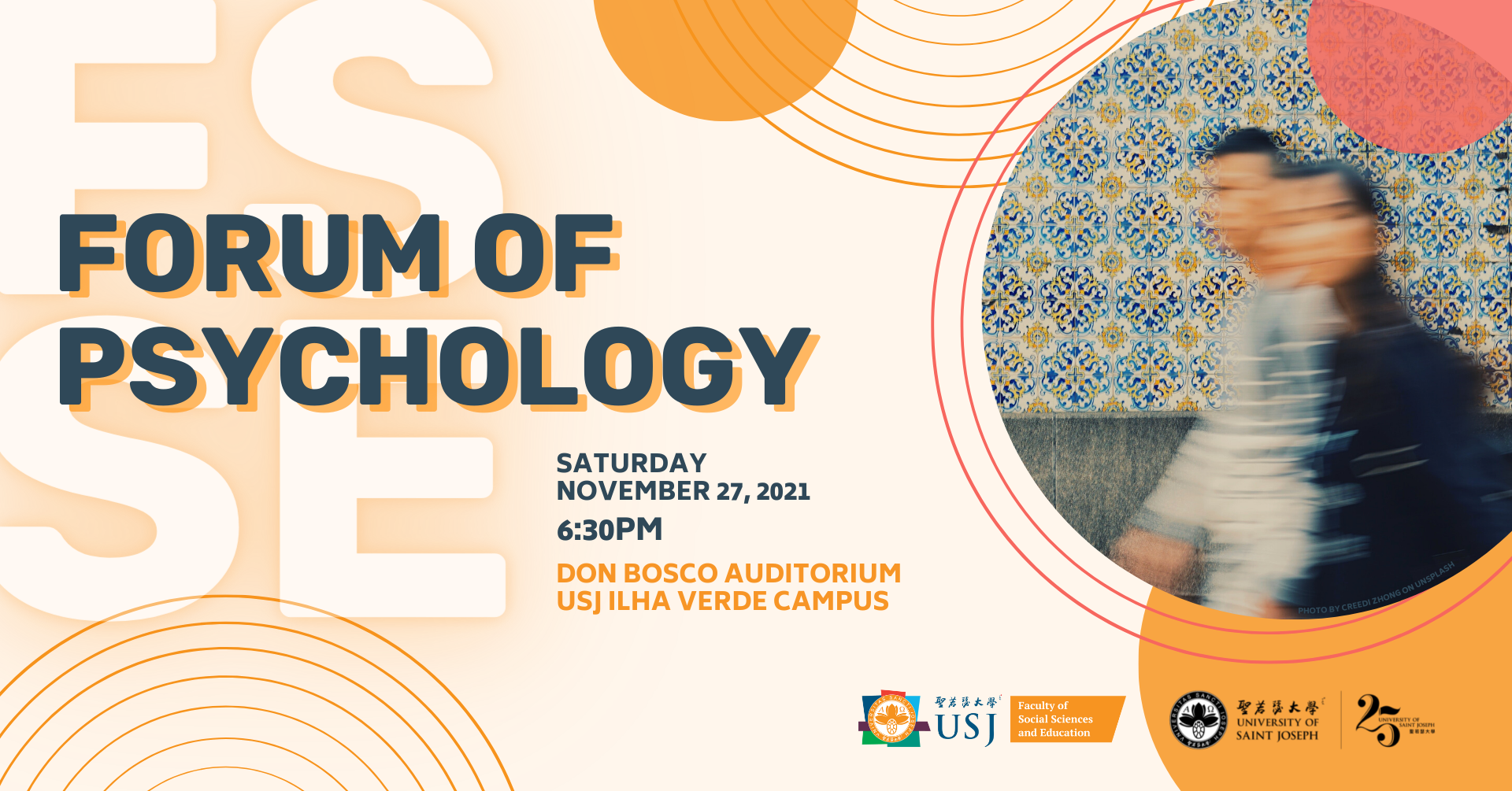 event
FSSE Forum of Psychology 2021
FSSE's Department of Psychology will hold the Forum of Psychology 2021 on November 27 with the aim of empowering and inspiring students in the field of Psychology.
---
---
The Forum of Psychology* is an annual event organised by the Department of Psychology (DPY) of the Faculty of Social Sciences and Education (FSSE). This year, it will take place on Saturday, November 27, at the Don Bosco Auditorium of the University of Saint Joseph's Ilha Verde Campus, at 6:30PM.
The main purpose of the event is to empower and inspire Psychology students, facilitating a space where the second year of the Master of Counselling and Psychotherapy (MCP) and the Master of Organisational Psychology (MOP) can present and share their research projects. Students will have the opportunity to practice communication skills that will come in handy for their oral defences, while inspiring Bachelor of Psychology students, potential Master students, and increasing awareness of what it takes to conduct a Master-level research project.
The event will kick-off with the presentation of the best DPY Master dissertations of the 2020/2021 Academic Year, followed by PhD student Ms. Jacqueline Leong, who will present her ongoing research on "Gambling Environment And The Risk For Gambling Addiction: A Bioecological Perspective On The Role Of Adolescents' Beliefs And Value System". After a Q&A session, a networking opportunity will be facilitated with refreshments, whilst participants are free to learn more about the research projects of the year 2 MCP and MOP students through the scientific posters on display.
The Forum of Psychology is mainly organised for the DPY community (students, alumni, professors, and strategic partners) but it is also open to the remaining FSSE members, the University of Saint Joseph and the general public that are interested in the field of Psychology.
We hope you can join us!
*The event began in 2016 as the Forum of Counselling and Psychotherapy (FCP), solely with students of the MCP. With the creation of the MOP in 2018, the event was expanded to include MOP students in 2020, having been rebranded this year as Forum of Psychology.
---
Details:
Date: November 27, 2021 (Saturday)
Time: 6:30PM – 8:30PM
Location: Don Bosco Auditorium, Academic Building G/F, USJ Ilha Verde Campus
Rundown:
6:30PM – Presentation of the Best DPY Master Dissertations (2020/2021)
MCP Graduate Mr. Van Hou Wai, Jason: "The Role of Cognition as a Mediator for Narcissism and Trait Aggression as Predictors of Aggressive Driving Behaviour"
MOP Graduate Ms. Cheong Lai Ieng, Natalie: "The Mediation Effect of Organisational Commitment on Job Autonomy and Turnover Intentions"
7:00PM – Presentation by PhD Student Ms. Jacqueline Leong on her ongoing research study "Gambling Environment and the Risk for Gambling Addiction: A Bioecological Perspective on the Role Of Adolescents' Beliefs and Value System"
8:00PM – Scientific Poster and Network Opportunity with Refreshments
---