USJ celebrated the Easter Mass at the Holy Cross Chapel
news
USJ celebrated the Easter Mass at the Holy Cross Chapel
On 6 May 2019, the Easter Mass was held at the Ilha Verde Campus of USJ, celebrated by the Bishop of Macao and Chancellor of USJ, His Excellency Bishop Stephen Lee Bun Sang
---
---
Last Friday, 6 May 2019, the Easter Mass was held at the Ilha Verde Campus of the University of Saint Joseph (USJ) at 3:30 pm. The mass was celebrated by the Bishop of Macao and Chancellor of USJ, His Excellency Bishop Stephen Lee Bun Sang, at the Holy Cross Chapel with staff and students.
In the homily, the Bishop explained the meaning of Easter and the role of the staff and students of USJ as a Catholic institution. Through the first book of the New Testament, he emphasised that each of us is given a specific mission to carry out to witness the mystery of Christ's resurrection, "Come unto me, all ye that labour and are heavy laden, and I will give you rest" (Matthew 11:28). In his words, "We seldom believe that we are valuable to the society and community", the Bishop expressed his sincere concern for all. With the intention to encourage the USJ Catholic community, he reiterated the significance of having a courage with the popular verse from the Gospel of Luke. "But even the hairs of your head are counted. Do not be afraid; you are of more value than many sparrows" (Luke 12:7).
On 10th May, the Official Inauguration of the Saint Joseph Ilha Verde Campus will be held. The campus started operating in 2017 and earlier in March this year, the Ilha Verde campus celebrated the blessing with the presence of His Eminence Cardinal Fernando Filoni, the Prefect of the Congregation for the Evangelisation of Peoples.
The Official Inauguration will be followed by International Cultural Fair and Languages Day 2019, with the aim to provide an arena for sharing the values of international community in which the USJ students and staff are comprised of 50 different countries and nationalities.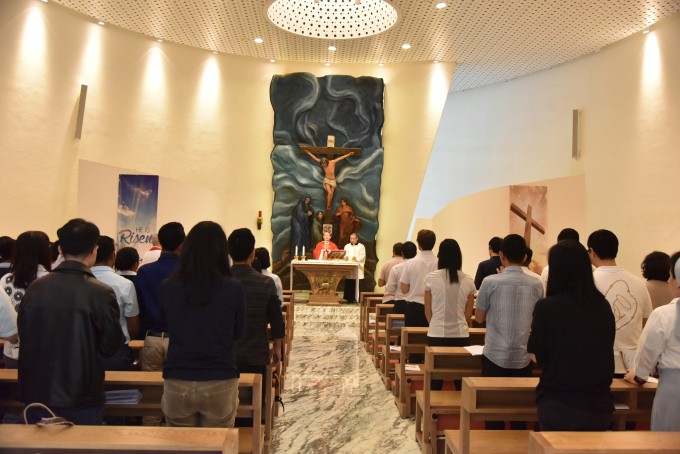 ---