USJ launches online social platform for Alumni: "USJ Connect"
1600
news
USJ launches online social platform for Alumni: "USJ Connect"
18/01/2021
"USJ Connect", the new online alumni social platform, is officially launched.
---
---
The University of Saint Joseph (USJ) officially launched the new online alumni social platform USJ Connect on the 18th of January, 2021.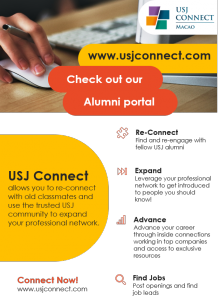 USJ Connect provides the following functions for USJ alumni to connect our alumni community together:
Building a complete alumni directory, allowing alumni to re-connect to the USJ community.
Have the latest job opportunity information.
USJ regularly publishes and invites alumni to participate in meet-ups, seminars and other activities, and encourages active engagements among alumni, including webinars hosted by subject matter experts on social networks, and other organic interaction opportunities created for alumni or created by alumni themselves.
Welcome to join this online alumni relation platform here. Please sign up in less than two minutes by registering with your Linkedin or Facebook profile, and the alumni can publish contents on the platform anytime.
---
"Welcome to USJ Connect, the new platform for networking for USJ Alumni.
The connection between a University and its students does not end with graduation. Our alumni are a lifelong part of our community and we take very seriously our lasting responsibility to you. We hope that you will find the opportunities USJ Connect offers you useful as you keep in touch with your fellow alumni, current and future students of USJ and, indeed, the whole University community."
The Rev'd Professor Stephen Morgan, Rector
University of Saint Joseph, Macao SAR, China
---