USJ and Japan's CIT Signed Cooperation Agreement
4608
news
USJ and Japan's CIT Signed Cooperation Agreement
01/01/1970
University of Saint Joseph and Japan's Chiba Institute of Technology Signed Cooperation Agreement on May 11, 2015
---
---
The University of Saint Joseph (USJ) signed an Agreement for Cooperation and Memorandum for Student Exchange with Chiba Institute of Technology, Japan on 11 May 2015. This agreement for cooperation lays the groundwork for future collaboration between the two institutions and strengthens the international standing of Macau's Higher Education.
A delegation from Chiba Institute of Techonology, the oldest private technical university in Japan, visited USJ in the morning of 11 May 2015. The delegation from Japan, headed by the President of Chiba Institute of Technology, Prof. Kazuhito Komiya, was warmly welcomed by USJ's Rector, Prof. Peter Stilwell, USJ's Dean of the Faculty of Creative Industry, Prof. Álvaro Barbosa, and Head of the Department of Architecture and Design, Prof. Thomas Daniell. The signing ceremony was held at USJ's main campus in NAPE area after representatives from both parties gave a brief presentation of their respective institutions. President Komiya expressed that he was looking forward to receiving USJ's students for exchange programmes in Japan, and to sending Japanese students to Macau to enhance both academic and cultural exchange.
The agreement between USJ and Chiba Institute of Technology allows for exploration of diverse models of cooperation, and encourages students and staff to undertake study visits and cultural exchange. This is in line with the current Higher Education strategy of Macau to develop the international standing of Macau's higher education institutions.
News Coverage:
Macao Daily News : http://www.macaodaily.com/html/2015-05/12/content_997175.htm
Journal Tribuna de Macau:  http://jtm.com.mo/ultimas/usj-sela-acordo-de-intercambio-instituto-japones/
QOOs: http://news.qoos.com/%E8%81%96%E5%A4%A7%E8%88%87%E6%97%A5%E5%A4%A7%E5%AD%B8%E7%B0%BD%E5%8D%94%E8%AD%B0-1897377.html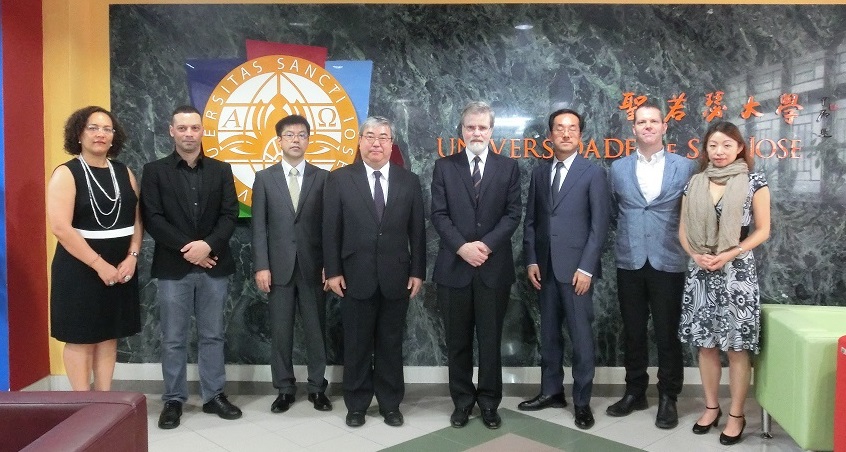 ---