The 8th University Scholars Leadership Symposium at the United Nations Bangkok
news
The 8th University Scholars Leadership Symposium at the United Nations Bangkok
News about the 8th University Scholars Leadership Symposium at the United Nations Bangkok
---
---
---
The 8th 2017 USLS was held at the United Nations Conference Centre, in Bangkok, Thailand. It was a one-week-training program for leadership development. The symposium brought together 907 motivated and compassionate delegates from around the world, more than 78 countries are represented.
The core objective of the symposium was to provide the next generation leaders the opportunity to learn to become effective and distinctive leaders. It also provided insights on how to sharpen our cutting edge, as next generation leaders to tackle the global challenges due to rapid developments, which include, but not limited to the rise of globalization, climate changes, poverty, economic growth, and concern over terrorism.
Reflective form Muhammad:
As a delegate, my horizon is broadened and motivated to reach out to the people in need starting with the local community. Various entrepreneurships and small scale business strategies were encouraged. It is also important to create awareness and brainstorm sustainable development projects to benefit local communities and empower each other. Building life and giving hope. Finally, it was a very good networking opportunity for delegates from different background to build relationship with common goals and respecting differences in religious and cultural beliefs. Personally, I am thrilled that I connect with many friends across the world.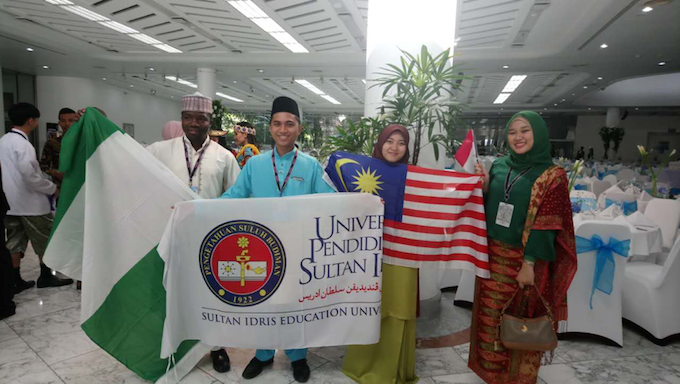 Reflective form Carman:
We all strive towards a future of global progress. In this journey, I have learnt not only how to make changes but to make them sustainable. I have also learnt about how important self-care is when we are trying to make the world a better place. I have better understanding on the humanitarian issues such as the refugee crisis, world hunger problems, and education problems. The inspiring speakers have touched my heart. They taught me what the meaning of life is, 'We should always try to give, not to gain'. I sincerely appreciate participating in this symposium, it inspired me to help others by giving back to the community. I'm motivated to improve myself that I can help the people as much as I can. 'Everyone wants a change, but nobody wants to change.' I'm ready to be the one who take the first action. I'm not only thinking or saying but doing it.
From Muhammad Bashir Saidu and Carmen, Kuok Hoi Man
---