USJ 25th Anniversary Choral Concert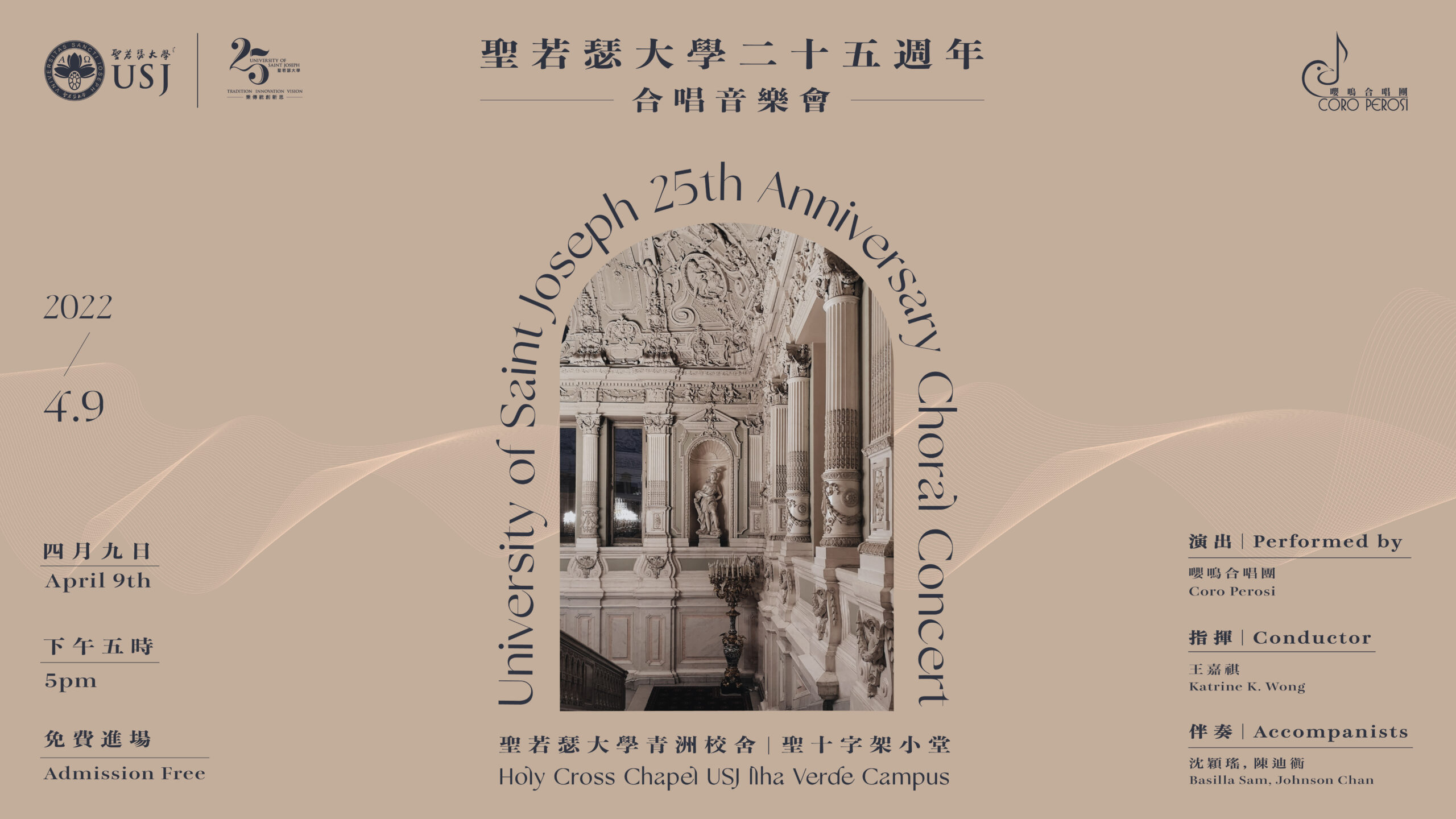 event
USJ 25th Anniversary Choral Concert
The "USJ 25th Anniversary Choral Concert" will be held at the Holy Cross Chapel on Saturday, 9th of April 2022, at 5PM.
---
---
ABOUT THE CONCERT:
Coro Perosi presents a multicultural programme for USJ's multicultural teaching and learning community. The design of the programme embodies Coro Perosi's affection for tradition and affinity to innovation, both of which inform and strengthen our vision of promoting choral singing through fostering a local culture of music.
The concert will begin with Renaissance and Baroque music from Europe (Francisco Martins, Joaquim Casimiro and J. S. Bach), followed by works by individuals who lived and worked in Macao (Fr. Ferdinando Maberini, Fr. Guilherme Schmid and Fr. Áureo Castro). Coro Perosi will also showcase some local gems, including the much-loved 'The Lord's Prayer' by Doming Lam, the award-winning 'Sing the Nature' by João Ng and 'Our Thanksgiving Song' by Young Lam. 'You'll Never Walk Alone': "together we will walk on with hope for a bright future", will be performed to conclude the programme.
---
DETAILS:
Date: Saturday, April 9th, 2022
Time: 17:00 – 18:00
Location: Holy Cross Chapel, USJ Ilha Verde Campus (Estrada Marginal da Ilha Verde, 14-17)
Live Stream: https://www.youtube.com/watch?v=DVfE94zmhGo
*Free Admission
*Seating is limited and on a first-come, first-served basis
---
PROGRAMME:
Jesu, Joy of Man's Desiring
J. S. Bach (1685-1750)
4 a cappella songs

In Monte Oliveti


Francisco Martins (1620-1680)

Christus factus est




Joaquim Casimiro (1808-1862)

Christus factus est




Ferdinando Maberini (1886-1956)

Louvado seja


Áureo Castro (1917-1993)

Kyrie from Missa Solemnis
Guilherme Schmid (1910-2000)
Corona Aurea
Guilherme Schmid

All things bright and beautiful
John Rutter (1945-)
The Lord's Prayer
Doming Lam
Ave Maria (2021)
João Ng
Our Thanksgiving Song (v. 2022)
Young Lam
Sing the Nature
João Ng
You'll Never Walk Alone
Richard Rogers (1902-1979)
Performed by: Coro Perosi
Accompanists: Basilla Sam, Johnson Chan
Conductor: Katrine K. Wong
---
ABOUT CORO PEROSI:
Coro Perosi, with the objectives of promoting the art of choral singing, cultivating interest in music and boosting Macao's musical culture, was founded in 1997, and was registered as a non-profit music body in April 1998. The Choir has performed choral music of various sorts, ranging from religious hymns and a cappella pieces and folk songs from different countries, to Chinese art songs and Broadway musical tunes, as well as Macao's local compositions, some of which composed by the group itself.
Coro Perosi is frequently invited by the Government to perform in major functions, including: the Macao Handover Ceremony in 1999, the 19th Macao International Music Festival, EXPO 2010 Shanghai. The Choir has been performing many times in Macao Arts Festival, Easter Concert and also Christmas Concert, held by the Cultural Affairs Bureau of MSAR.
The Choir plays an active role in promoting the works of local composers in recent years. These efforts include concerts such as "Choral Works of Fr. Áureo Castro", "Choral Works of Doming Lam", "Macao Pieces" and "Choral Works of Fr. Guilherme Schmid in Macao". And in 2008 the Choir collaborated with Saint Joseph Center for Christian Studies of the University of Saint Joseph (formerly known as Macao Inter-University Institute) in the recording and release of an album of "Macao Choral Works from the Beginning of the 20th Century to the Present".
Besides Macao, Coro Perosi has also travelled to different places in China on many occasions for performances and promotion of Macao's local choral compositions. And in 2011 and 2013, the Choir went to Austria (Hornstein) and Portugal (Azores) respectively, in order to perform the choral works of Fr. Guilherme Schmid and Fr. Áureo Castro in their homelands. In 2015, Coro Perosi organized "Musical Tour to Italy", which aimed at promoting Macao's local choral pieces in many cities of Italy. In 2018, organized "Musical Tour to Taiwan", held "Macao Choral Pieces Concert" in Taipei.
---
ABOUT THE CONDUCTOR:
王嘉祺 Katrine K. Wong
Katrine Wong was born in Hong Kong. She obtained both her FTCL (Piano) and LTCL (Voice) in 1999. During her school years in Hong Kong, she received piano and vocal training from Ms Eleanor Wong and Ms Rosaline Pi respectively.
Wong won many piano and voice scholarships such as Gold Medal Award, Brother Cassian Scholarship for Singers, Barbara Fei Vocal Scholarships. Over the years, Wong has performed internationally as soloist and choir member with various choirs, including Leeds University Liturgical Choir, Harvard Summer Chorus, Hong Kong Chamber Choir and Diocesan Graduate Singers (DOGA). She was invited to sing as the leader in Great Hall of the People during China Synergy Programme in 2005.
Wong came to Macao in 2008 and is currently Associate Professor of English Literature at University of Macau. She was awarded a Sir Edward Youde Memorial Fellowship in 2004 and received her PhD from University of Leeds in 2008. She is the author of Music and Gender in English Renaissance Drama (Routledge), Eastern and Western Synergies and Imaginations: Texts and Histories (Brill), and co-editor of Macao-Cultural Interaction and Literary Representations (Routledge). She is also the commissioned editor of the English version of Dai Dingcheng's Catholic Music of Macao in the Twentieth Century: Music Writers and their Works in a Unique Historical Context (Instituto Cultural Macau).
---