Round Table Discussion | Transformation of Youth Development Strategy Under the Pandemic Situation
event
Round Table Discussion | Transformation of Youth Development Strategy Under the Pandemic Situation
The Macao Observatory for Social Development and the Macau Association of Caring for Children will hold a Round Table Discussion on "Transformation of Youth Development Strategy Under the Pandemic Situation" on the 26 November, 2021.
---
---
About the Talk:
In this ever-changing society, our ways of living and interaction, education, and economy are constantly being challenged. How our society builds an environment with both agility and resilience is most important for our young people. As China drew out a strategic plan to develop the Greater Bay Area, young people in Macau could better prepare themselves to grasp this opportunity, and navigate through different social challenges could be supported by multilayer cooperation that are both creative and constructive. Policy makers, educators and experts in the social service system are invited to join and discuss this pressing issue.
Guest Speakers:
Mr. Lee Kwok Hoo, Mr. Yp Weng Keong, Mr. Ben Cheng, Mr. Tim Chim, Prof. Jacky Ho.
---
Details:
Date: Friday, 26 November 2021
Time: 3:00 p.m. – 5:00 p.m.
Location: Don Bosco Auditorium, USJ Ilha Verde Campus
Organised by: Macao Observatory for Social Development, University of Saint Joseph / Macau Association of Caring for Children
*This Public Lecture will be conducted in Cantonese
**USJ Public Lectures are free to attend and members of the public are very welcome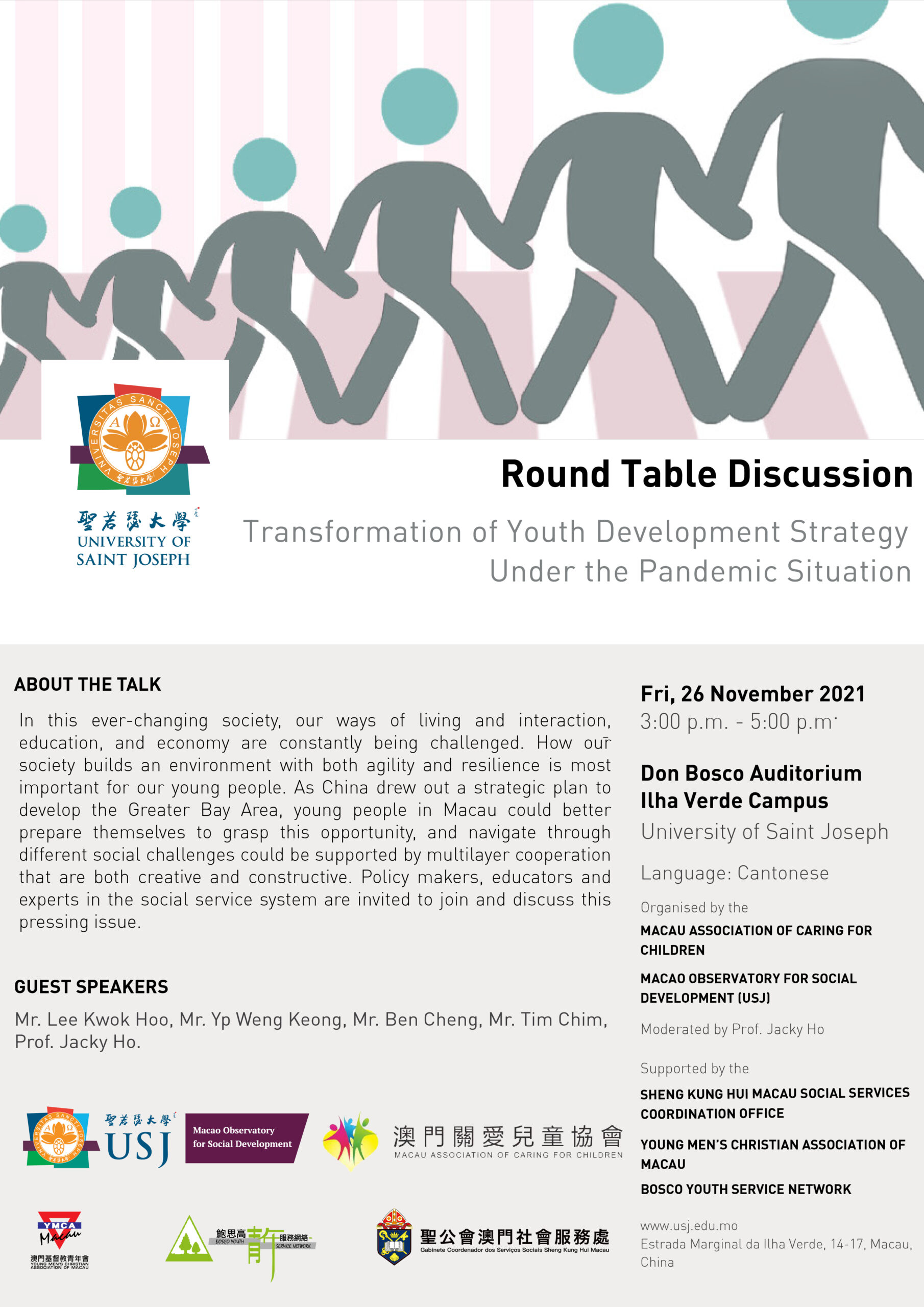 ---