Public Lecture | Nudging students into heutagogy through the creative use of entangled pedagogy
event
Public Lecture | Nudging students into heutagogy through the creative use of entangled pedagogy
The School of Education's Public Lecture on "Nudging students into heutagogy through the creative use of entangled pedagogy" will be held on 24 April.
---
---
About the talk:
Heutagogy takes a distinct approach from pedagogy, which is teacher-led learning, and andragogy, which is self-directed learning. The heutagogical method encourages pupils to look for issues and queries on their own to resolve. Students have the voice and freedom to look for areas of complexity and ambiguity in the subjects they study rather than just performing tasks that are provided by the teacher. Teachers support students' learning by providing context. They also make it possible to completely examine subjects.
According to Fawns (2022) a model of entangled pedagogy can support heutagogy since it captures how technology, teaching strategies, goals, values, and context are all shaped in tandem. In entangled pedagogy, agency is collectively decided upon by teachers, students, and other stakeholders. Results depend on intricate relationships and cannot be predicted in advance.
The goal of this discussion is to encourage educators to abandon old teaching methods and the idea that they must instruct students in the same manner that they were instructed while also taking into account new methods for facilitating knowledge in the modern world.
About the speaker:
Ricardo Bragança
Experienced innovative educational leader and mixed-media practitioner with over a decade long of international experience in Europe, Middle East, Asia, and Africa. Crafted and managed innovative learning experiences for higher education, corporations, and energetic startups. Implemented effectively, disruptive innovation strategies, at different institutional levels, and provided cross-department thought leadership successfully through change management exercises, professional development initiatives, peer-to-peer training, and committee work. Here's a two-minute video about the speaker: https://youtu.be/UUB1SjHQlkM
---
Details:
Date: Monday, 24 April 2023
Time: 6:30 p.m. – 7:30 p.m (Macau)
Mode: Online (Zoom)
Organised by: School of Education (SED)
Moderated by: Miranda Mak
---
Join Zoom Meeting
https://us06web.zoom.us/j/89792280973?pwd=Q1JDK0NtZzVqMWV5amMvcEFlbzVkdz09
Meeting ID: 897 9228 0973
Passcode: 266158
---
*Free event, open to the general public
*Sessions will be conducted in English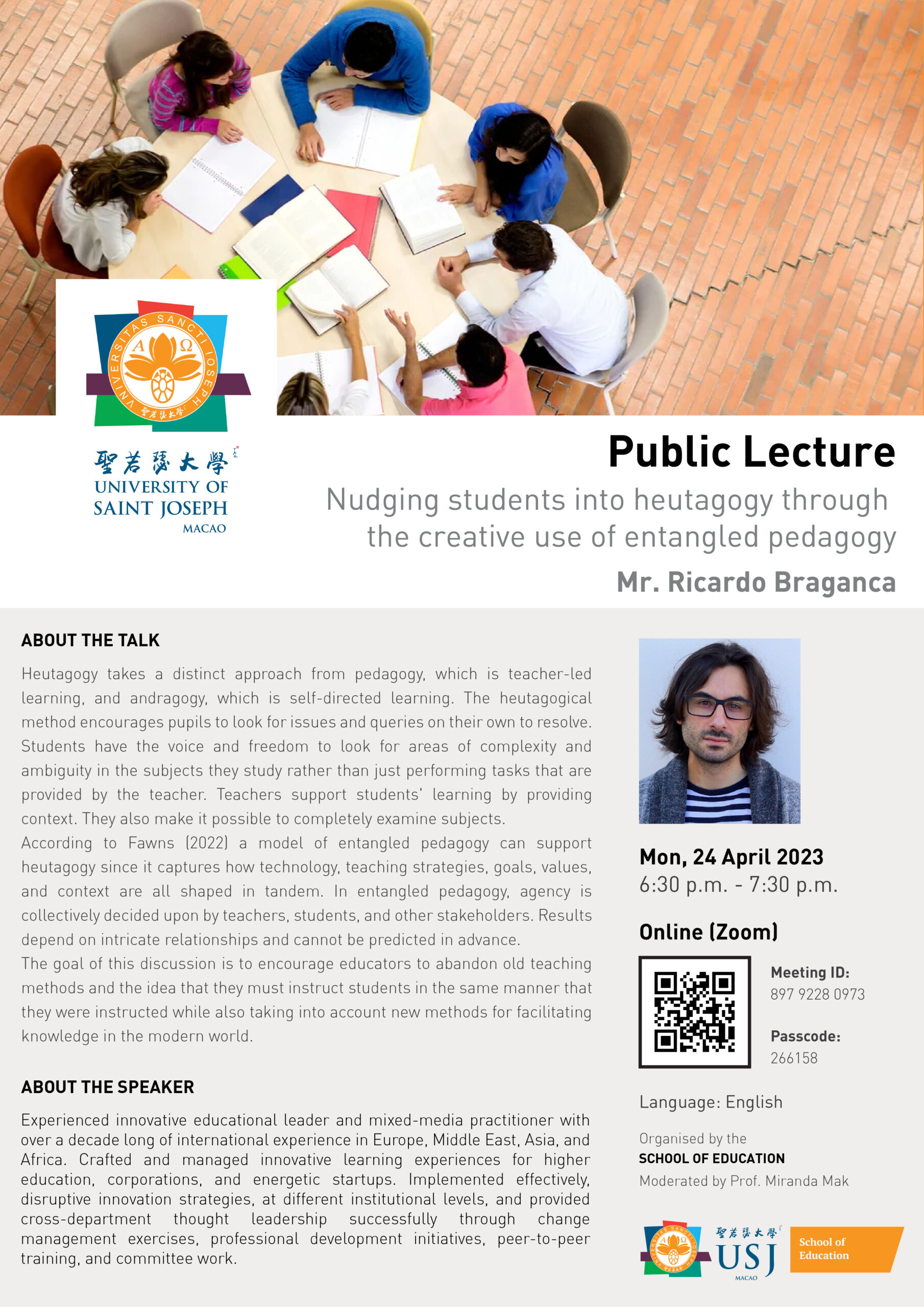 ---