Public Lecture: Arctic Research by Hong Kong and Macao Scientist
event
Public Lecture: Arctic Research by Hong Kong and Macao Scientist
The Institute of Science and Environment is organising the public lecture titled "Arctic Research by Hong Kong and Macao Scientist" on 18th June at USJ NAPE Campus.
---
---
ABOUT THE TALK
Polar regions including the Arctic and Antarctic are of significance to global climate, oceanographic conditions as well as environmental and ecological changes. China started the first national expedition for Arctic in 1999 and established its national research station (named as Yellow River Station) in King's Bay of Svalbard Isles in 2007. This represents the enthusiasm and responsible actions of Chinese in contributing to scientific research and international collaboration for polar protection. In connection, a team of Hong Kong and Macau scientists and environmentalists visited Longyearbyen and surroundings (79°N16°E) in April 2019 exploring the ecological, oceanographic and biological interests in the higher arctic. This updates the latest geographic situations and our contributions to innovative and environmental research.
ABOUT THE SPEAKER
Prof. HO Kin-Chung (K. C. Ho) Prof. Ho has a wide spectrum of academic interests, including harmful algal blooms, water quality and water environment management, environmental policies, environmental ethics, environmental education, and polar research. He holds a prestigious position in his academic research areas and has obtained numerous honours and awards at local, regional and international levels.
Prof. Chan Shek Kiu He has researched in viruses of plant, animal and human, environmental protection, polymers, Chinese medicinal herbs of Macao, etc. He has been awarded the 3rd prize in promotion of advancement of science and technology in environmental protection by the Guangdong Environmental Protection Bureau, 1992. He has over 100 publications, including: The Chinese Medicinal Herbs of Macao, (Volume 1),, and the Macao Environment in the 20th Century, Macao's Mangroves, etc.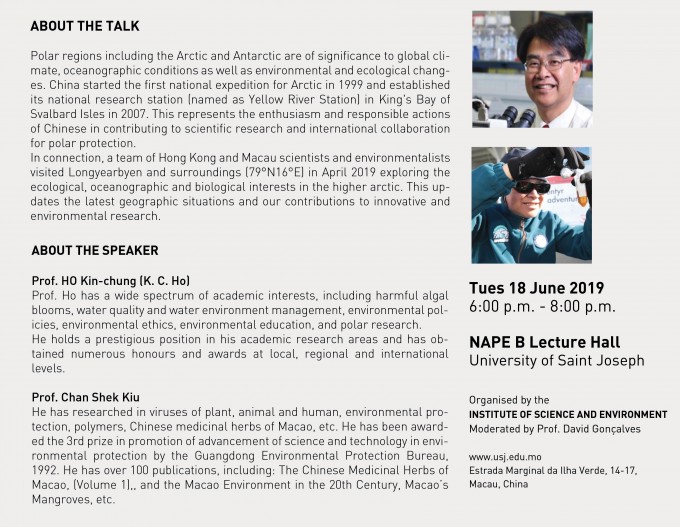 For pictures, please click here.
---