Department of Architecture and Design Lecture Series Fall 2022 I "In between Smallness and Largeness"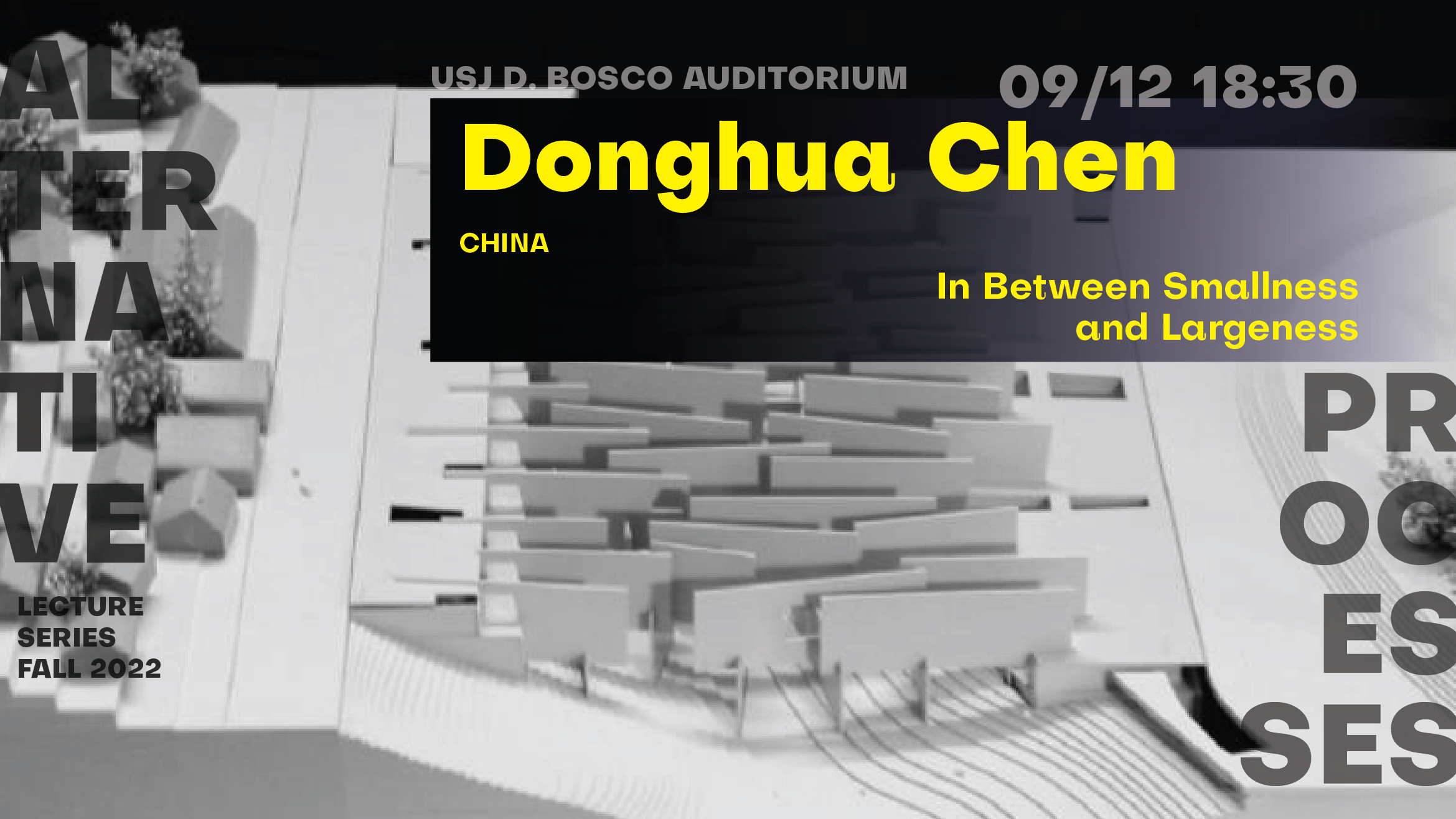 event
Department of Architecture and Design Lecture Series Fall 2022 I "In between Smallness and Largeness"
The USJ Department of Architecture and Design (DAD) is organising the Lecture Series Fall 2022 – Alternative Processes "In between Smallness and Largeness" in 09 December, 2022.
---
---
ABOUT THE SERIES:
The USJ Department of Architecture and Design (DAD) is pleased to announce the Lecture Series Fall 2022, inviting students, architects, designers and the wider community to join and share an open dialogue. The lecture series will stage public conversations with speakers from across the architecture discipline under the theme "Alternative Processes". At a moment when the profession is going through some significant questions on a global scale, we will explore the working processes of practitioners that gravitate on the boundaries of architecture, seeking alternatives to the established forms of architectural design.
With this initiative, DAD highlights its commitment to experimental work at the edge of the discipline, outlining propositions for alternative forms of practice. The Fall 2022 lecture series includes five sessions featuring the work of five innovative architects and design studios.
---
ABOUT THE TALK:
Smallness and Largeness are two polar scale in our project and research and also two different lens that we as architects should look at the external worlds. Smallness is concern about the part, the individual, the trivial, or even the weak, while the Largeness focuses on the overall strategy and the macro influence from the top-down mechanism. The tension and process in between both forces could trigger the fragmental break of the conventional part-to-whole relationship and bring certain "unknown" effects in our projects.
ABOUT THE SPEAKER:
Donghua Chen is chief architect of Donghua Chen Studio, with an architecture bachelor degree from South China University of Technology in 2012 and post-professional master degree from University of Pennsylvania in 2014. His practice is based in Guangdong, China, and has won numerous international awards, including First Prize of Cityvision competition in 2013, winner of Burnham Prize of Chicago Architectural Club in 2015, first-round winner of Lithuania Science Island Design Contest in 2016, shortlist Prize of Shenzhen International Performance Center in 2020, 2nd Prize winner of Shenzhen Financial Cultural Center in 2020, 1st prize winner of Shenzhen Reform and Opening-up Exhibition Hall in 2020, 1st prize winner of Chongqing Hangu Middle School, winner candidate of Shenzhen Scientists' Valley project, etc. His projects have been published on global institutions such as Chicago Architecture Foundation, Shenzhen/Hong Kong Urbanism/Architecture Biennale, Shanghai Power Station of Art, Studio-X Rio, Cityvision, among others.
---
Details:
Date: Friday, 9 December 2022
Time: 6:30 p.m. – 8:00 p.m (Macau)
Location: Don Bosco Auditorium, USJ Ilha Verde Campus
Organised by: Department of Architecture and Design – Faculty of Arts and Humanities.
Moderated by:
Prof. Filipe Afonso, Programme Supervisor of the Bachelor of Architectural Studies
Prof. Nuno Soares, Head of the Department of Architecture and Design
Contact:  filipe.afonso@usj.edu.mo
---
Join Zoom Meeting
https://us06web.zoom.us/j/85641099992?pwd=MlNCZ1RCdUZ2VXBmdVJlZW5idEZqZz09
Meeting ID: 856 4109 9992
Password: 683363
*Free event, open to the general public
*Sessions will be conducted in English
---