USJ Fashion Show 2021 – "CONNECTIONS"
7952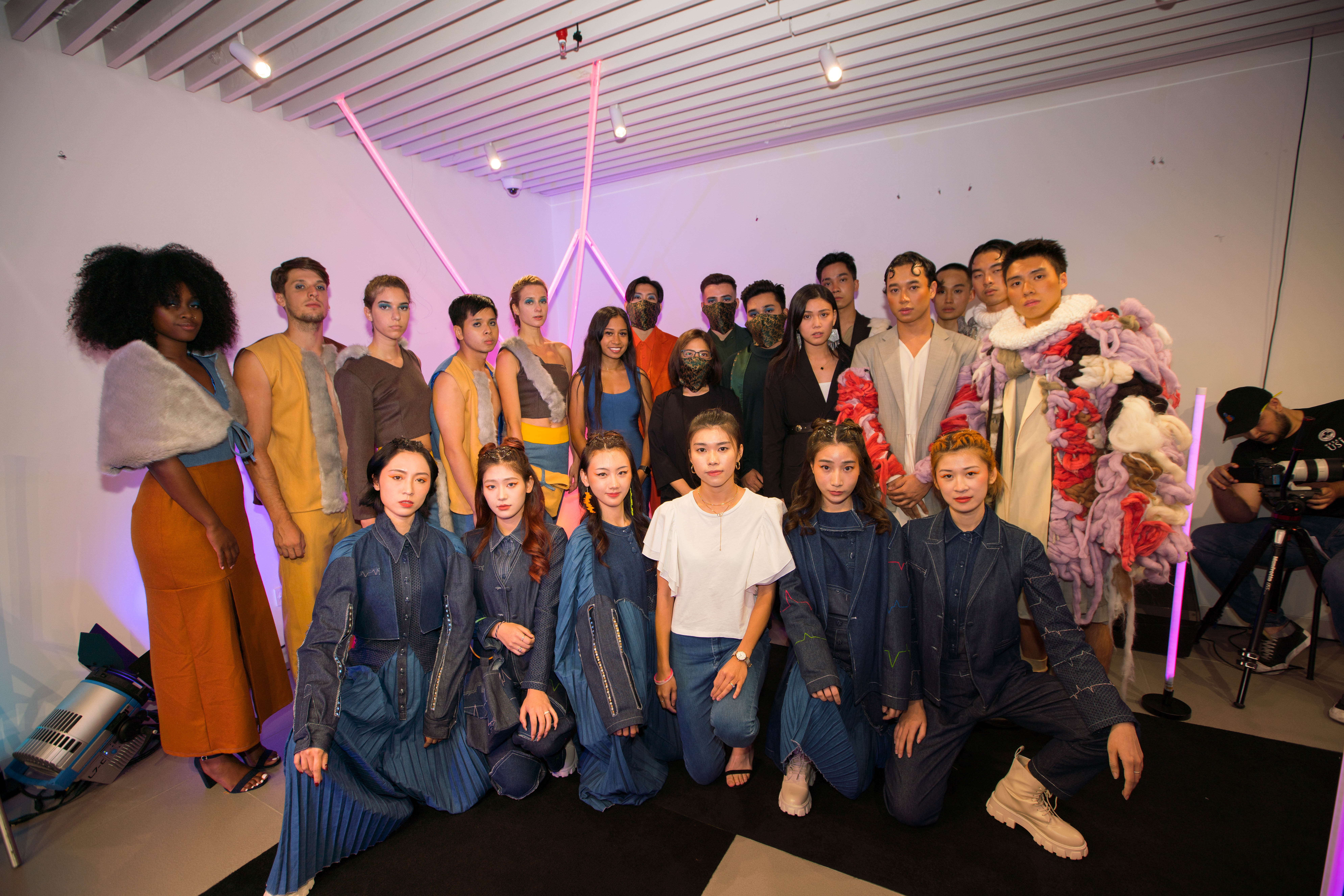 news
USJ Fashion Show 2021 - "CONNECTIONS"
The second edition of the University of Saint Joseph Fashion Show of the graduate students from the Bachelor of Fashion Design, 2021.
---
---
On Friday, July 16, the Department of Creative Industries of the Faculty of Arts and Humanities (FAH) of the University of Saint Joseph (USJ), in collaboration with the Macau Productivity and Technology Transfer Center (CPTTM), presented the second Bachelor of Fashion Design programme graduates Fashion Show. The event showcased the student's final graduation projects, centred on the theme "CONNECTIONS".

The event was the culmination of 2013's agreement between the USJ and the CPTTM to co-organise a unique four-year programme in Macau, the Bachelor of Fashion Design, to discover and foster qualified local fashion designers. While the University teaches theoretical/practical classes, the Centre provides industry practical training to educate and encourage new blood to enter the fashion design industry.
The Fashion Show proposed four radical concepts for Macao's Fashion, showcasing the student's innovative collections. They brought together diverse projects in fashion design where their talents were nurtured through the collaboration mentioned above during the four-year Fashion Design programme. An in-depth academic and technical training structure was developed where students gained appropriate fashion design and creative skills to boost their professional status and build their careers in the industry.
Each student's collection consisted of five/six garments, with twenty garments being presented. Each collection was fashionably designed, showing their creativity and talent, using new technologies like Laser-cutting and LED lights.
Students who participated in the Bachelor of Fashion Design Capstone Projects were Alina Garcia, Zoe Lei, Gabi Silva and Celia Yuen, all supervised by Prof. Maria João Nunes Das.

#fashionUSJ / #fashionshowUSJ
Flicker: https://flic.kr/s/aHsmWgP8kz
---
Models: Scofield, João, Mira, Guga, Felipe, Anastassia
Graduate Designer: Alina Garcia
Collection Name: Nick & Jordan – Grab life by the contrast
The concept of this collection is derived from the consequences of the 2019 pandemic situation with the theme "Connections" that can be physical or spiritual. This "connection" symbolises the bonding among people. It presents the current young generation's lifestyle and attitudes, which represents the future of human communities. It is also symbolising the aesthetics of the youth power, energetic and fearless. It is a twist of "Retro-futurism", how we are, and how we will be in the future. "Pair" is an essential element in this collection, and two complementary colours are chosen to show the contrast and the reflection of bonding between people. The screen-print technique is employed to convey the idea of the 1920s, art-deco patterns. Quality materials such as silk and merino wool are this high-end collect.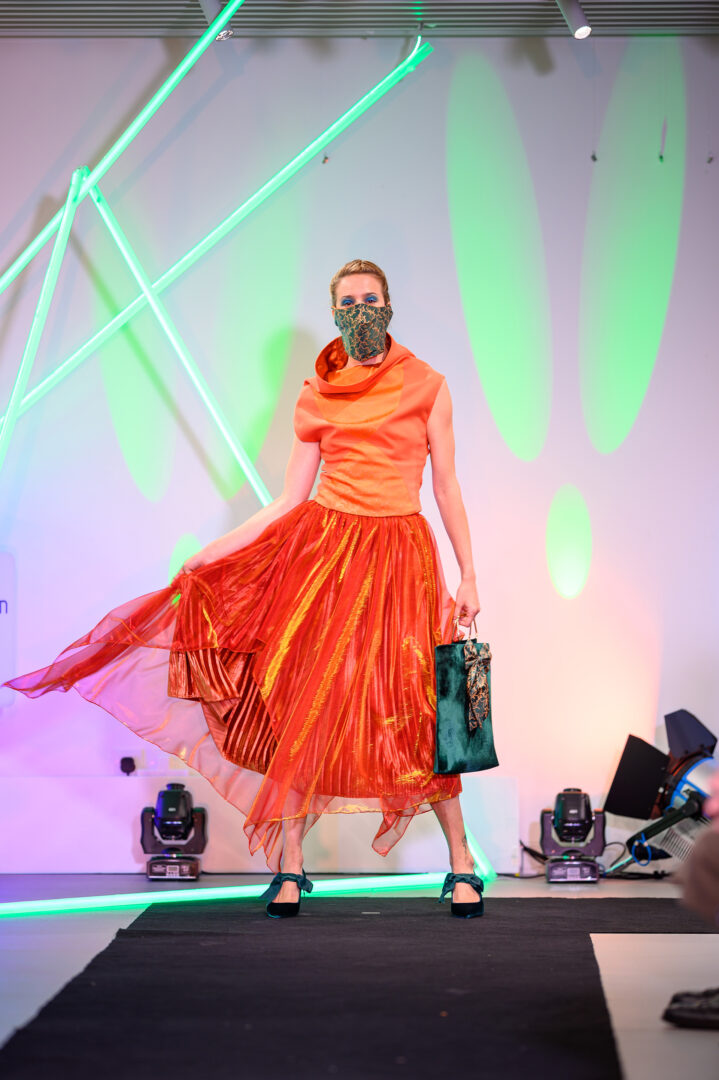 Model: Anastassia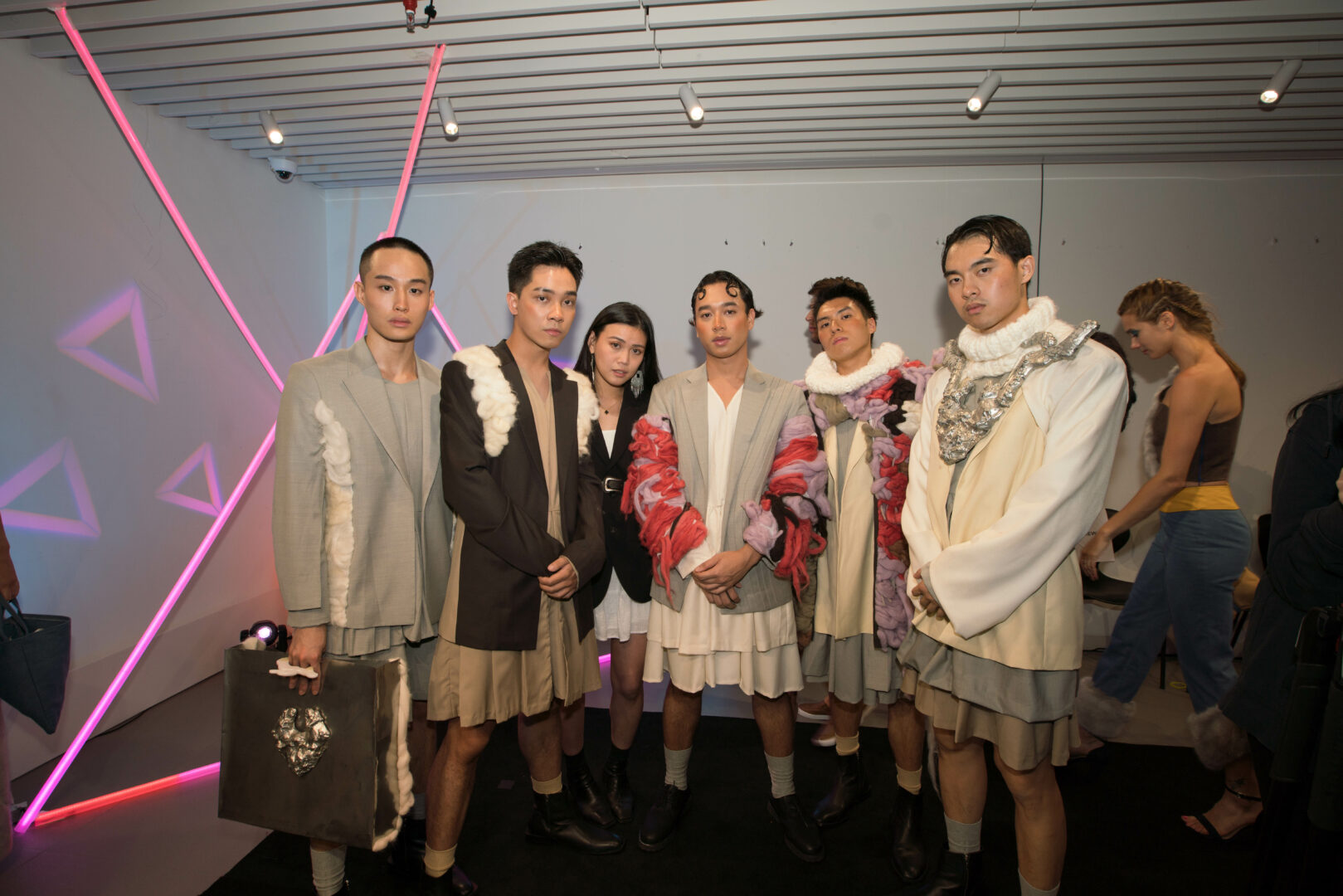 Models: Edison, Brandon, James, Kuan Donald.
Graduate Designer: Zoe Lei
Collection Name: Intimate Delivery – Invisible Love
People nowadays have difficulty expressing their real emotions, either to their boss, friends, or the one they love. What if the feeling is an object that everyone can see, no guessing, no misunderstanding, losing someone unique and essential in your life. The collection "Intimate Delivery" was, then, "born." According to the Oxford dictionary, the word "Intimate" means being close to each other amicably and privately, while "Delivery" here is not only about conveying the message or delivering a parcel but more about the meanings behind, the feelings of the sender, the recipient, the transmitter and the item itself. In these five outfits, the neutral tones are the primary colours, as "love" doesn't have to be red; the garments contain hidden antonym hearts attached on different parts on the blazers; pleats and gathers are used to create the movement of love and care.
Model: Kuan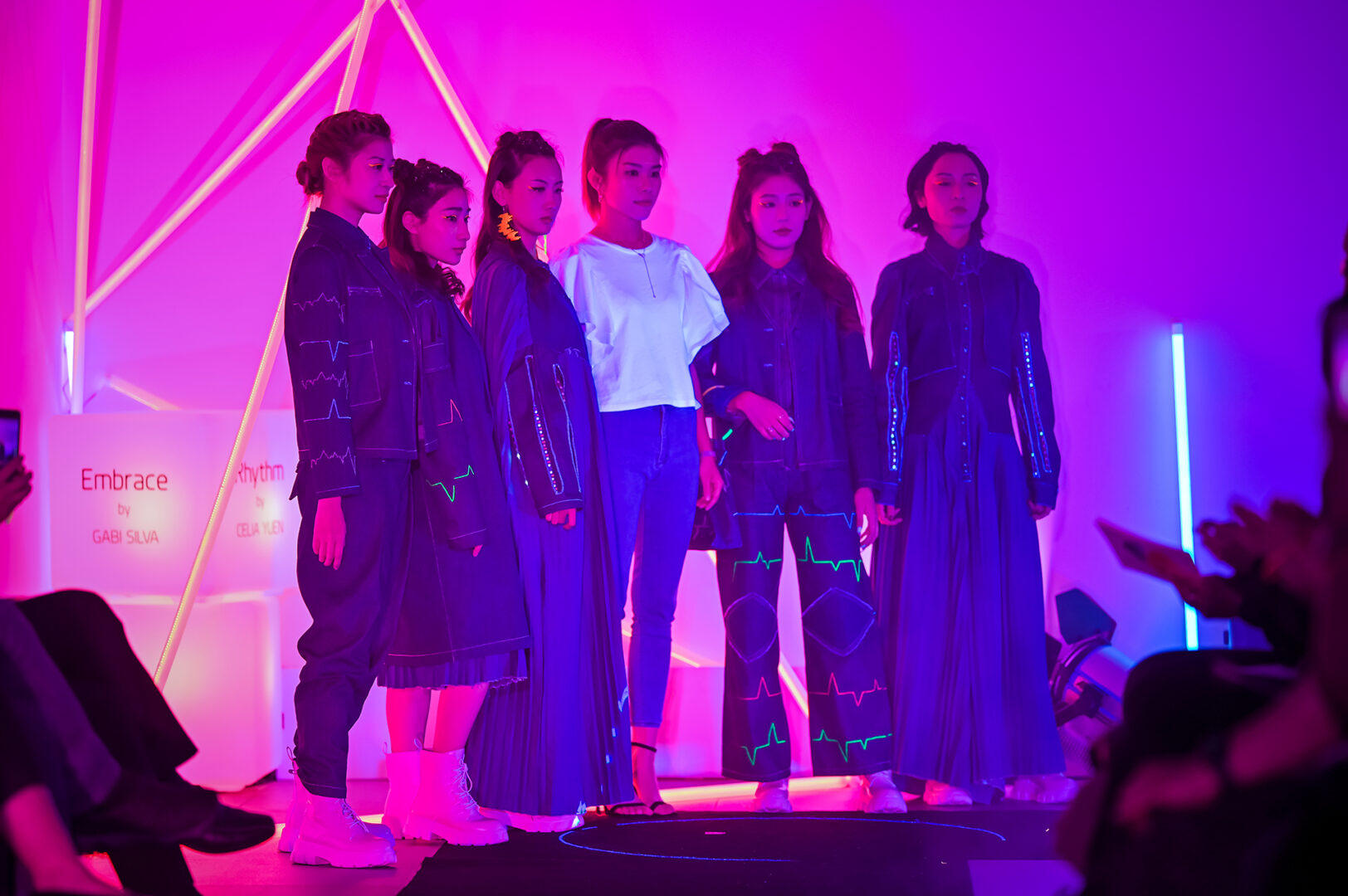 Models: SoSou, Annabelle, Victoria, Clara, Nicosia
Graduate Designer: Celia Yuen
Collection Name: Rhythm
Currently, our society is in constant change to adapt to the consequences generated by the 2019 pandemic. Nevertheless, all countries seek to accelerate their economies and make their population aware of this new reality. The collection "Rhythm" was created in 2021, and this collection is based on blue colours and patterns applying fluorescent colours, also fluorescent embroidery. I also used technology: LED lights and software that controls the lights according to the ambience sound. Seeking to portray the commitment of all people to accelerate the economy of their countries, I created the Rhythm collection. The wealth of a country depends on the economic impact, the economic achievement caused by people's work and consumption. Therefore as a collective, we will be able to contribute to the country's economic growth. We can see the busyness of a country to know how many efforts the people contribute, and it shows the rhythm of a country's economy.
Model: Nicosia
Models: Tee, Mel, Mira, Anastassia, Felipe
Graduate Designer: Gabi Silva
Collection Name: Embrace
Currently, fashion, in a way, represents every one of us. It is a way that we can use to express what we feel and who we are as individuals. This collection called "EMBRACE" aims to portray the situation we live in and have lived in ever since the pandemic started. We will still have to face many challenges ahead. Since the very beginning, when this virus shocked everyone, we have witnessed various obstacles that the human race had to face. In a world where travelling has facilitated many ways for us to meet with anyone globally, it is hard to know that although we have all these resources, we cannot use them like we used to due to the current situation. The EMBRACE collection aims to transmit love, comfort, and safety from carefully chosen materials to adverse yet straightforward designs with warm colours. It all gives a casual chic look to whoever wants to wear and be a part of the collection. In total, we have five outfits that make this collection.
Model: Mel
Ms Laney Ng, Senior Manager of Creative Fashion and Image Department; Mrs Maria João Nunes Das, Fashion Design Capstone Project Professor; Ms Victoria Kuan, Deputy Director-General of CPTTM.
Fashion Show 2021 Team
Special thanks to:
We want to thank all the student ambassadors, Sound, Video and Photography Team, Make-up and Hairstyle team, frontstage and backstage that made this event possible, our TFO team, and our CPRO team; Dr Shuen K. Hung, Director-General of CPTTM; Ms Victoria Kuan, Deputy Director-General of CPTTM; Ms Laney Ng, Senior Manager of Creative Fashion and Image Department; Ms May Wong, Manager of Creative Fashion and Image Department; Ms Leong Mei Sim, Tutor of the Bachelor of Fashion Design; Ms Silvia Kuok, Senior coordinator of Creative Fashion and Image Department; MC's Pedro Manhão Sou, and Jerusa Antunes; Professors Maria João Nunes, João Brochado, Filipa Martins de Abreu, Gérald Estadieu.
A special thank you to our Rector, Rev. Professor Stephen Morgan, our Vice-Rector for Strategic Development and Outreach, Prof. Álvaro Barbosa, and our esteemed Dean, Prof. Carlos Sena Caires, for their unconditional support of this event.
Thank you also to all who attended and watched online this fashion show for taking the time to celebrate this special moment with all the students and the USJ community.
---