USJ Alumni stories | Vivian Wong, "Striving for a Greener Macao"
1920
news
USJ Alumni stories | Vivian Wong, "Striving for a Greener Macao"
What do you get when ambition meets opportunity? You get Vivian Wong, a Master of Environmental Science and Management graduate.
---
---
What do you get when ambition meets opportunity? You get Vivian Wong, a Master of Environmental Science and Management graduate. In this USJ Alumni story, we cover Vivian's academic journey all the way from Germany to now promoting and educating the future generations of Macao to be more environmentally friendly.
Despite finishing her studies as an Environmental Sciences graduate, Vivian was initially a Biomedical Student. While she was studying Biomedical Sciences, Vivian noticed that she kept leaning on working on environmental related projects rather than actual medical sciences. This caused her to have a conflict in choosing between the two Majors. She ultimately made the switch to Environmental Sciences upon realizing that she had a bigger passion for raising awareness for the environment.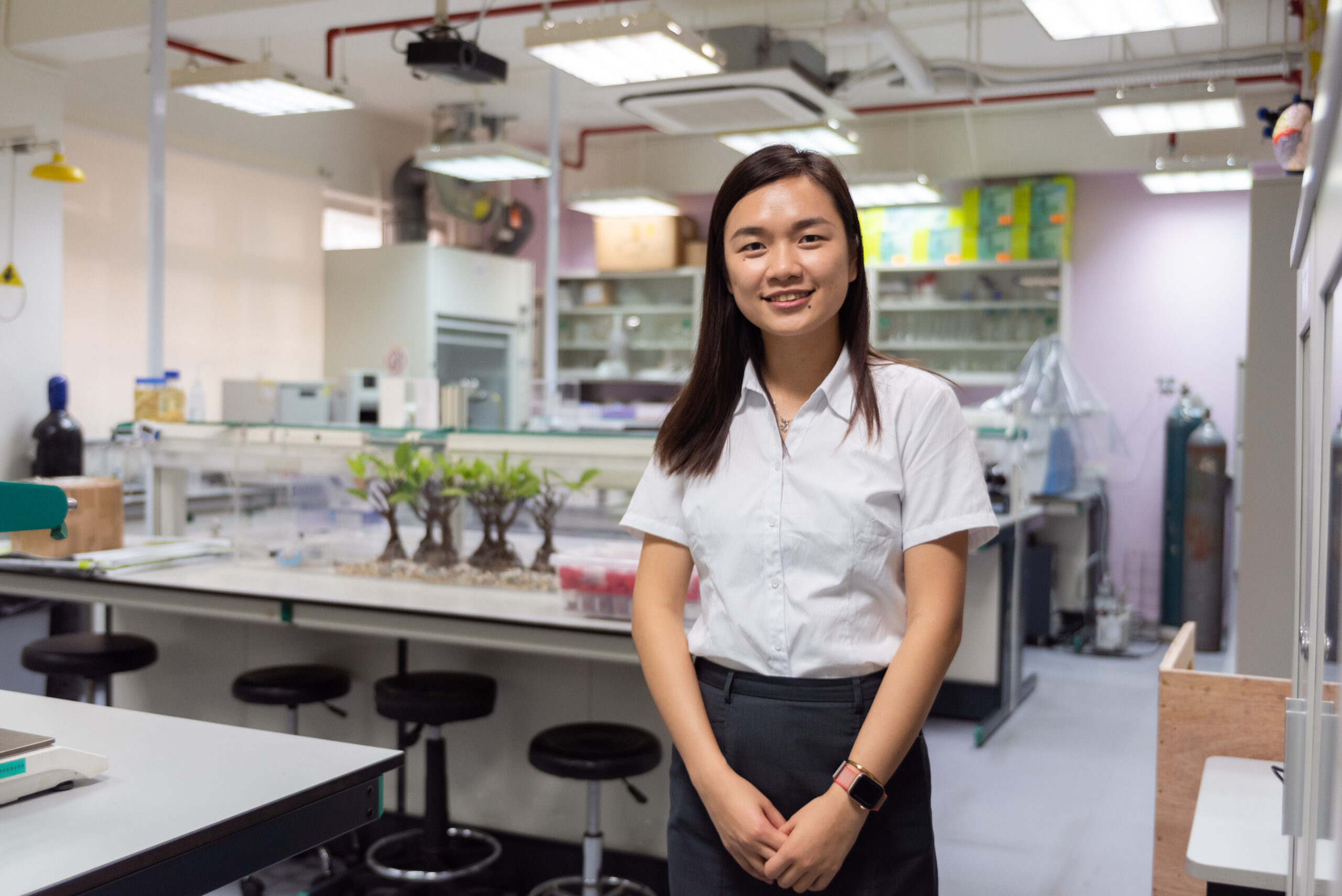 Being a part of an exchange programme in Germany, Vivian noted that there weren't many differences between USJ and the University where she studied in Germany. The international community of USJ allowed her to fit right in with her peers, and had a similar hands-on teaching experience for her. "The classmates here [in USJ] were from many countries and backgrounds, so it was very similar to what I had [in Germany]. Also, both the schools are very practical in terms of teaching, which is a good experience for me."
During her time in USJ, she recounts one of her most memorable moments during her academic tenure was with Prof. Karen Tagulao from the Institute of Science and Environment (ISE), who helped her host an exhibition about Macao's Mangroves. She claimed that this experience has helped broaden her horizons in terms of what Macao has to offer in terms of nature. "This was my first time learning about Macao's reclamations and skyscrapers. And in doing that, it makes us separate ourselves from these treasures from mother nature. Instead we should focus on incorporating nature into our lives, and living with them."
She completed her studies by defending her Master thesis on "Impact of vessel traffic on underwater soundscape and marine mammals in the Pearl River Delta" under the supervision of Prof. Raquel Vasconcelos from ISE and Dr. Lindsay Porter (SEAMAR, HK).
Vivian has since become an Educator for environmentally-friendly practices in Macao. She aims to encourage her students to live more eco-friendly lifestyles and raise overall awareness for the environment. "Overall, Macao is still quite uneducated when it comes to environmentally friendly practices. They know about recycling and general knowledge, but they don't seem to put it into practice."
As a frontrunner setting an example on how to live a greener life, we are more than proud of what Vivian has become since leaving our doors, and hope to see her reach her ultimate potential in educating others for a Greener Macao.
---
Author: Anthony Rontas Cedeño (BCM Y2)
Interviewer: Pedro Sou
Photographer: Ma Hnin Myat Win, Stella (BCM Y4)
---