USJ Alumni stories | Christy Ieong, "Exploration's Reward-becoming a bridge between the East and the West"
1920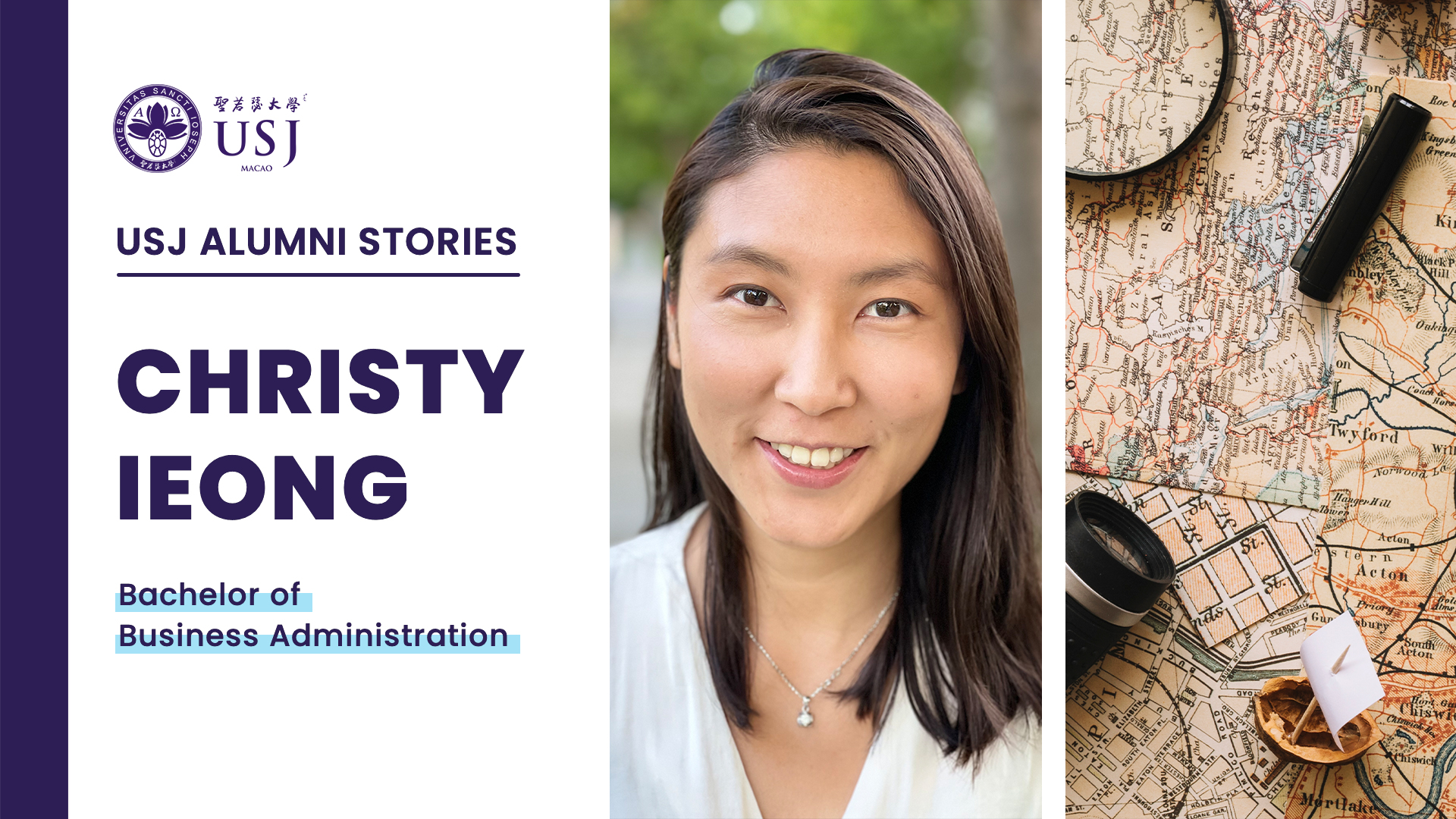 news
USJ Alumni stories | Christy Ieong, "Exploration's Reward-becoming a bridge between the East and the West"
Christy Ieong, one of the bridges between the East and the West.
---
---
Opening up to new perspectives and experiences can be daunting for any individual.  For Business Administration Graduate Christy Ieong, she has not only ventured beyond her academic journey but is now thriving as a Data Analyst in the US, becoming the bridge between the US and the Eastern Chinese Markets.  In this Alumni story, we bring forth the details of Christy's time in USJ as well her very own 'Journey to the West'.
Christy's journey to USJ nearly ended before it began when she did not get admitted to her first choice of studies, which was design.  Despite that she changed her mind and enrolled into Business Administration, to which she got accepted.  As soon as she became a student within our walls, Christy immediately set out to work.  Exploring multiple options, she tried working in the IT, hospitality, and banking industries.  This has helped broaden her horizons and helped achieve different perspectives.  However, a smooth transition is not always guaranteed.
The biggest challenge Christy faced was communication.  Upon entering our institution, Christy was not confident with her English level and spoke with broken English.  Regardless of this, Christy embraced this challenge and faced it head on.  What helped her with this struggle was our institution's diverse community, and the Student Exchange Program, which allowed her to get out of her comfort zone.  This not only helped her English skills, but also improved her communication skills as a whole. "I think it was important for me to  get out of my comfort zone to meet new people, especially people from different countries, because you can learn from different  perspectives", Christy recalls.
After graduating from USJ, Christy took her newfound knowledge and open mindedness to obtain multiple opportunities, from a property management company, to being a part of an IT Team in Wynn Palace, to eventually packing up and journeying Westward to the United States.
Christy's time in the US was also initially rough.  She recalls her employment process being super competitive, sending out hundreds of resumes and only receiving 3 interview opportunities. Eventually she separated herself from her peers with hard work and initiative, refusing to let her previous failures deter her from success. "I just needed to keep failing in order to do better", she says.
Christy has since become affiliated with multiple data analytics companies in the US, and is now a prominent bridge for these companies to the Chinese markets back in the East.  To say that we are proud of Christy and what she has accomplished is an understatement, and we stand with good faith that she will continue to strive for excellence in all of her endeavors.
---
Author: Anthony Rontas Cedeño (BCM Y2) with revision made by Ben John Bosco Lei
Interviewer(s): Pedro Miguel Manhão Sou
---