The mobile mangroves exhibition opens in Portugal
1600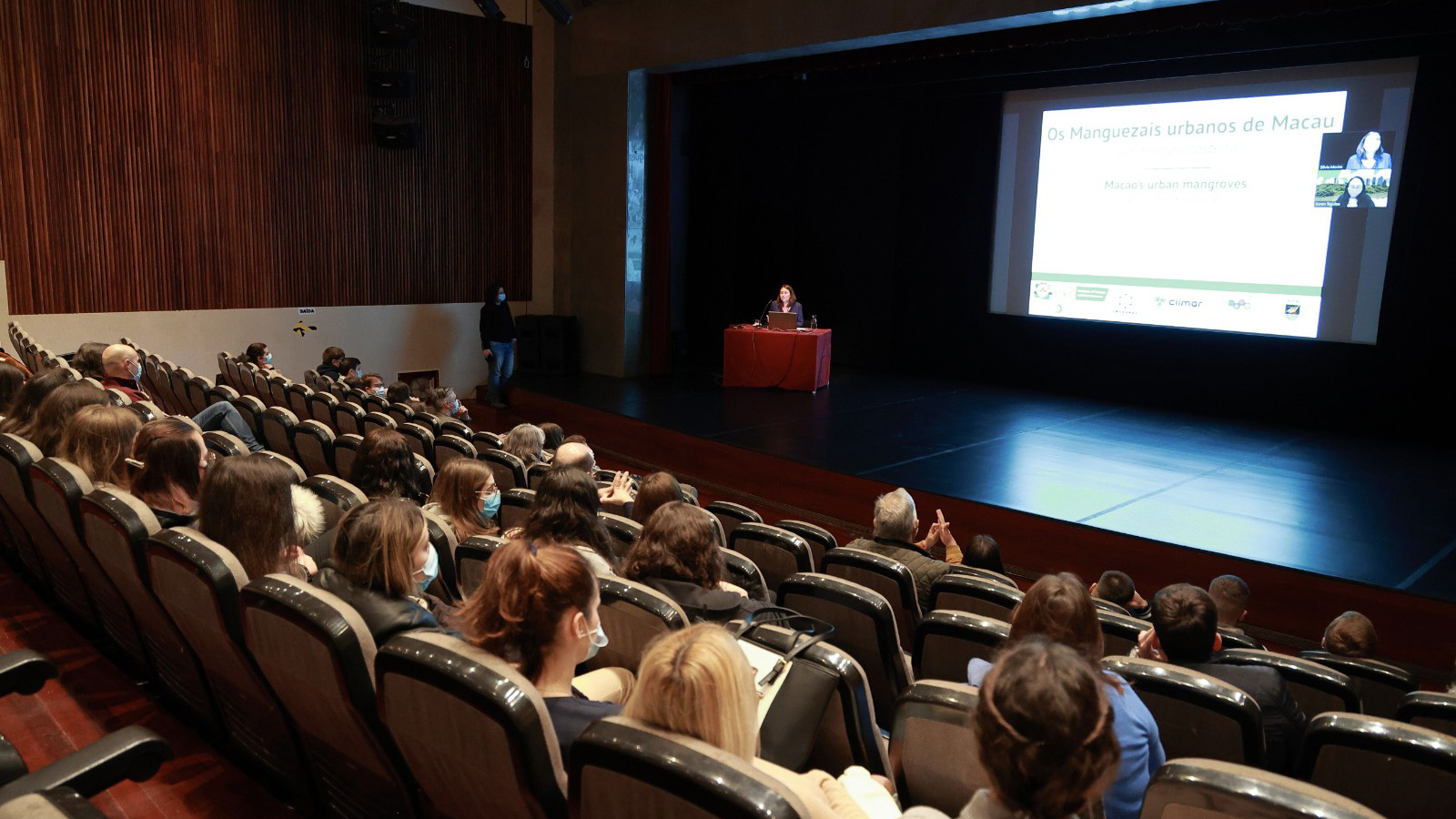 news
The mobile mangroves exhibition opens in Portugal
Prof. Tagulao shared the value of mangroves for climate change adaptation and mitigation during the online Public Talk "Macao's urban mangroves: a coastal treasure", in Porto, Portugal.
---
---
This important event opened on the morning of March 22, at the Municipal Auditorium of Vila do Conde, Porto, with a Public Talk titled "Macao's urban mangroves: a coastal treasure" delivered online by Prof. Karen Arano Tagulao, Programme Coordinator for the Bachelor of Environmental Sciences of the Institute of Science and Environment (ISE) at the University of Saint Joseph (USJ).
The public talk was attended by a group of students, teachers, board representative from CIIMAR (Interdisciplinary Centre of Marine and Environmental Research), the councilor in charge of education and environment for Vila do Conde Municipality and other members of the community.
In her talk, Prof. Tagulao shared the value of mangroves for climate change adaptation and mitigation, emphasising the crucial roles of scientific research and community outreach to achieve success. She also shared insights on the common environmental challenges that Macao and Porto face, given that both are coastal cities, and how these can be addressed using nature-based solutions (mangroves in Macao and salt-marshes in Portugal).
The exhibition's official opening was held in the afternoon at the Center of Environmental Monitoring and Interpretation (CIMIA) in Vila do Conde. The event was attended by the Mayor of the Municipality of Vila do Conde, Mr. Vítor Manuel Moreira Costa, the City councilor of Vila do Conde Municipality, Mr. Mário Reis, President of CIIMAR´s board, Prof. Vitor Vasconcelos, and Coordinator of CMIA, Prof. Cristina Calheiros.
"The mangroves exhibition is a product of many years of research on the local mangroves in Macao, translated into a form for the general public to understand better. We believe that translating Science into Action is equally important as the science we do." -expressed Prof. Tagulao – "The success of the USJ on-campus exhibition in 2020 prompted the University to bring this work around the local schools since September 2021 to the present, continuing to inspire and educate the younger generation to protect this important coastal treasure better. This time, the exhibition is showcased in Portugal, on the 15th anniversary of the Centro de Monitorização e Interpretação Ambiental."
This work is supported by the Science and Technology Development Fund of Macao (FDCT), Clean the World Foundation and Las Vegas Sands (Eco-360) through the Drop by Drop Project. The current mobile exhibition is being implemented under the project "Wetlands for Climate Change mitigation and adaptation in Macao" under the coordination of Prof. Karen Arano Tagulao of ISE/USJ, in collaboration with Dr. Cristina Calheiros from CIIMAR.
---