Prof. Nuno Soares was a panelist at the Thailand Contemporary Architecture Forum
2560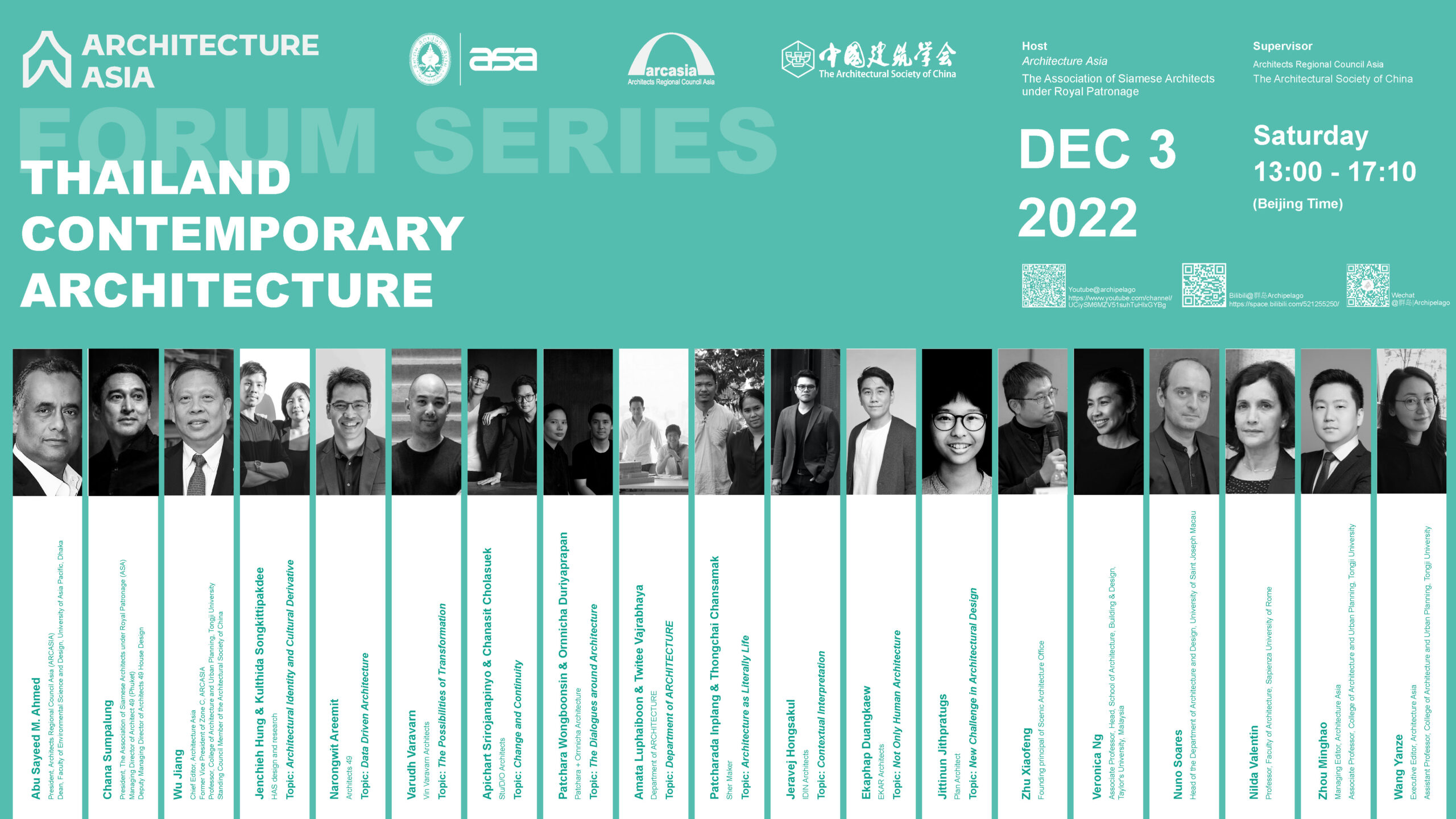 news
Prof. Nuno Soares was a panelist at the Thailand Contemporary Architecture Forum
09/12/2022
Prof. Nuno Soares was an invited panelist at the first event of the Architecture Asia Forum Series, the Thailand Contemporary Architecture Forum, held on 3 December, 2022.
---
---
The Head of the Department of Architecture and Design at the Faculty of Arts and Humanities, Prof. Nuno Soares, was invited to be a panelist at the Thailand Contemporary Architecture Forum,  which was held online last Saturday, 3 December 2022.
The Forum explored the theme "Local Progressive", featuring ten rising architectural practices that explore Thailand's local context, conditions and materials to develop innovative and sustainable architecture.
The event was hosted by Architecture Asia and The Association of Siamese Architects under the Royal Patronage, supervised by the Architects Regional Council of Asia (ARCASIA) and The Architectural Society of China on 03 December 2022. This was an online live stream event with over 1000 participants from all over Asia.
Prof. Nuno Soares is a Member of the Advisory Board of the Architecture Asia Magazine, the Past Vice President of ARCASIA Zone C, and the Past Chairman of the ARCASIA  Committee of Architectural Education (ACAE).
Event Details:
THAILAND CONTEMPORARY ARCHITECTURE FORUM
Date: 03 December 2022
Speakers:
Jenchieh Hung & Kulthida Songkittipakdee – Architectural Identity and Cultural Derivative
Nithi Sthapitanonda & Narongwit Areemit – Data Driven Architecture
Varudh Varavarn – The Possibilities of Transformation
Apichart Srirojanapinyo & Chanasit Cholasuek – Change and Continuity
Patchara Wongboonsin & Ornnicha Duriyaprapan – The Dialogues around Architecture
Amata Luphaiboon & Twitee Vajrabhaya – Department of ARCHITECTURE
Patcharada Inplang & Thongchai Chansamak – Architecture as Literally Life
Jeravej Hongsakul – Contextual Interpretation
Sinn Phonghanyudh & Jittinun Jithpratugs – New Challenge in Architectural Design
Panelists:
WU Jiang – Chief Editor, Architecture Asia; Professor, College of Architecture and Urban Planning, Tongji University
ZHU Xiaofeng – Founding principal of Scenic Architecture Office
Veronica Ng – Associate Professor, Head, School of Architecture, Building & Design, Taylor's University, Malaysia
Nilda Valentin – Professor, Faculty of Architecture, Sapienza University of Rome
Nuno Soares – Head of the Department of Architecture and Design, University of Saint Joseph Macau
Moderators:
ZHOU Minghao – Managing Editor, Architecture Asia; Associate Professor, College of Architecture and Urban Planning, Tongji University
WANG Yanze – Executive Editor, Architecture Asia; Assistant Professor, College of Architecture and Urban Planning, Tongji University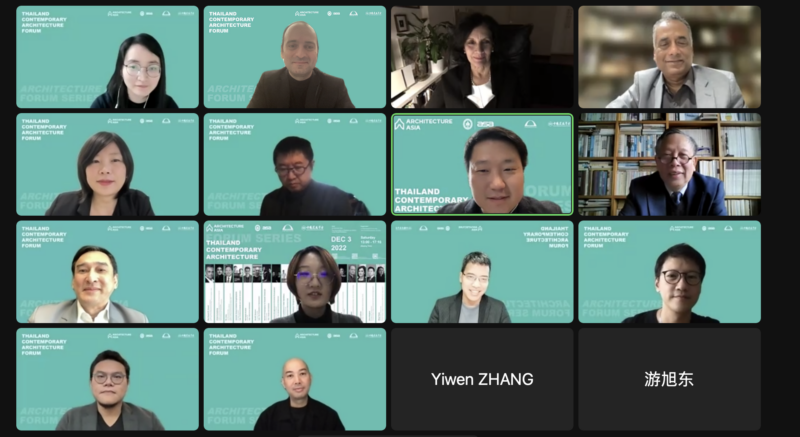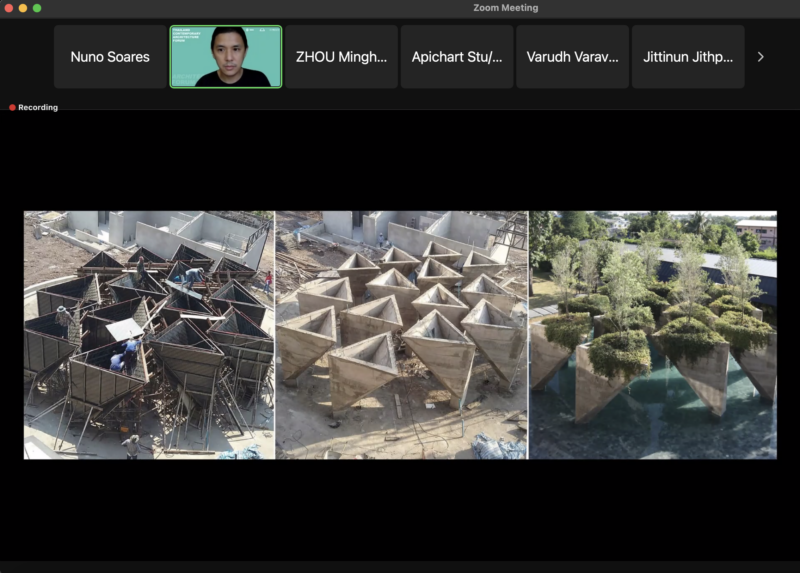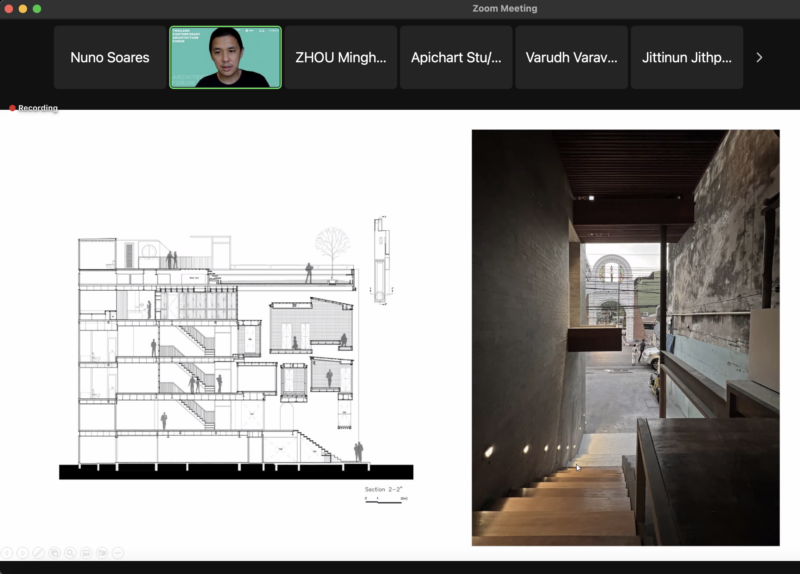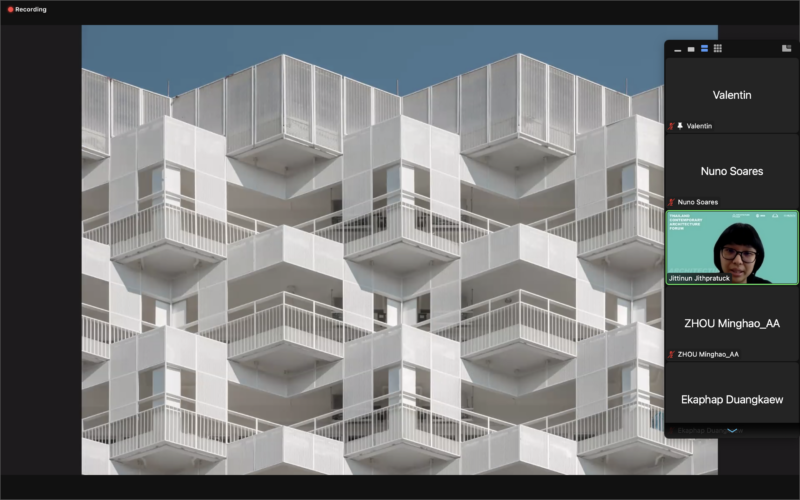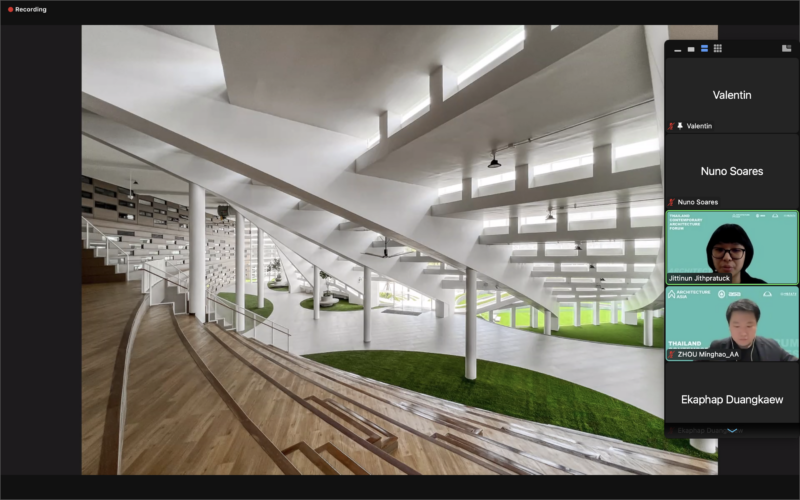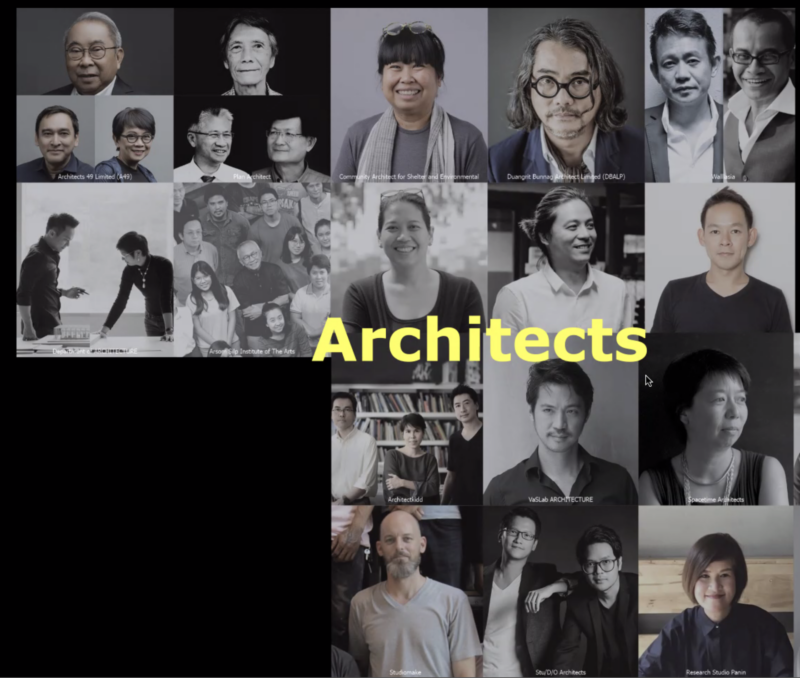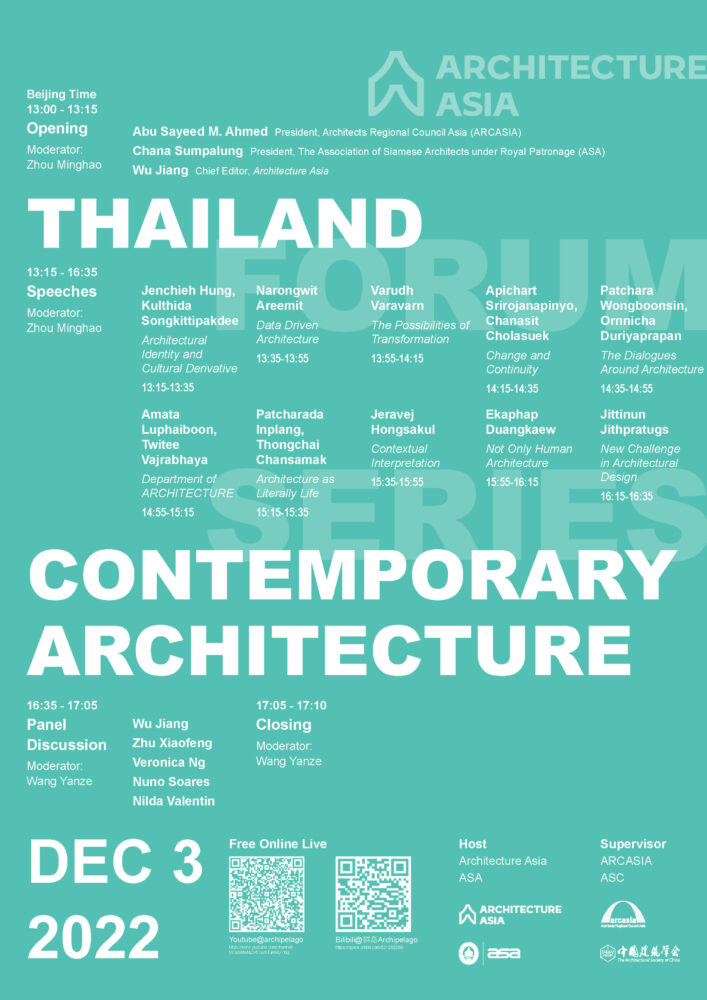 ---