ERASMUS+ STUDENT MOBILITY FOR ARCHITECTURE STUDENTS, 2017-2018
678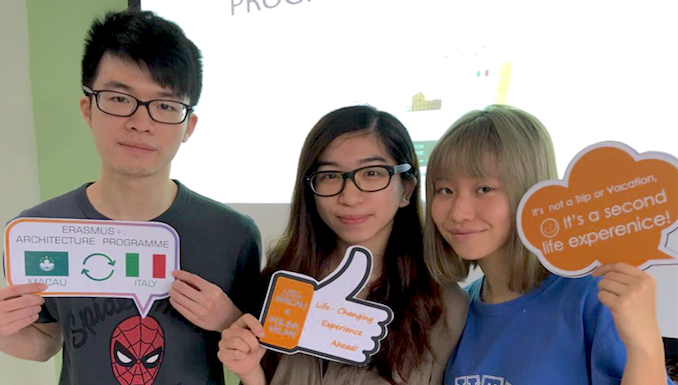 news
ERASMUS+ STUDENT MOBILITY FOR ARCHITECTURE STUDENTS, 2017-2018
01/01/1970
ERASMUS+ STUDENT MOBILITY FOR ARCHITECTURE STUDENTS, 2017-2018
---
---
On the countdown to leave Macau for a temporary life change experience, the Office of International Relations and Regional Cooperation (OIR), briefed the architecture students participants of the Erasmus+ student Mobility at the Politecnico di Milano (POLIMI) at the fall semester, on all necessary logistics to make their arrival and stay in Italy, POLIMI smooth and comfortable time.
Thank you to the Dean of the Faculty of Creative Industries (FCI), Prof. Álvaro Barbosa and the Coordinator of the Department of Architecture of FCI, Prof. Thomas Daniell for their efforts in making this great experience to be possible for USJ Architecture students.
Please join the OIR to wish them great time, fruitful academic experience and loads of fun.
We look forward to hear your great experience of POLIMI, Italy!
---