2015 University of Saint Joseph Open Day
3264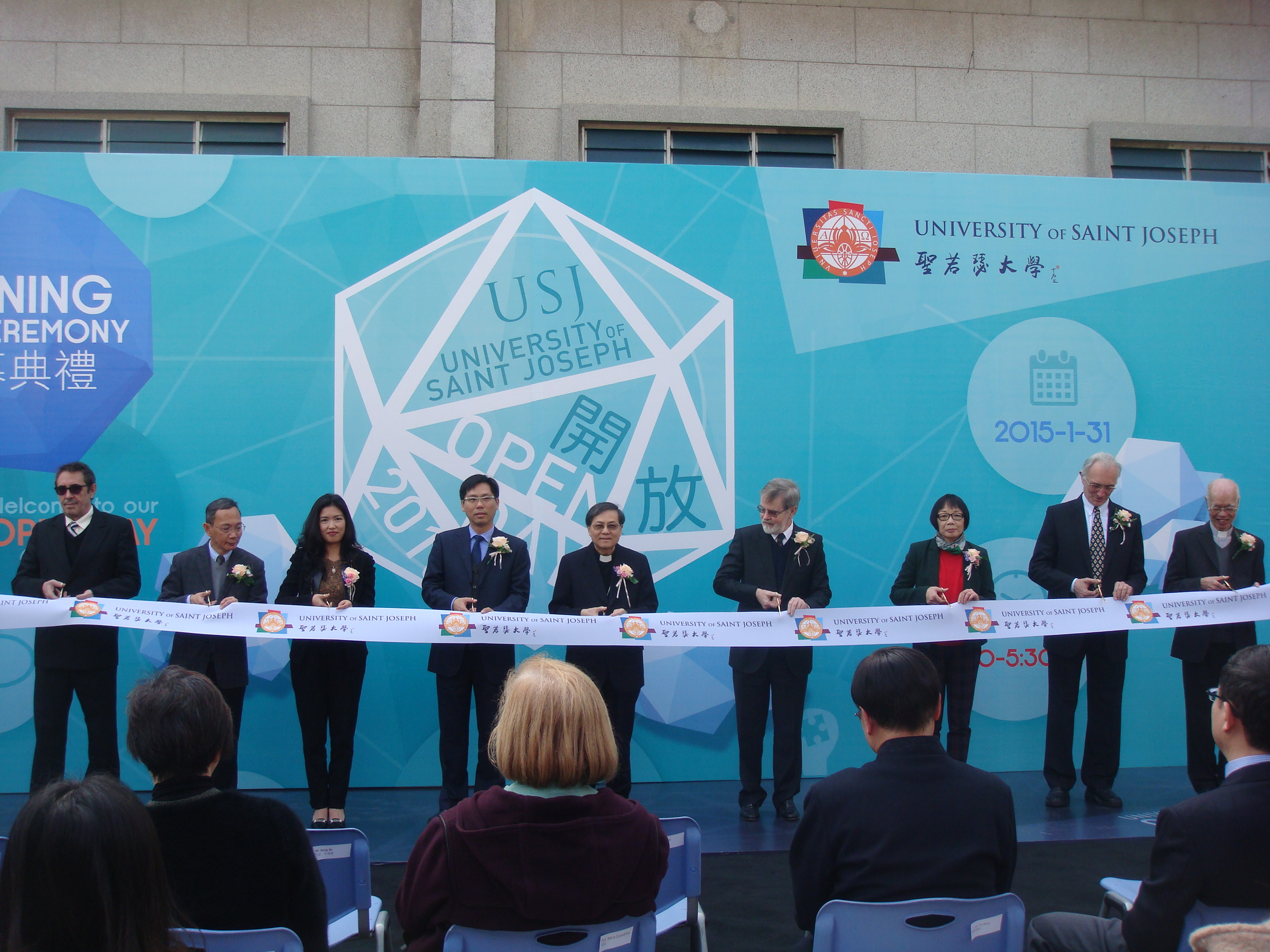 news
2015 University of Saint Joseph Open Day
聖若瑟大學舉行開放日
---
---
The University of Saint Joseph held its annual Open Day at the Saint Joseph Seminary Campus (next to the Sir Robert Ho Tung Library) last Saturday, hosting nearly 5 hundred prospective students who had the opportunity to taste life at the university.
 The Open Day began with a warm and cozy ceremony of ribbon cutting attended by distinguish guests including the Bishop of Macau, Dom Jose Lai, Director of the Department of Culture and Education for Liaison Office in Macau Mr. Hong Bo, Deputy Director of Education and Youth Affairs Bureau Ms Kuok Sio Lai, Functional Head (Group of Higher Education Institutions Coordination) of Tertiary Education Services Office Ms Io Iok Fong, principles and representatives from different schools and associations. During the ceremony, the University thanked Macau Foundation for sponsoring the Open Day, and Coca-Cola Co. Ltd. for sponsoring drinks for the event.
Visitors were welcomed by students of the university and invited to visit different booths and information rooms set up across the heritage campus. A bamboo pavilion was featured during the day, which USJ's architecture students had spent the whole weekend building. The Open Day's programme included language corners, a mock admissions interview corner, radio practice, snapshot campaign and sports competitions. Students from Colégio Diocesano de Sao José 5th and 6th School, Yuet Wah College, Anglican Chou Kou High School and Escola Tung Sin Tong challenged USJ students to a Friendly Basketball Match.
 The international students at the University arranged different cultural experiences for the guests, including beautiful Portuguese songs performed by singer Tomas. Inside the classrooms, students and professors stood by to introduce key features of each programme to the visitors. The Faculties of Religious Studies, Humanities, Administration and Leadership, Psychology and Education, Creative Industries, the Institute of Science and Environment, and the Pre-University programme showcased the work of their students and faculty.
Prospective students learned also that USJ has updated its fees, reducing the costs for local students. The University of Saint Joseph features English as the teaching medium and has students and faculty from nearly 60 nationalities. Construction of its new campus at Ilha Verde is progressing smoothly and is expected to be in use during the 2015/2016 academic year.
---
二O一五年聖若大學開放日於星期六假聖若瑟修院校舍舉行(何東圖書館旁),吸引了近五百名學生參與,與來自世界各地的聖若瑟大學師生交流,感受在聖大校園的大學生生涯。
開放日在一個簡單溫馨的剪綵儀式後正式開始。聖若瑟大學請得澳門天主教教區黎鴻昇主教、澳門中聯辦文化教育部青年處處長洪波先生、教育暨青年局郭小麗副局長、高等教育輔助辦公室高校協作組姚玉鳳主管、天主教會大學暨高等教育基金會會長羅庇道神父、澳門天主教學校聯會副會長楊子秋博士、天主教會大學暨高等教育基金榮譽會員羅玉成神父、天主教會大學暨高等教育基金會前會長蘇輝道神父作剪綵嘉賓。在開幕禮當中,大學特別鳴謝澳門基金會贊助是次活動,及可口可樂公司贊助活動的全部飲品。
開放日活動內容豐富,當中包括一個創意無限的竹棚由建築系學生花了不少時間心血建成。即埸還有大學入學模擬面試、校園廣播、快拍比賽、英語角落及體育比賽。來自聖若瑟教區中學五校及六校、粵華中學、聖公會蔡高中學及同善堂中學的學生還挑戰聖若瑟大學學生來了一場籃球友誼賽。聖若瑟大學來自歐洲、美洲及東南亞地區等國際學生特別為參加者準備了不同的文化體驗。
聖若瑟大學五個學院──宗教研究學院、人文學院、行政及領導學院、心理及教育學院、創意產業學院、以及科學與環境中心 和 預科課程的教授和學生在教室展示學生的作品及介紹其課程。藉是次開放日,聖若瑟大學向參加學生透露來年本地學生的學費將有下調。
學校期望能透過是次開放日,令外界對聖若大學有更深的認識。聖若瑟大學主要以英語授課,校內師生來自六十個不同國藉,能讓學生在澳門體會到不同國際文化。大學亦透露預計於二O一五/一六學年開始遷入青洲的新校舍。
---