Xavier Research Center Seminar Series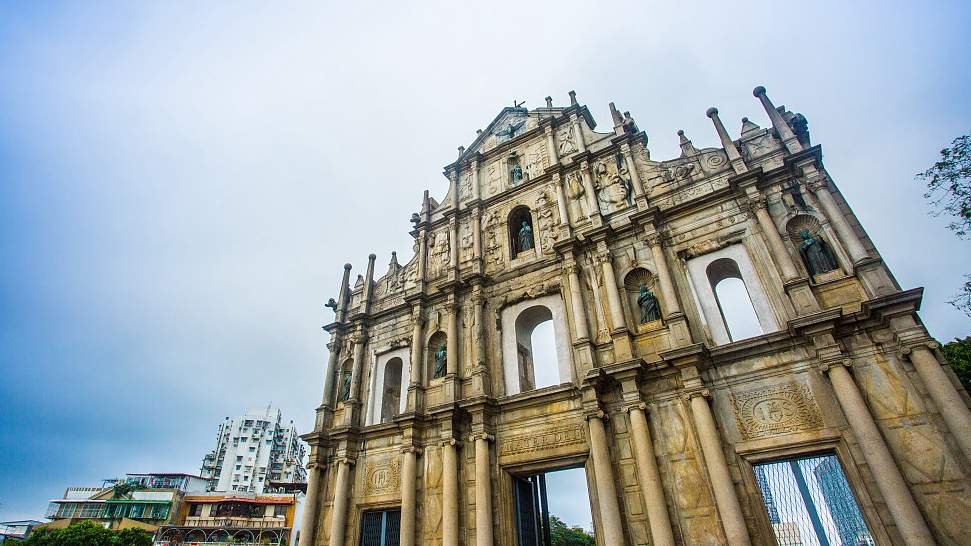 event
Xavier Research Center Seminar Series
Tge Xavier Research Centre for Memory and Identity will hold two Public Seminars on 30 September 2022 titled "What's next for our 'furniture'? Re-visiting the role of the Portuguese community in the Macau SAR in the last decade", and "Fragilities of Macanese Identity: Reflection on the theme".
---
---
ABOUT THE SERIES:
This is the first seminar in the series Bridges co-organized by Xavier Research Centre for Memory and Identity of the University of Saint Joseph and Instituto Oriente, ISCSP, University of Lisbon. The objective of the seminars is to stimulate intellectual exchanges between scholars in Macau (China) and Portugal on topics related to cultural sustainability. This year seminars are focusing on three key conceptual themes: Identity, Transitions and Power. Each seminar has a speaker and a discussant in Macau (or the Pacific) and in Portugal (the Atlantic).
---
Seminar 1: What's next for our 'furniture'? Re-visiting the role of the Portuguese community in the Macau SAR in the last decade
Prof. Vanessa Amaro, Centre for Portuguese Studies, Macao Polytechnic University
Discussant: Prof. Cathryn Clayton, University of Hawaii, USA
ABOUT THE TALK:
"We are part of the furniture in Macau … Without us, the Portuguese, Macau would never be this Macau, it would never have this unique identity, this multiculturality, this piece of Europe in Chinese territory." This brief quote by João, a long-term resident of this tiny Chinese region, was registered in 2014, back in the time when the city experienced a sharp increase of residents of Portuguese nationality. Less than a decade has passed by and João, along with hundreds of other Portuguese residents, already left Macau. Many others who remain here also plan to leave anytime soon.
The role of 'furniture' opens room for many interpretations. 'To be a part of the furniture' implies that someone or something has been in the same place for so long that, when they realize it, they are completely inseparable from that place. Despite being a merely temporal reference, this idea leads me to ponder other meanings connected to the possible functions of furniture. We can think of furniture as decoration, for example in the sense of the architectural apparatus resulting from the centuries-long Portuguese presence – such as the buildings in the historical city centre that have been a part of UNESCO's World Heritage since 2005 – which today serves as a sort of ornamentation of the territory for touristic purposes and as a differentiating factor in terms of identity in relation to other Chinese provinces. We can also think of the question of furniture as something which only serves to store something – a past, a history, several stories – and which, as a result, and due to its inherent immobility, is gradually overtaken, collecting dust in a corner and becoming insignificant as time passes.
Drawing on ongoing ethnographic research, this presentation aims to examine and explore recent processes of transformation that the Portuguese community has been going through. Whether before the Portuguese considered themselves as a part of the furniture, as of today they may consider themselves as "disposable and unwelcome" (words of Joana, interviewed in April 2022). Why would the Portuguese feel there is no more room for them as 'furniture' in Macau? With this central question in mind, I have been collecting data through in-depth interviews, participant and non-participant observation and review of documents. In this talk, some preliminary data analysis will be shared to provoke new ways of understanding and (re-)interpreting post-colonial cities.
ABOUT THE SPEAKER:
Prof. Vanessa Amaro
Vanessa Amaro is an Associate Professor at the Centre for Portuguese Studies at Macao Polytechnic University. She received her PhD in Communication from University of Macau. Her article, co-authored with Sheyla Zandonai in Current Anthropology, The Portuguese Calçada in Macau: Paving Residual Colonialism with a New Cultural History of Place received a merit prize at the 6th Outstanding Achievement Awards for Macau Research in Humanities and Social Sciences (2022) by Macau Foundation. Her current research interests focus on issues related to Macau's colonial/ postcolonial critique, migration, identity, language, heritage, and intercultural communication.
---
Seminar 2: Fragilities of Macanese Identity: Reflection on the theme
Prof. Carlos Piteira, ISCSP, Institute of Orient, University of Lisbon, Portugal
Discussant: Prof. Irene Rodrigues, ISCSP, Instituto Oriente, University of Lisbon, Portugal
ABOUT THE TALK:
Assuming that the concept of ethnicity is commonly used to designate the cultural characteristics associated with a group of people (ethnic collective), who recognize themselves in this pattern, with the quality of perpetuating these cultural issues in time and space, we can discuss the theme of the Macanese within this analytical framework.
The Macanese community, like other ethnic groups, seek refuge in its cultural heritage in order to perpetuate itself in time. If until 1999, the date of the transition of the territory of Macao to P.R. of China, this condition allowed it some solidity and consistency in the way of externalizing and internalizing its social markers, essentially sustained in the matrix of Luso-Asian ancestry (the Portuguese of Macao), the same did not happen in the post-transition period with Macao being a Special Administrative Region (SAR) under the auspices of a new territorial, political and social reality.
In this framework of analysis, new formulations arise, namely around an uncertain future concerning the design of the reorganization of social models with possible changes for Macao's «ways of life» and in population structure.
The identity reformulations that are taking place within the Macanese group give us the feeling of some apparent fragility and in the search for new references that allow their renewed identity affirmation; however, nothing takes away their half a century of history as the reference group in Macao.
ABOUT THE SPEAKER:
Carlos Piteira, born in Macau (1956)
PhD in Social Sciences in the field of Cultural Anthropology, Master in Anthropological Sciences, Post-Graduation in International Affairs and Bachelor's Degree in Public Management and Administration with a specialization in Human Resource Management from the Institute of Social and Political Sciences (ISCSP) of the University of Lisbon.
He is currently a Integrated Researcher at the Orient Institute at ISCSP/University of Lisbon. He worked as an Assistant Professor at the same Institute until Feb/2021, when he retired, he was also Scientific Coordinator of the Orient Institute until 2017 and coordinated the Specialization courses: China, Politics and Culture and Advanced Training: China , Business and Enterprises
He was Assistant at Universidade Lusíada de Lisboa from Oct/1998 to Nov./2006 and collaborated in the Post-Graduation in International Management at Instituto Superior de Tomar. In the professional field, he was manager/advisor in the area of ​​human resources at Tabaqueira E.P., Renault Portuguesa S.A., Companhia de Electricidade de Macau (CEM), Grafe – Publicity and Communication and in the Human Resources Department of the Corporate Center (Holding) of the EDP Group, in addition to having worked as a consultant and trainer in various public and private organisations.
---
Details:
Date: Friday, 30 September 2022
Time: 6:30 p.m. – 8:30 p.m (Macau). 11:30 a.m. – 1:30 p.m (Lisbon).
Location: Classroom 203, USJ Ilha Verde Campus
Organised by: Xavier Research Centre for Memory and Identity (USJ) , Instituto Oriente, and University of Lisbon.
Moderated by: Prof. Denis Zuev, Director of the Xavier Research Centre for Memory and Identity
Contact: denis.zuev@usj.edu.mo
---
Join Zoom Meeting
https://videoconf-colibri.zoom.us/j/93072272408?pwd=YnRVaDZBamo5SnEzd0NBV1dkdUh6Zz09
Meeting ID: 930 7227 2408
Password: 459306
---
*Free event, open to the general public
*Sessions will be conducted in English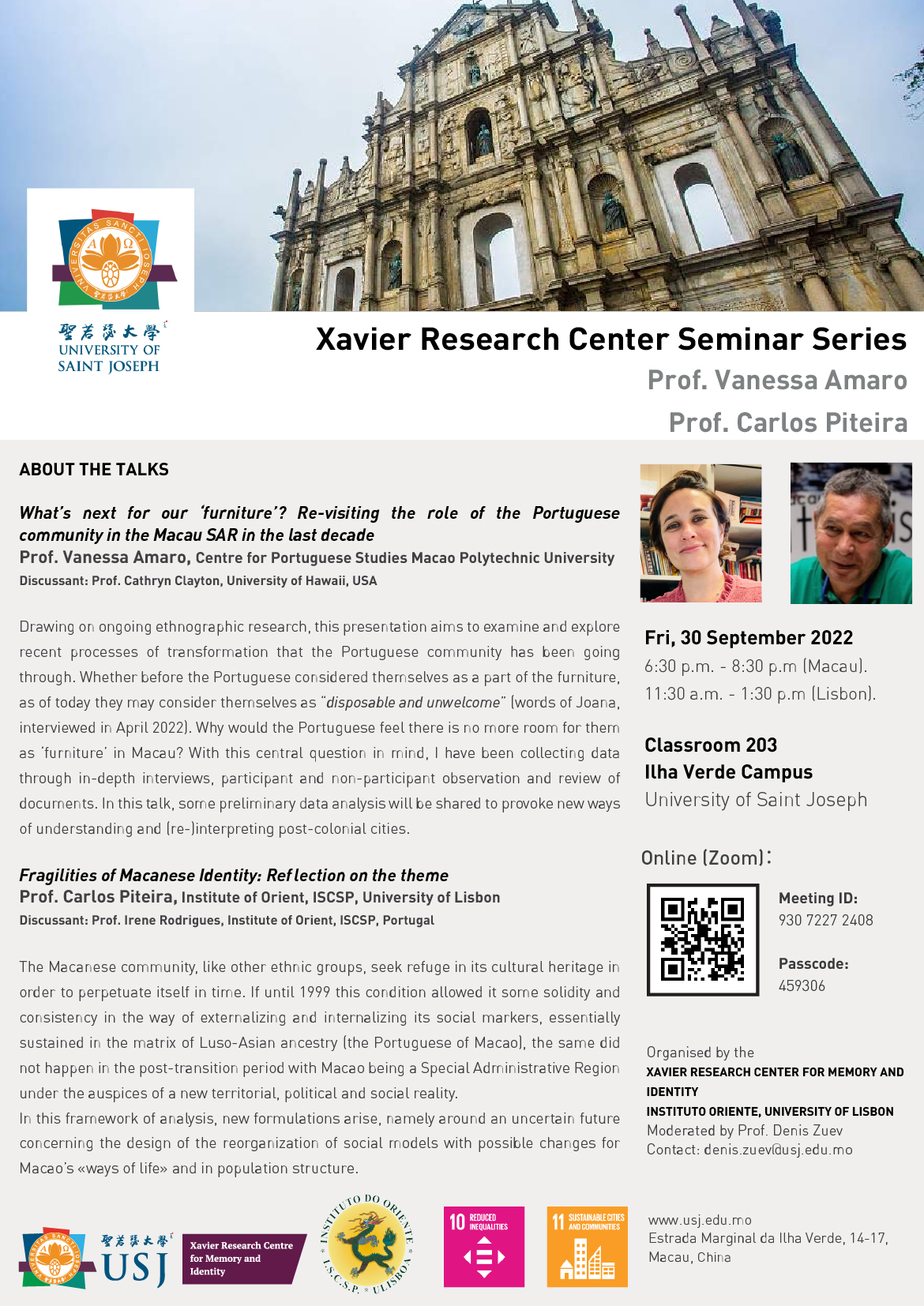 ---