USJ Communication & Media Students 2014 Exhibition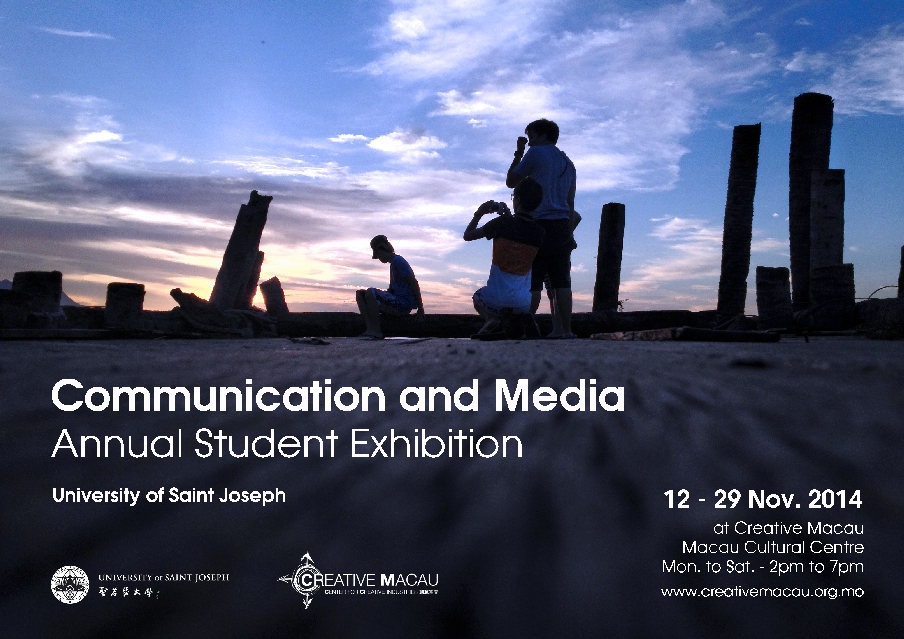 event
USJ Communication & Media Students 2014 Exhibition
Communication and Media Bachelor Students, from the Faculty of Creative Industries – University of Saint Joseph – will be exhibiting their latest work at Creative Macau, from 12 to 29 November 2014.
---
---
This year's productions include Photography, Graphic Design, Interactive Media, Animation, Video Production and Radio Recording.
The myriad of media formats presented in this event reflects the multidisciplinary approach followed in the Communication and Media Bachelor program, which was reinforced upon its inclusion in the Faculty of Creative Industries.
According to USJ organizer and program coordinator, professor José Manuel Simões, "this exhibition demonstrates the technical and practical topics covered by the BCM program, ranging from audiovisual production to digital publishing techniques, reflecting upon the entire range of modern platforms. The main focus of our program is on how people use messages to generate meanings placing our students at the forefront of contemporary information society. Like we can see at the exhibition, we prepare students with a solid foundation in learning, exploring existence, as well as the function of using different fields and gaining expertise in advanced tools".
The exhibition is open until 29 November and can be visited everyday, except Sundays, from 2:00pm to 7:00pm. Admission is free for all visitors.
The venue – Creative Macau – is located at Macau Cultural Centre building, at NAPE. Refreshments will be served during the opening session, scheduled for 12 November 2014 at 6:30pm.
---