Series of Sustainability Workshops | Education and Technology for Sustainability
event
Series of Sustainability Workshops | Education and Technology for Sustainability
The USJ Green Committee and Britcham Macao are offering a Series of Sustainability Workshops as part of the USJ Sustainability Month, with the second workshop titled "Education and Technology for Sustainability" taking place on Friday 6th of May.
---
---
ABOUT THE SERIES:
As part of the University of Saint Joseph (USJ) Sustainability Month, the USJ Green Committee, together with Britcham Macao, are offering a series of free sustainability-related workshops open to the community, organised around the Sustainable Development Goals (SDG) framework.
ABOUT THE WORKSHOP:
Education and Technology for Sustainability
(SD4: Quality education, SDG 11: Sustainable cities and communities, and SDG 17: Partnerships for the goals)
This workshop opens a dialogue about local initiatives in the area of sustainability; from the application of AI machine analysis to an essay contest on sustainability for students, to partnerships with USJ in using Internet of Things sensors for air pollution, electrical vehicle charger marketing strategies, or the smart city development app structural.city.
ABOUT THE SPEAKER:
Terence Lee, Chairman of Sustaincia, whose mission is to encourage sustainability using technology and social efforts, helping companies and universities adopt the latest research from art, blockchain, law and more.
---
DETAILS:
Date: Friday 6th of May, 2022
Time: 7:00 – 8:30 PM
Location: Classroom 101, USJ Ilha Verde Campus
Co-organiser: The British Chamber of Commerce in Macao
*Enrolment is advisable as seats are limited.
**This workshop is free and open to the public.
---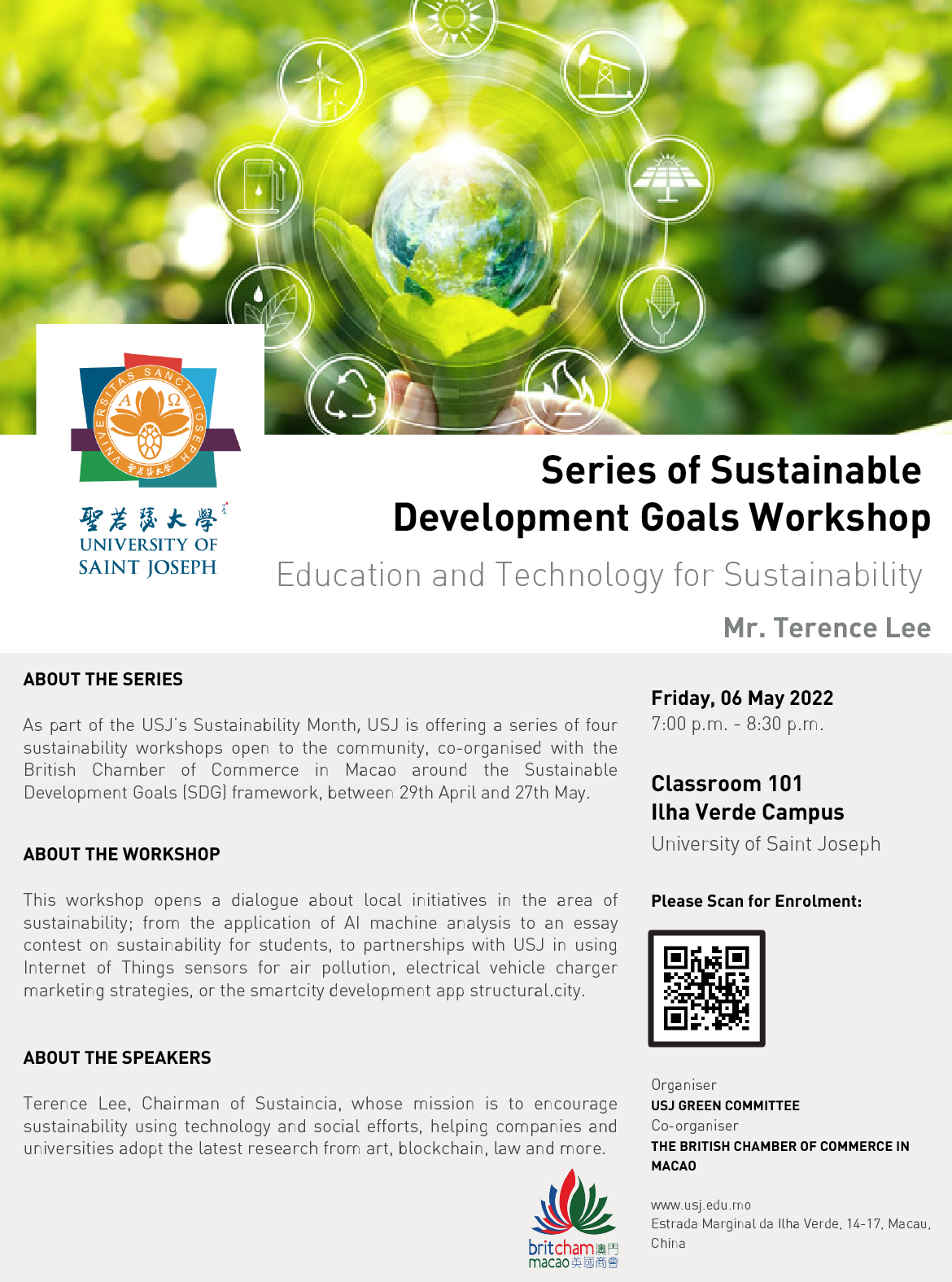 ---
Upcoming Series of Sustainability Workshop:
Topic: Urban Gardening for Social Inclusion and Well-being
Date: 19th of May
Location: Classroom 101, USJ Ilha Verde Campus
Topic: Insect diveristy monitoring for Ecosystem Preservation and Sustainability
Date: 27th of May
Location: Classroom 101, USJ Ilha Verde Campus
---