Seminar Statistics and Census Service (DSEC) – Statistics Seminar
event
Seminar Statistics and Census Service (DSEC) – Statistics Seminar
The Faculty of Business and Law and the Statistics and Census Service (DSEC) are hosting "Seminar Statistics and Census Service (DSEC) – Statistics Seminar" on Thursday, April 28, 2022.
---
---
SEMINAR OUTLINE
Introduction to official statistics

Statistics and Census Service (DSEC) and Monetary Authority of Macao (AMCM)

Surveys and data sources

Statistical confidentiality

Purpose

Regulations

Refusal to disclose personal information to third party

Analysis, summary

Topic discussion

Introduction

Gross Domestic Product

Introduction to GDP

What does GDP reflect?

What doesn't GDP reflect?

Nominal change v.s. real change

GDP computation methods

Expenditure approach

Production approach

Difference between expenditure approach and production approach

The economic development of Macao from the perspective of GDP

Domination of the secondary industry from the mid-1960s to the 1980s

Emergence of the tertiary industry from the end of the 1980s to the 1990s

Gaming boom from 2002 – 2013

Adjustment period from 2014 – 2017

Impact of the epidemic on Macau GDP

Obtaining data

DSEC website

Databases (including Statistical Databases, External Merchandise Trade Statistics Database and Visitor Statistics Database)

Guangdong-Hong Kong-Macao Greater Bay Area page

Statistics E-learning

Online Customer Service Desk

WeChat public account
Mobile APP
Documentation and Information Center
This seminar shall be delivered by Technicians of the Division of Promotion & Data Dissemination of the DSEC – Ms. Liza Yu and Mr. Wilson Fong.
---
DETAILS:
Date: Thursday, 28 April 2022
Time: 13:00 – 14:00
Location: Don Bosco Auditorium, USJ Ilha Verde Campus
Organised by: Faculty of Business and Law and Statistics and Census Service
Language: Cantonese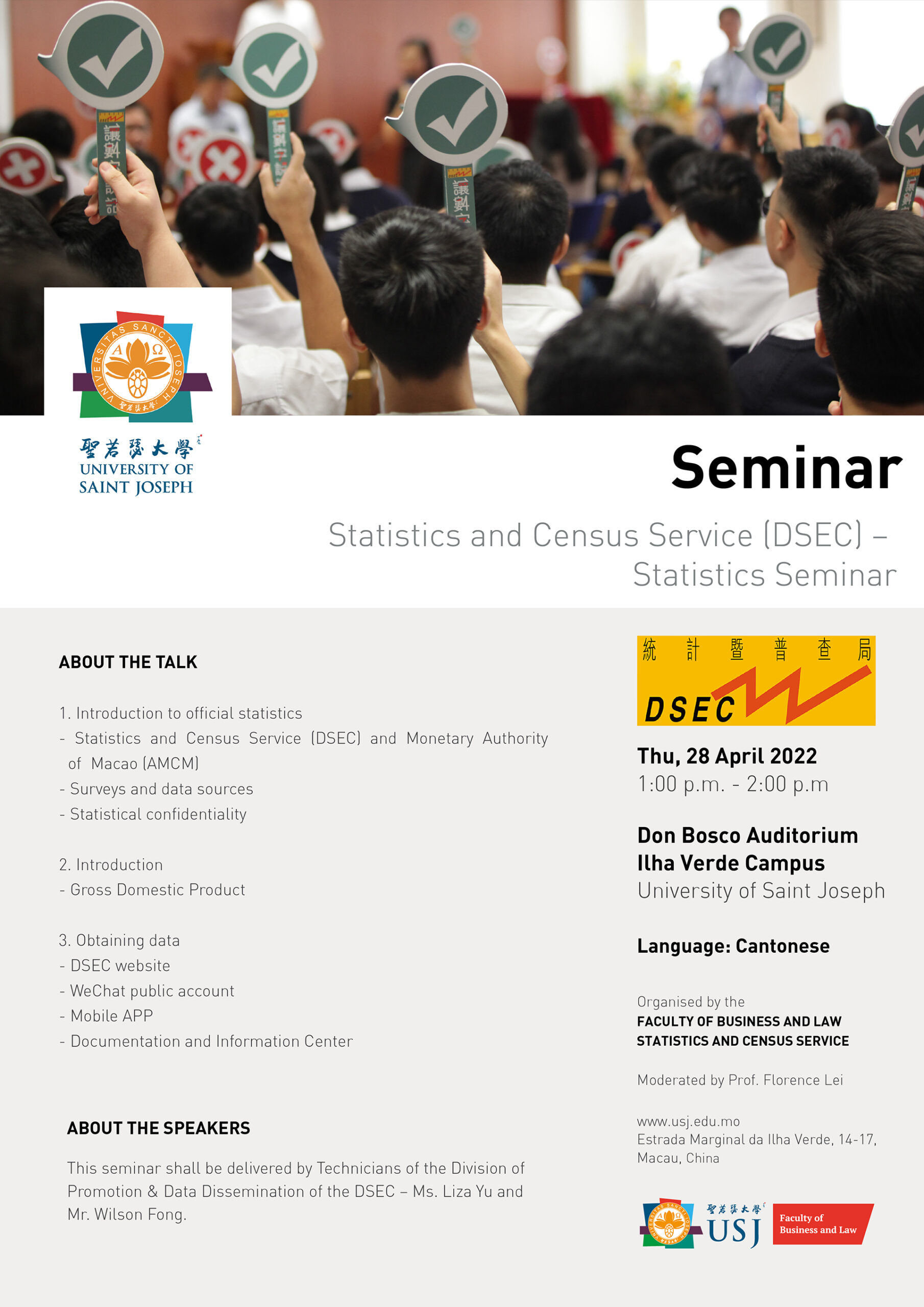 ---