Seminar | Public Service Recruitment and Legal Translation in Macao
event
Seminar | Public Service Recruitment and Legal Translation in Macao
USJ and USJ Alumni Association are hosting a Seminar on "Public Service Recruitment and Legal Translation in Macao" on Wednesday, April 20, 2022.
---
---
ABOUT THE TALK:
Public Service has been evolving in the latest decades in Macao, especially for the way to recruit, since 2016. Public Administration and Civil Service Bureau then became the entity to coordinate the some positions regulated by the law 14/2009. In the meantime, legal translation has been challenging in the recent century of Macao. As a significant figure committed in the public service for more than three decades, Mr. Chou Kam Chon will share his experiences and insights on the public service recruitment and legal translation in Macao.
ABOUT THE SPEAKER:
Mr. Kam Chon CHOU, the former Deputy Director of Public Administration and Civil Service Bureau, received his MA in Law, and two BAs in Law and in Chinese-Portuguese Translation. He devoted himself to the Macao law study and development, and was the deputy director of Law Reform and International Law Bureau, arbitration committee member of Arbitration Centre for Building Management Affairs. His publications include: Commercial Law of Macau, Portuguese Civil Law.
---
DETAILS:
Date: Wednesday, 20 April 2022
Time: 19:00 – 20:30 Macau time (GMT+8)
Location: 18th Floor USJ Residential Hall, USJ Ilha Verde Campus
Organised by: USJ and USJ Alumni Association
*This Public Lecture will be conducted in Cantonese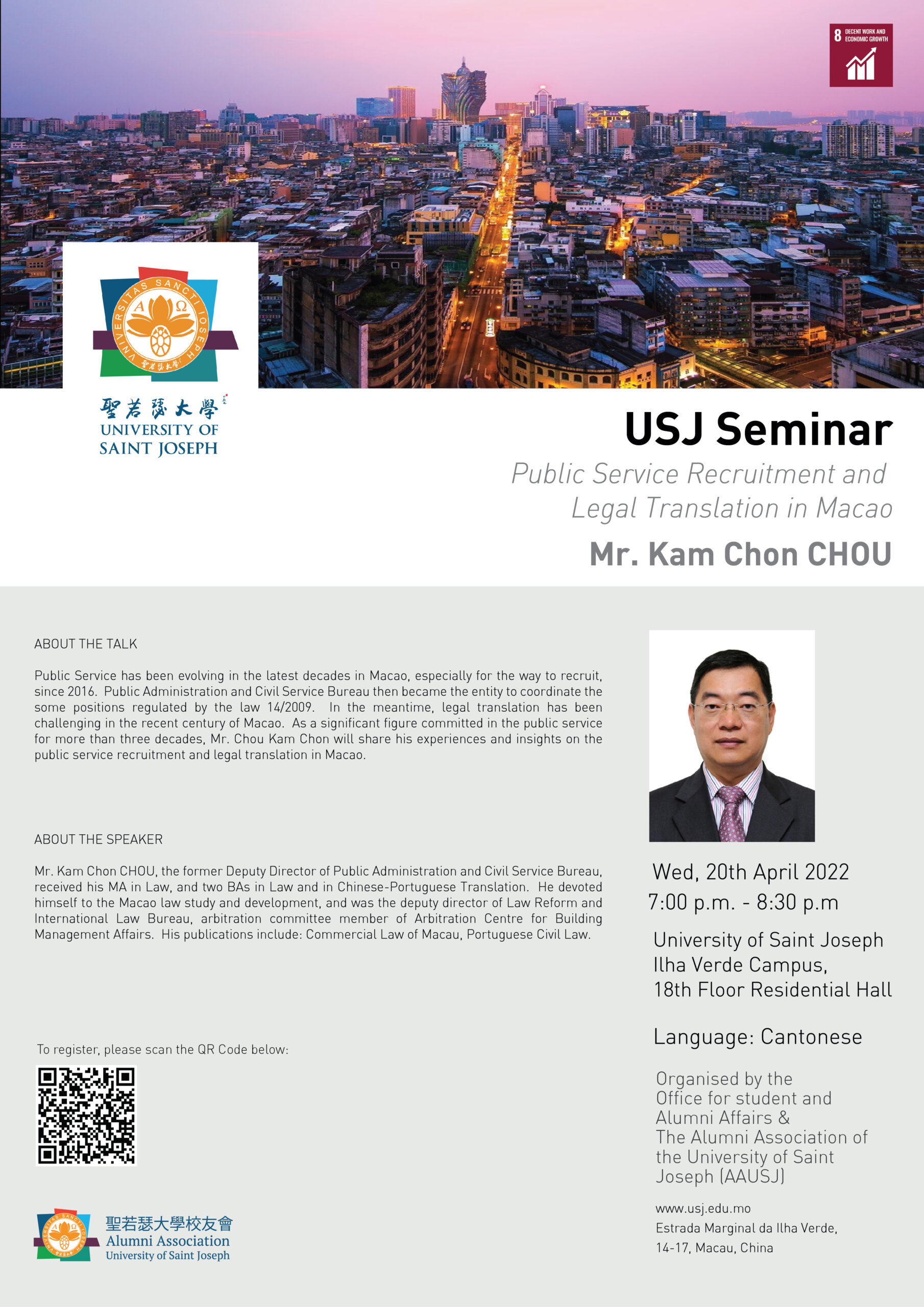 ---