Sea of Plastic: A Recycled Art Exhibition (The Venetian Macao)
event
Sea of Plastic: A Recycled Art Exhibition (The Venetian Macao)
"Sea of Plastic: A Recycled Art Exhibition", organised by the ISE/USJ, will be on the display from 5 – 26 June at the Venetian Macao.
---
---
"Sea of Plastic: A Recycled Art Exhibition" is organized by the Institute of Science and Environment at the University of Saint Joseph (ISE/USJ), which aims to raise awareness about the need to protect our coastal ecosystems and oceans from plastic pollution. The theme of the exhibition is recycled art, highlighting the effects of plastic pollution on our oceans and coasts.
The ongoing exhibition at the Kent Wong Gallery, located at USJ's Ilha Verde campus, is set to expand its reach. Starting from June 5th to June 26th, the exhibition will be moving to the Venetian Macao, offering a wonderful opportunity for even more people to appreciate and enjoy the event. Additionally, the winners of the Plastic Pollution Artwork competition will be celebrated and awarded during the opening at the Venetian on June 5th.
The exhibition features a variety of 3D art pieces, including sculptures of marine and coastal organisms, created mostly by students from schools and local artists. The artworks offer a range of interpretations of the plastic pollution in our oceans and coasts theme, conveying the artists' feelings and ideas about plastic waste and sustainability topics related to plastics. All artworks have been exclusively created or composed from fully recycled or reused materials. Artists were encouraged to use various recycled or collected litter materials, from beach cleanups and other sources, with the main component being recycled plastics.
The exposition also feature scientific display boards that provide essential information on the harmful effects of plastic pollution in the oceans. The posters detail potential solutions to mitigate the issue, emphasizing the use of mangroves as a nature-based method for trapping plastic waste.
Through this powerful showcase of how we can turn waste into art, the event aims to raise awareness about the critical need to protect our oceans and coasts, providing a unique opportunity to engage with this critical issue and hopefully inspire positive change.
This event is organized within the context of the project "Wetland ecosystems: a nature-based solution for coastal protection and plastic pollution entrapment in Macao" which is supported by Clean the World foundation and Las Vegas Sands, and developed by ISE within the framework of the Drop by Drop Project that reinvests capital from water stewardship efforts into innovative projects.
---
DETAILS
Opening and Awarding Ceremony:
Date: Monday, June 5, 2023
Time: 17:00 to 18:00
Opening Hours:
June 5 to June 26, 2023
Monday to Sunday from 9:00 am to 9:00 pm
Venue: Circular Hall, Level 3, The Venetian Macao
---
The Project Team:
Karen Arano Tagulao (PI, ISE/USJ)

Sara Cardoso (Co-PI, ISE/USJ)

Agata Dias (Team Member, ISE/USJ)

Thomas Lei (Team Member, ISE/USJ)

Saidu Bashir (Reasearch Assistant, ISE/USJ)

Yolanda Lau (Research Assistant, ISE/USJ)

Cristina Calheiros (Collaborator, CIIMAR/UCP)

José Teixeira (Collaborator, CIIMAR/UCP)
Featured Artist:
Volunteers/contributors:
Pedro Costa (Research Assistant, ISE/USJ)

Alex Lebel (Research Assistant, ISE/USJ)
Design 設計:
Filipa Martins de Abreu and Rui de Abreu

Edge River
Participating Schools/Organizations:
Lou Hau Middle School

Macao Anglican College

Sacred Heart Canossian College (English Section)

Sta. Rosa English Secondary

The International School of Macao

Green Future
Sponsors and Collaborators:
Clean the world

Las Vegas Sands

Drop by Drop project

CIIMAR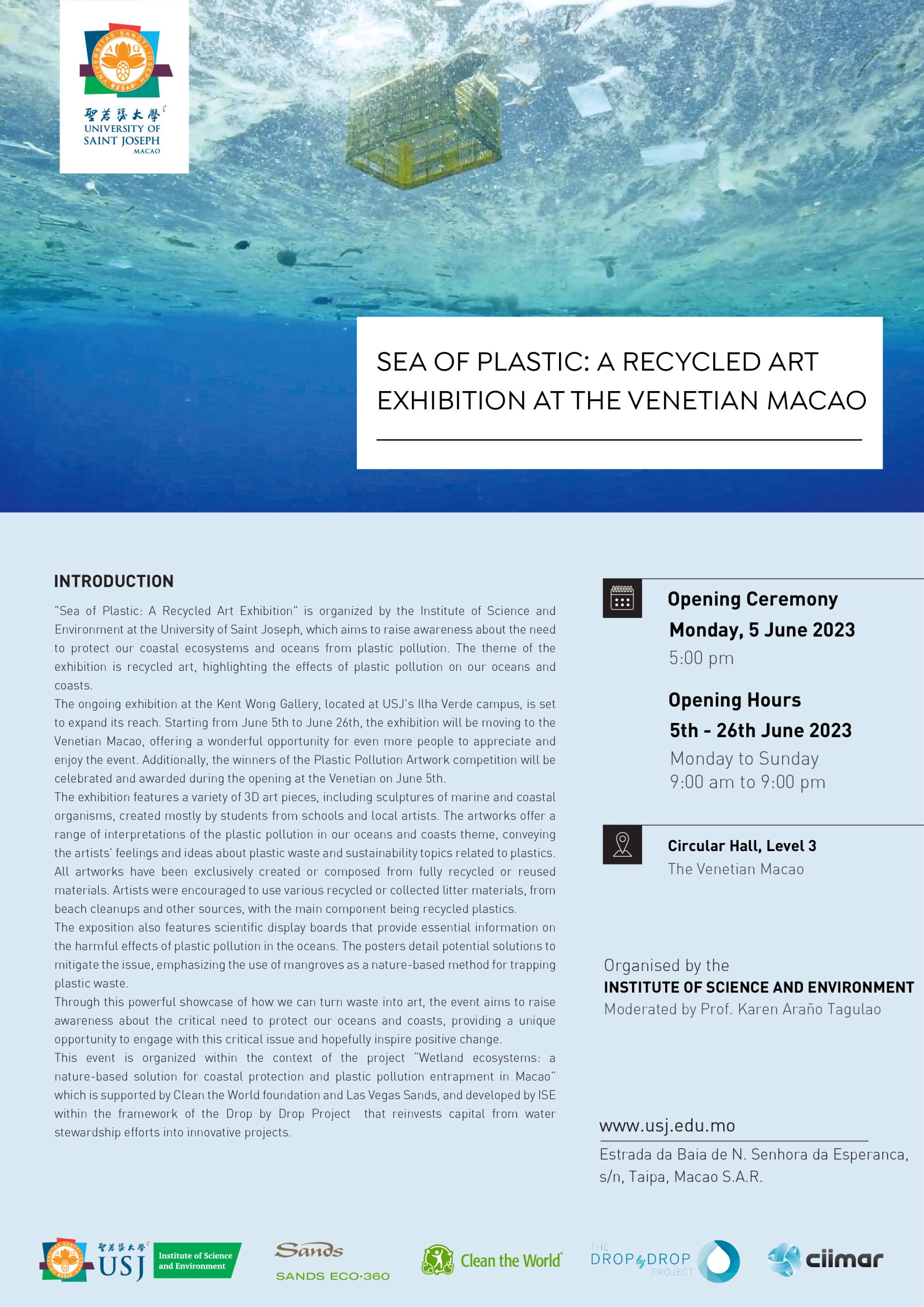 ---