Public Lecture: Understanding the Gifted Ones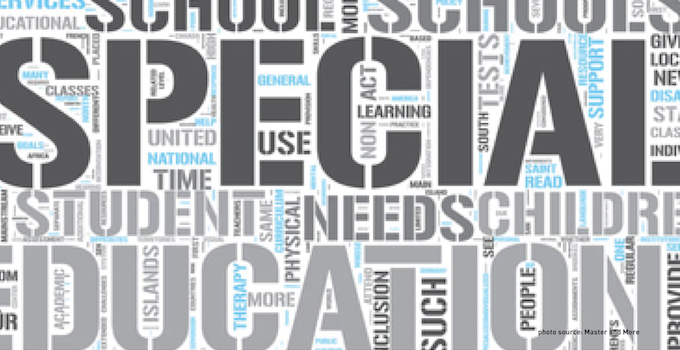 event
Public Lecture: Understanding the Gifted Ones
Public Lecture: Understanding the Gifted Ones by SED on 11th April 2017
---
---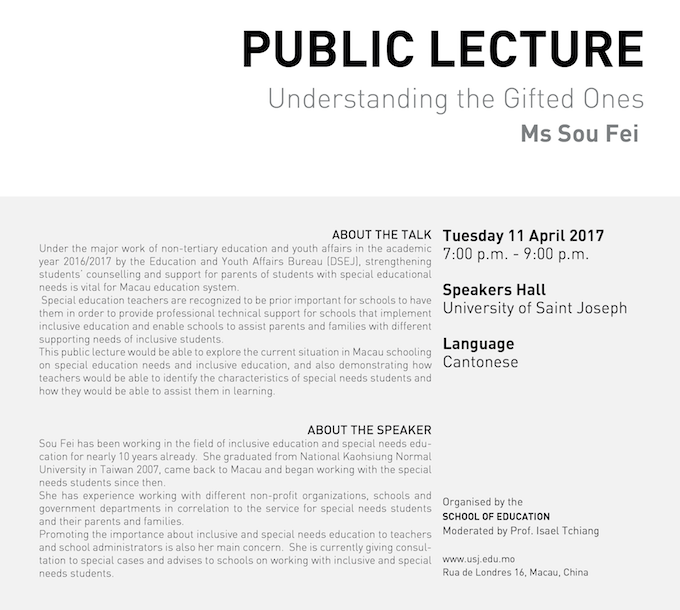 About the Talk
Under the major work of non-tertiary education and youth affairs in the academic year 2016/2017 by the Education and Youth Affairs Bureau (DSEJ), strengthening students' counselling and support for parents of students with special educational needs is vital for Macau education system.
Special education teachers are recognized to be prior important for schools to have them in order to provide professional technical support for schools that implement inclusive education and enable schools to assist parents and families with different supporting needs of inclusive students.
This public lecture would be able to explore the current situation in Macau schooling on special education needs and inclusive education, and also demonstrating how teachers would be able to identify the characteristics of special needs students and how they would be able to assist them in learning.
About the Speaker
Sou Fei has been working in the field of inclusive education and special needs education for nearly 10 years already.  She graduated from National Kaohsiung Normal University in Taiwan 2007, came back to Macau and began working with the special needs students since then.
She has experience working with different non-profit organizations, schools and government departments in correlation to the service for special needs students and their parents and families.
Promoting the importance about inclusive and special needs education to teachers and school administrators is also her main concern.  She is currently giving consultation to special cases and advises to schools on working with inclusive and special needs students.
---