MRI Online Forum | Redefining Spiritual Transformation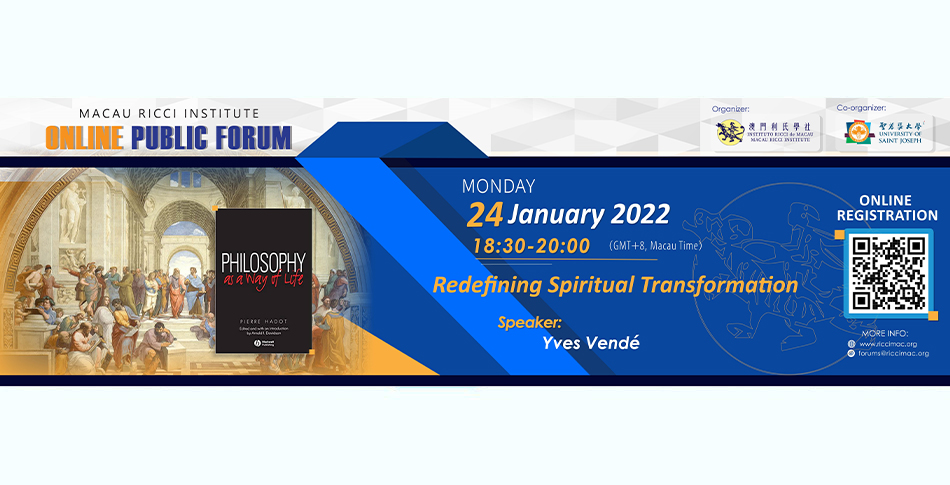 event
MRI Online Forum | Redefining Spiritual Transformation
The Macau Ricci Institute is hosting the Online Forum titled " Redefining Spiritual Transformation", on 1 December 2021.
---
---
ABOUT THE TALK:
In the 80s, Pierre Hadot and Michel Foucault described Ancient Greek Philosophy as a "way of life". Using this expression, they wanted to highlight that in Greek Antiquity philosophizing implied a transformation of the person involved in the process. In the past years, more and more scholars investigating Chinese tradition have been using their expression of "philosophy as a way of life" to describe Chinese philosophy. One moment in Chinese tradition can especially echo an understanding of philosophy as a way of life: Neo-Confucianism as developed by Zhu Xi (1130-1200). This presentation will show how learning (xue學) in Zhu Xi's thought can echo to Hadot's understanding of philosophy.
ABOUT THE SPEAKER:
Yves Vendé
After learning Mandarin Chinese at the University of Business and Economics in Beijing, Yves Vendee taught French and Latin for two years (2012-2014) at Sun Yat-sen University in Guangzhou. In 2014, he joined the Ph.D. program of Sun Yat-sen (2014-2018) under the direction of Chen Shaoming (陳少明) and finished his dissertation in 2018 (title: From Comparison to Dialogue. Research on Zhu Xi's Method of Reading from the Point of View of Inter-cultural philosophy). After a postdoc at Loyola Marymount University (Los Angeles, USA), he is now teaching philosophy at the Catholic University of Lille (France).
---
DETAILS:
Date: Monday, 24 January 2022
Time: 6.30 PM – 8.00 PM (GMT +8, Macao Time)
Organised by: Macau Ricci Institute
*Free event, open to the general public
*Sessions will be conducted in English
A confirmation email and ZOOM access link will be sent after your registration.
More information: http://www.riccimac.org/index.php/en/component/djevents/details/2022-01-24/175-mri-forum-110
---