ISE Science Seminars | Plastics in the South China Sea: a shared problem and responsibility
event
ISE Science Seminars | Plastics in the South China Sea: a shared problem and responsibility
The Institute of Science and Environment will hold a ISE Science Seminars – Plastics in the South China Sea: a shared problem and responsibility on 18th January 2023.
---
---
ABOUT THE TALK:
Micro(plastics) are an emerging threat to all ecosystems – from the terrestrial to aquatic to marine and even atmospheric environment. Many littoral states surrounding the South China Sea have been included in the top 10 contributors to global marine plastics pollution due to mismanagement and leakage. Here, the journey of plastics from the terrestrial to the riverine and then ultimately the ocean environment will be followed to gain deeper insights on the processes involved in the transport of this pollutant in the Philippine context. A comprehensive dataset collated by Plasticount Pilipinas Project showed the abundance and presence of various plastic types in the different habitats of the Philippines, which also emphasizes the limited data available to understand the extent and gravity of the problem in the country. Data collected from the isolated islands in the Kalayaan Island Group (Spratlys Islands) in the South China Sea also showed that majority (>70%) of labelled plastic products found accumulating in the coasts of Pag-asa did not come from the Philippines, indicating that it is a transboundary problem. Potential contributors, processes, and the implications of these pollution in these isolated environments, as well as potential regional initiatives to tackle the issue will then be discussed.
ABOUT THE SPEAKER:
Dr. Deo Florence L. Onda is an Associate Professor and the current Deputy Director for Research of the UP Marine Science Institute. He obtained his Interuniversity PhD in Oceanography in Université Laval in Quebec, Canada and a post-doctoral work in Alfred Wegener Institute – Hemholtz Center for Polar and Marine Research. He returned to the Philippines in 2018 as a Balik PhD Fellow of the UP System and a Balik Scientist Fellow of the Philippines' Department of Science and Technology. His work is mainly focused on understanding biological responses to changes in the environment, for which he received several international awards and fellowships. He is actively participating and leading expeditions in the Arctic region, Pacific, West Philippines Sea, and hadal depths of the Philippine Trench. He is also running several research projects as the Program or Project Leader focusing on harmful algal blooms, microbial biodiversity, conservation, and emerging threats such as climate and plastics pollution. He is also actively involved in the promotion of marine scientific research in the Philippines and the region.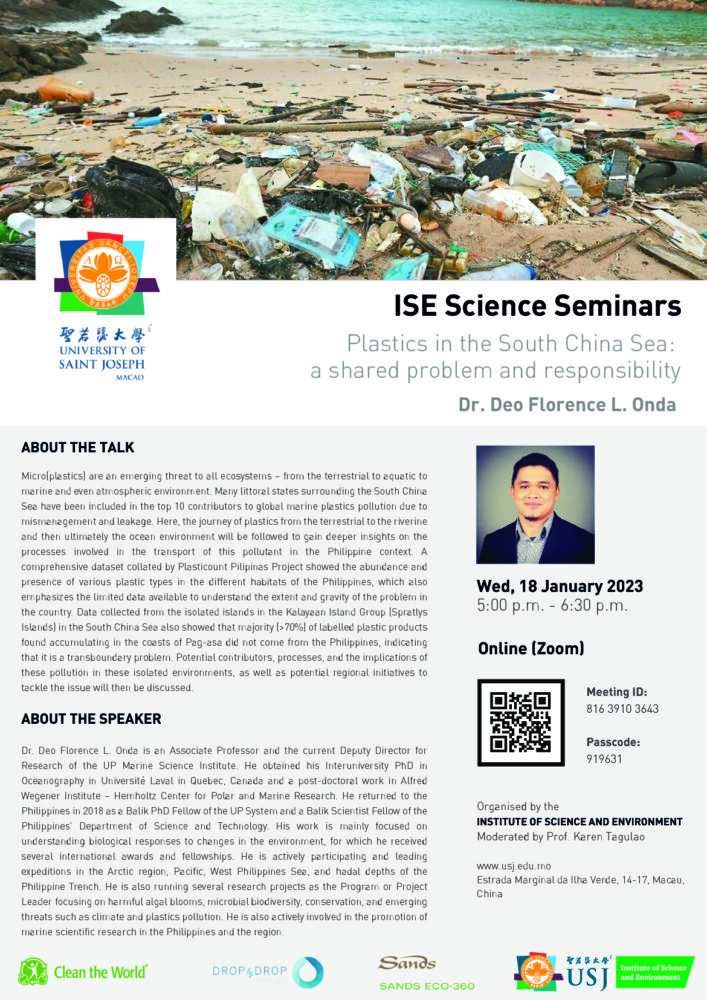 ---