FSS-MMSSC Public Lectures – II | Leadership and Management in NGOs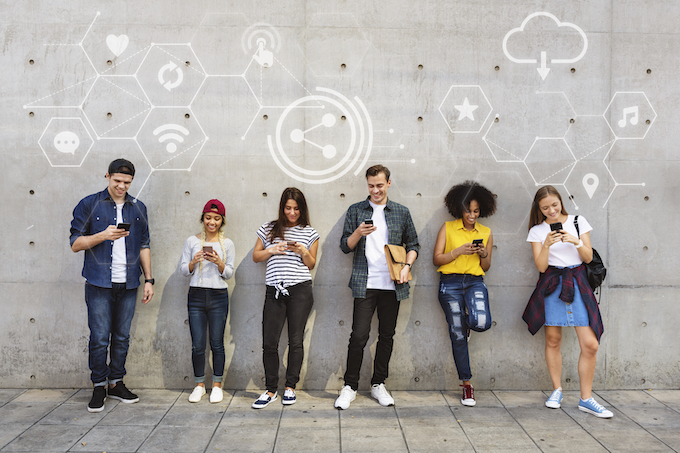 event
FSS-MMSSC Public Lectures - II | Leadership and Management in NGOs
On 14 November 2019, USJ's Faculty of Social Sciences and Mother Mary Social Studies Centre are organising an FSS-MMSSC Public Lecture titled "Leadership and Management in NGOs" by Ms. Lillian Li.
---
---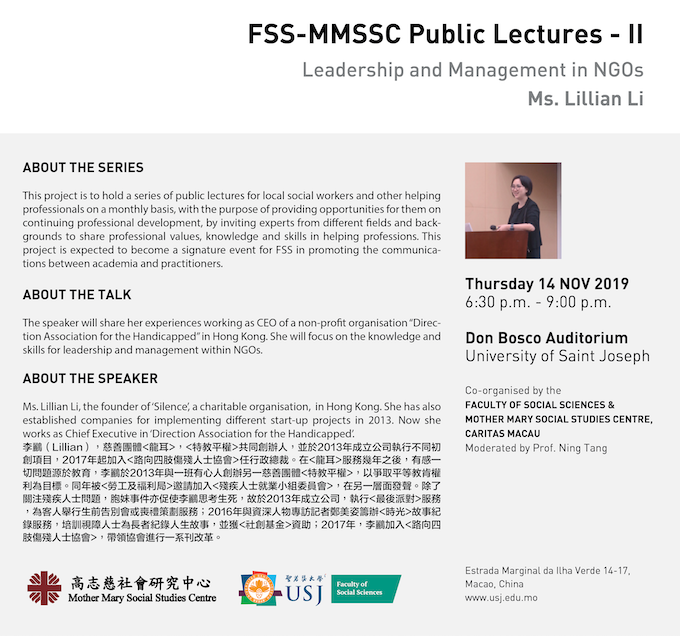 ABOUT THE SERIES
This project is to hold a series of public lectures for local social workers and other helping professionals on a monthly basis, with the purpose of providing opportunities for them on continuing professional development, by inviting experts from different fields and backgrounds to share professional values, knowledge and skills in helping professions. This project is expected to become a signature event for FSS in promoting the communications between academia and practitioners.
• To broaden local social workers' global horizons
• To facilitate social work professionalisation in Macao
• To equip helping professionals with cutting-edge knowledge and skills
• To provide a platform for helping professionals to share experiences and exchange ideas
ABOUT THE TALK
The speaker will share her experiences working as CEO of a non-profit organisation "Direction Association for the Handicapped" in Hong Kong. She will focus on the knowledge and skills for leadership and management within NGOs.
ABOUT THE SPEAKER
Ms. Lillian Li, the founder of 'Silence', a charitable organisation, in Hong Kong. She has also established companies for implementing different start-up projects in 2013. Now she works as Chief Executive in 'Direction Association for the Handicapped'.
李鸝(Lillian),慈善團體<龍耳>,<特教平權>共同創辦人,並於2013年成立公司執行不同初創項目,2017年起加入<路向四肢傷殘人士協會>任行政總裁。在<龍耳>服務幾年之後,有感一切問題源於教育,李鸝於2013年與一班有心人創辦另一慈善團體<特教平權>,以爭取平等教肯權利為目標。同年被<勞工及福利局>邀請加入<殘疾人士就業小組委員會>,在另一層面發聲。除了關注殘疾人士問題,胞妹事件亦促使李鸝思考生死,故於2013年成立公司,執行<最後派對>服務,為客人舉行生前告別會或喪禮策劃服務;2016年與資深人物專訪記者鄭美姿籌辦<時光>故事紀錄服務,培訓視障人士為長者紀錄人生故事,並獲<社創基金>資助;2017年,李鸝加入<路向四肢傷殘人士協會>,帶領協會進行一系刊改革。
More photos on Flickr!
---