Department of Architecture and Design Lecture Series Fall 2022 I "Living Systems, exploring the potentials of a more-than-human future"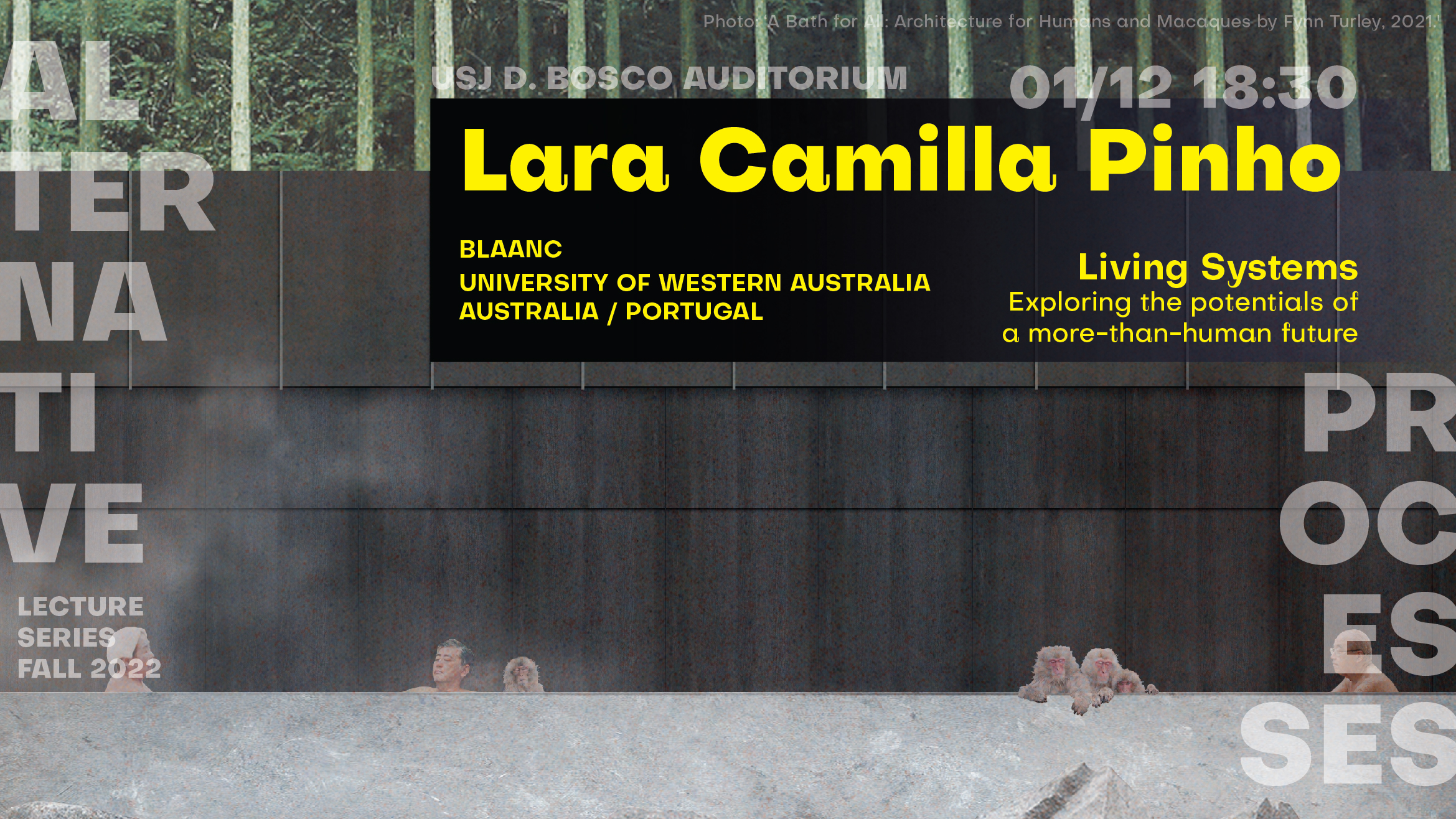 event
Department of Architecture and Design Lecture Series Fall 2022 I "Living Systems, exploring the potentials of a more-than-human future"
The USJ Department of Architecture and Design (DAD) is organising the Lecture Series Fall 2022 – Alternative Processes "Living Systems, exploring the potentials of a more-than-human future" in 01 December, 2022.
---
---
ABOUT THE SERIES:
The USJ Department of Architecture and Design (DAD) is pleased to announce the Lecture Series Fall 2022, inviting students, architects, designers and the wider community to join and share an open dialogue. The lecture series will stage public conversations with speakers from across the architecture discipline under the theme "Alternative Processes". At a moment when the profession is going through some significant questions on a global scale, we will explore the working processes of practitioners that gravitate on the boundaries of architecture, seeking alternatives to the established forms of architectural design.
With this initiative, DAD highlights its commitment to experimental work at the edge of the discipline, outlining propositions for alternative forms of practice. The Fall 2022 lecture series includes five sessions featuring the work of five innovative architects and design studios.
---
ABOUT THE TALK:
We are not alone on this planet, yet the impact of a human attempt to exert control over nature has become clear in the form of the climate crisis. Diminishing resources and rapid species extinction – for which humans are almost exclusively accountable – present unprecedented global challenges resulting in a serious biodiversity crisis.
Can architecture explore the potentials of a more-than-human future?
By challenging the conventional understandings of architecture as a human-centred practice we are able to blur the boundary between human, animal and plant life and reflect on our relationship to nature and the symbiotic interdependence that underpins all life on earth.
ABOUT THE SPEAKER:
Lara Camilla Pinho is an award-winning teacher and architect focused on sustainability and social impact. Through teaching, research and practice, Lara seeks to tackle real-world problems and current global issues using sustainable solutions that focus on vernacular construction, local resources and a more-than-human lens.
At UWA's School of Design, Lara is co-coordinator of the Social Impact Design focus area in the Master of Architecture program which focuses on design's capacity for social change by offering a solid foundation in design that is socially, environmentally, and economically sustainable. Students are exposed to the complex and global nature of issues found equally in the realms of economic development, community improvement and disaster relief. Lara has established the unit 'Empowering Communities through Design' which seeks to establish a best practice framework for understanding the field and the worth of design that serves all species.
Lara's research areas include the potential of design-research methods to add value to recycled plastics in collaboration with the University of Tasmania as well as investigating the potential of climate adaptive building materials in desert and drylands in collaboration with Bond University.
Lara is also a co-founder and Principal Architect at BLAANC borderless architecture and co-founded the non-profit humanitarian association Adobe for Women Association.
---
Details:
Date: Thursday, 1 December 2022
Time: 6:30 p.m. – 8:00 p.m (Macau)
Location: Don Bosco Auditorium, USJ Ilha Verde Campus
Organised by: Department of Architecture and Design – Faculty of Arts and Humanities.
Moderated by:
Prof. Filipe Afonso, Programme Supervisor of the Bachelor of Architectural Studies
Prof. Nuno Soares, Head of the Department of Architecture and Design
Contact: filipe.afonso@usj.edu.mo
---
Join Zoom Meeting
https://us06web.zoom.us/j/85641099992?pwd=MlNCZ1RCdUZ2VXBmdVJlZW5idEZqZz09
Meeting ID: 856 4109 9992
Password: 683363
*Free event, open to the general public
*Sessions will be conducted in English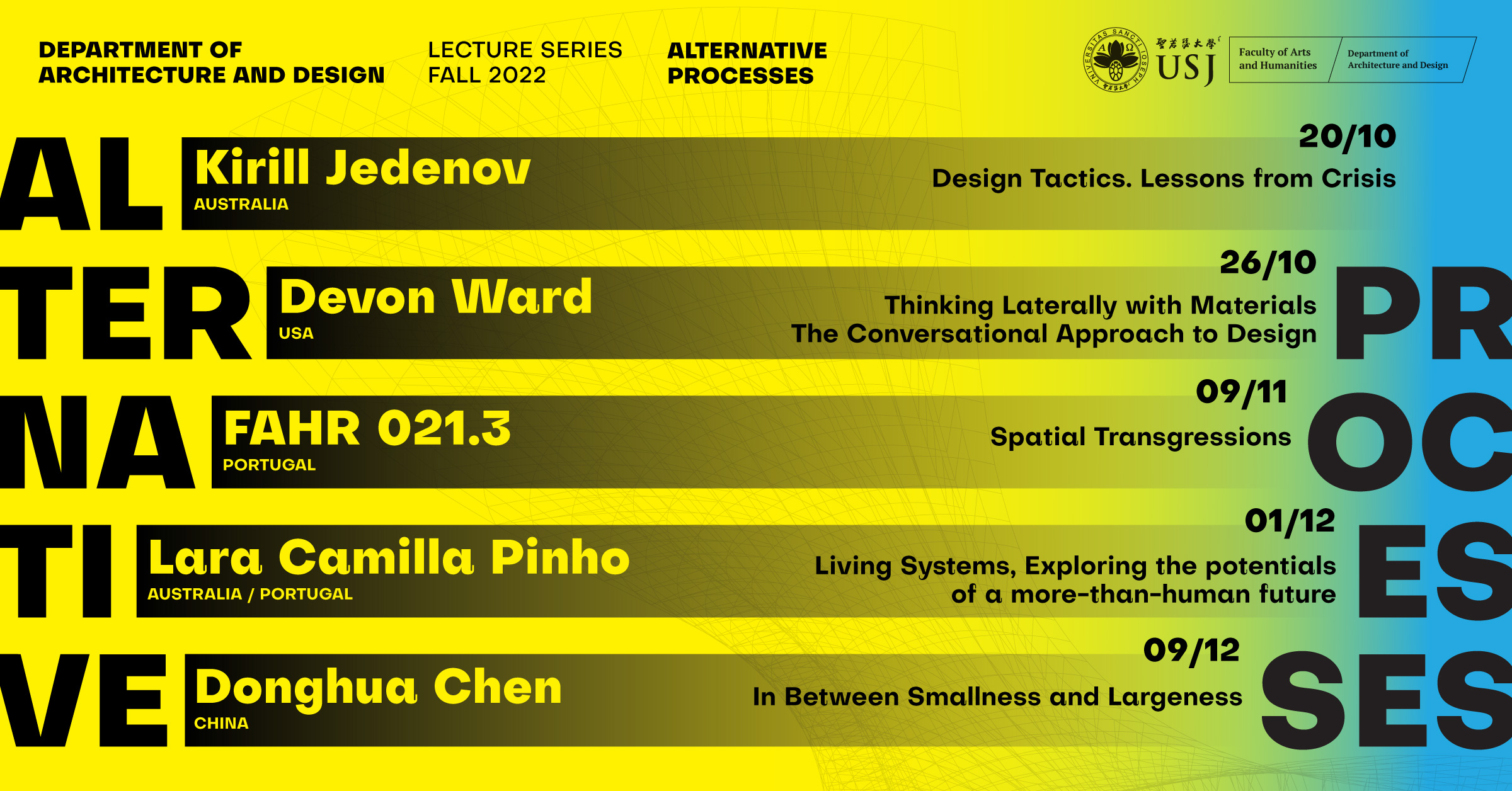 ---