Department of Architecture and Design Lecture Series Fall 2022 I Alternative Processes "Thinking Laterally with Materials: The Conversational Approach to Design"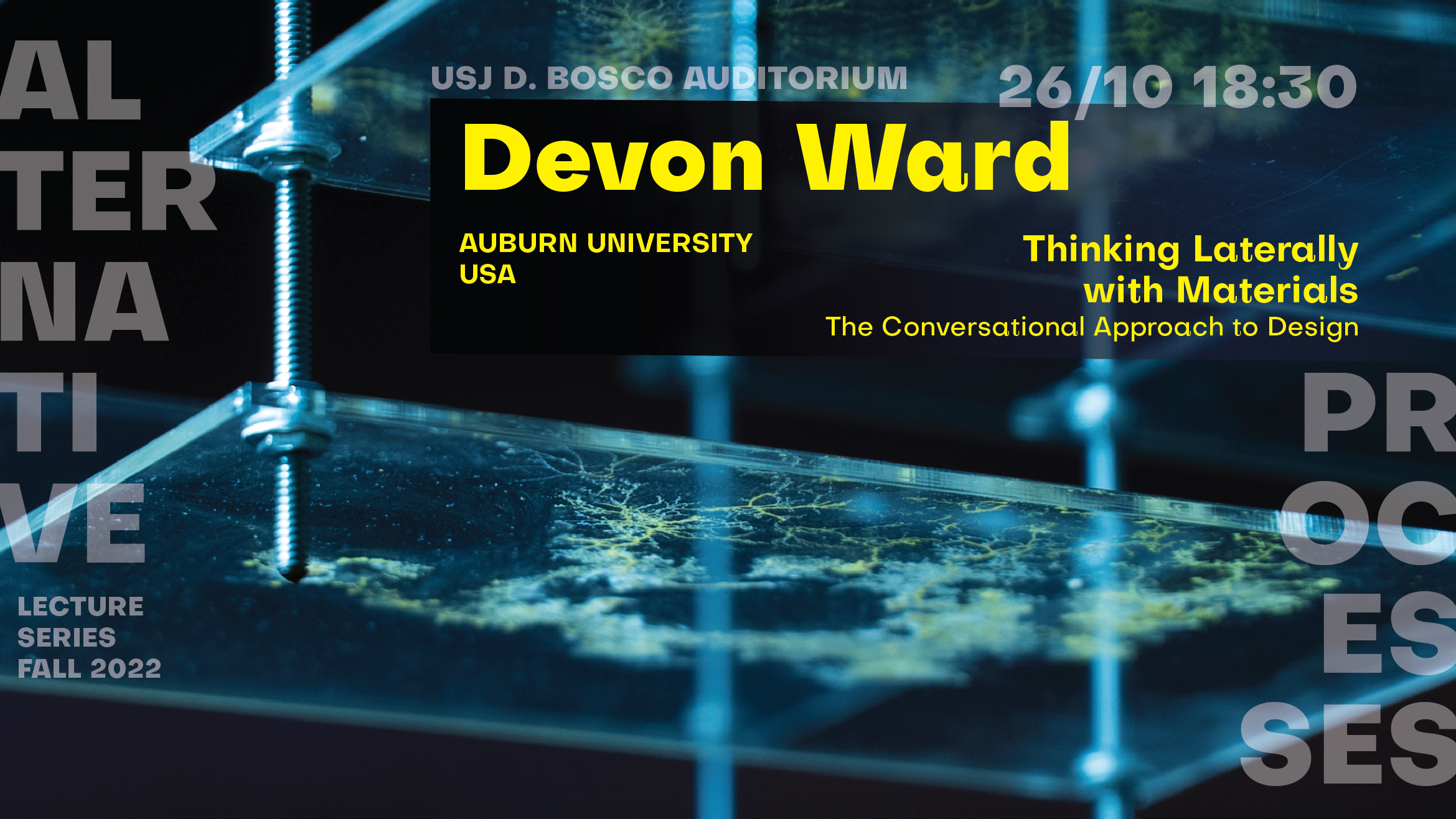 event
Department of Architecture and Design Lecture Series Fall 2022 I Alternative Processes "Thinking Laterally with Materials: The Conversational Approach to Design"
The USJ Department of Architecture and Design (DAD) is organising the Lecture Series Fall 2022 – Alternative Processes "Thinking Laterally with Materials: The Conversational Approach to Design" in 26 October, 2022.
---
---
ABOUT THE SERIES:
The USJ Department of Architecture and Design (DAD) is pleased to announce the Lecture Series Fall 2022, inviting students, architects, designers and the wider community to join and share an open dialogue. The lecture series will stage public conversations with speakers from across the architecture discipline under the theme "Alternative Processes". At a moment when the profession is going through some significant questions on a global scale, we will explore the working processes of practitioners that gravitate on the boundaries of architecture, seeking alternatives to the established forms of architectural design.
With this initiative, DAD highlights its commitment to experimental work at the edge of the discipline, outlining propositions for alternative forms of practice. The Fall 2022 lecture series includes five sessions featuring the work of five innovative architects and design studios.
ABOUT THE TALK:
Today, designers often incorporate new materials, technologies, and ways of thinking to meet the challenges of our changing environments. But as the field of design expands to engage with fields of thought such as biology, ecology, anthropology, and beyond, the outcomes become increasingly unknown. This talk presents an alternative process called the Conversational Approach to Design, an open-ended creative method that helps designers navigate new fields and unknown outcomes. Several case studies from architecture, art, and biodesign will be presented which showcase how this process can encourage experimental approaches to new materials.
ABOUT THE SPEAKER:
Devon Ward is a designer, artist, and educator who works across multiple creative disciplines including print design, interactive media, biodesign, and experimental art. He is an Assistant Professor of Graphic Design at Auburn University where he teaches introduction to graphic design and advanced interactive media.
His research focuses on design as an expanding field that blends new materials, technologies, and theories to adapt to changing environments. His work has been featured nationally and internationally including at The Philadelphia Museum of Art, The Walker Art Center in Minneapolis, The John Curtin Gallery in Australia, The Chronus Art Center in Shanghai, and The Science Gallery in Dublin.
---
DETAILS:
Date: Wednesday, 26 October 2022
Time: 6:30 p.m. – 8:00 p.m (Macau)
Location: Don Bosco Auditorium, USJ Ilha Verde Campus
Organised by: Department of Architecture and Design – Faculty of Arts and Humanities.
Moderated by:
Prof. Filipe Afonso, Programme Supervisor of the Bachelor of Architectural Studies
Prof. Nuno Soares, Head of the Department of Architecture and Design
Contact: filipe.afonso@usj.edu.mo
---