2021 Seminar: Food Sustainability and Waste Reduction – A Platform for Action
event
2021 Seminar: Food Sustainability and Waste Reduction - A Platform for Action
The University of Saint Joseph (USJ) is organising the first of a series of seminars about the Sustainable Development Goals (SDG) on July 23.
---
---
The University of Saint Joseph (USJ) is organising the first of a series of seminars about the Sustainable Development Goals (SDG) – SDG 2: Zero Hunger and SDG 12: Responsible Consumption and Production.
The event aims to bring local and international experts from different sectors together for talks, sharing sessions and round table discussions about solutions and strategies to achieve the SDGs and tackle the challenges facing the world today.
Our target audience for this seminar are those working on food production and food sustainability, but all those interested in sustainability are welcome to join.
---
Details:
Date: Friday, 23 July 2021
Time: 15:00 – 18:00
Location: Don Bosco Auditorium, USJ Ilha Verde Campus
Meeting ID: 954 5098 8501
Passcode: 872691
Organised by: University of Saint Joseph
Seating is limited and on a first come, first served basis.
Add to my Google Calendar
---
About the Speakers and Topics:
1) Tackling global Food Loss and Waste through joint action
The presentation will provide an overview on multilateral activities towards fighting food loss and waste as well as some findings from German research.
Speaker: Dr. Felicitas Schneider (Coordinator of Collaboration Initiative Food Loss and Waste launched at MACS-G20, MACS – Meeting of Agricultural Chief Scientists, Thünen Institute – Institute of Market Analysis, Federal Research Institute for Rural Areas, Forestry and Fisheries, Braunschweig, Germany
2) Food waste prevention and management: Macao perspectives
Overview of Macao's waste management system, waste generation and waste composition, and of possible strategies for the future.
Speaker: Fr. Franz Gassner (Associate professor, Dean of Faculty of Religious Studies and Philosophy of USJ) and Warren Li (General Manager, Ultra Clean Waste Services Limited)
3) Turning food waste into biodegradable plastic using engineered E. Coli
Present international awarded school project to produce biodegradable plastic.

Speaker: Students and Ms. Cheong WM (Pui Ching middle School)
4) Food literacy: food is more than taste
Food is the strongest lever to optimise human health and environmental sustainability. People can spread the culture of voting with their chopsticks for the health of people and planet.
Speaker: Ruby O (Founder and Chairperson of Society of Food & Environmental Health, Macao)
5) A food waste reduction initiative in Macao
Present the initiative of the NGO, in a city that has all conditions to be an example regarding environmental awareness.
Speaker: Gilberto Camacho (Funding member of NGO Macau ECOnscious)
6) Roundtable: Food sustainability and waste reduction strategies
"What strategies can we develop to tackle SDG2 locally and globally?"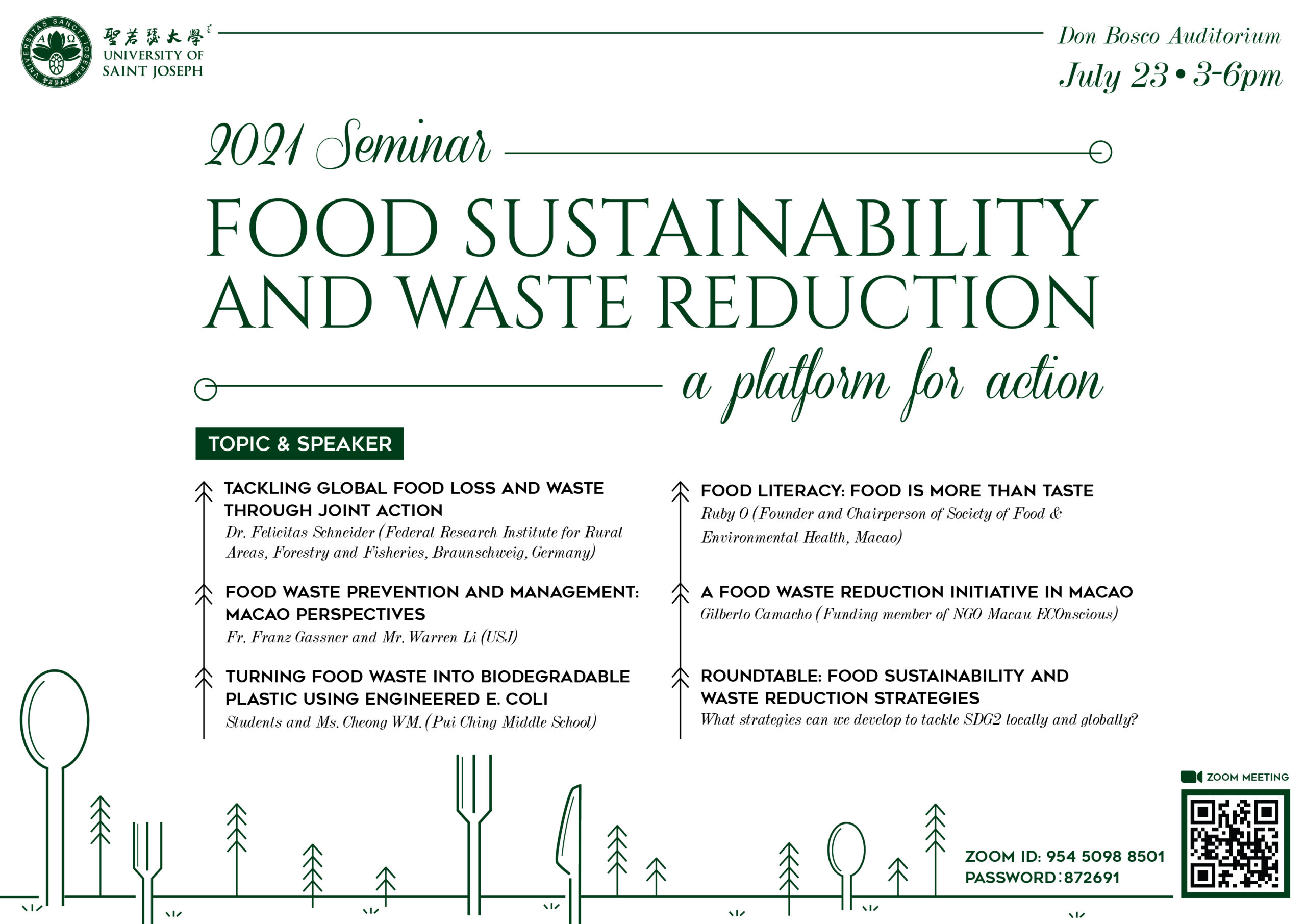 ---