900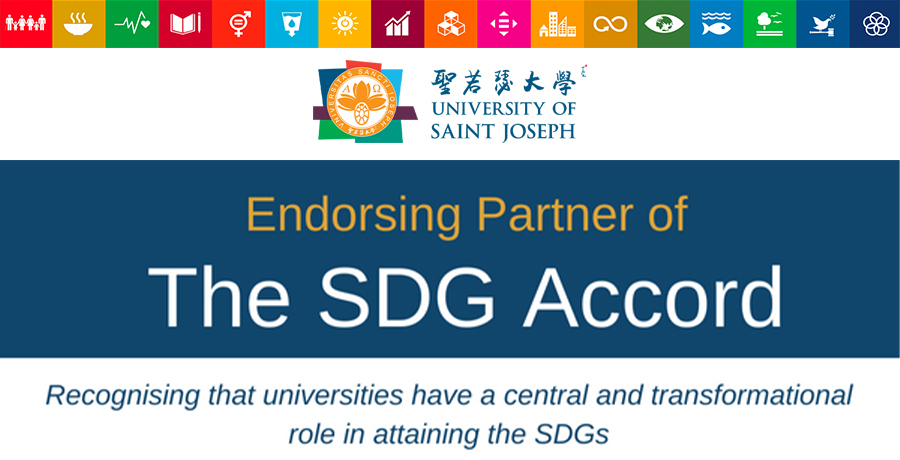 news
05/03/2021
The University of Saint Joseph (USJ) is now a signatory of the SDG Accord, accepting a key role in fighting global injustice and committing your institution to a central and transformational role in attaining the Sustainable Development Goals (SDGs) by 2030!
---
---
We signed the SDG Accord, have you?
The Sustainable Development Goals (SDGs) were proposed by the United Nations (UN) as an action plan to address complex social, economic, and environmental problems. The University of Saint Joseph is committed to doing its part, but recognises that we cannot do it alone, we need to establish partnerships to help us better contribute to tacking these issues.
The SDG accord is part of the university and college sector's response to the global goals. So far 221educational instructions, and 46 student associations from around the world have signed the accord. This network is facilitated by the Environmental Association for Universites and Colleges (EAUC), and supports topical discussion, wide collaboration and rapid communications, providing a means to share experiences, enhance collaboration, aid research, make new contacts and keep up to date with advancements in the SDG field.
The purpose of the SDG Accord is first, to inspire, celebrate and advance the critical role that education has in delivering SDG and the value it brings to governments, business and wider society. And secondly, to establish the commitment to do more to deliver the goals, to annually report on each signatory's progress, and to do so in ways which share the learning with each other education institutions, both nationally and internationally.
With that aim, we have shared data on our contributions to the different SDG for the first time this year; and we hope to continue to do so in the future. The results of data collected from signatories represent sector SDG reporting metrics that are presented at the annual UN High Level Political Forum.
Signing the SDG Accord marks our commitment to exchange knowledge and best practice to help embed SDGs in education.
View USJ SDG Accord Certificate >
Published March 5, 2011.
---