USJ 25th Anniversary Series | The Macao Orchestra's University Concert: Rhythm of Tango
event
USJ 25th Anniversary Series | The Macao Orchestra's University Concert: Rhythm of Tango
The Macao Orchestra's University Concert: Rhythm of Tango will be held on Friday, 5 November, at Auditório Centenário de Fátima.
---
---
The Macao Orchestra is performing at the University of Saint Joseph (USJ) as part of the USJ 25th Anniversary Series. Last season, the Macao Orchestra performed a concert on Baroque to Classic period, this time it will be Tango focused!
---
PROGRAMME:
Rhythm of Tango
Astor Piazzolla: Four, for Tango
Carlos Gardel: Por uma Cabeza
Astor Piazzolla: Adiós Nonino
Goran Bregović: Underground Tango
Jose Elizondo: Danzas Latinoamericanas
DETAILS:
Date: Friday, 5 November 2021
Time: 17:00 – 18:00 *
Location: Auditório Centenário de Fátima, University of Saint Joseph
* Reception starts at 4:30pm
* Seating is limited and on a first come, first served basis (free seating)
---
ABOUT THE MACAO ORCHESTRA:
The Macao Orchestra (OM) is a professional ensemble under the auspices of the Cultural Affairs Bureau of the Macao S.A.R. Government. OM is now a distinguished orchestra of Asia, performing Chinese and Western classics throughout the times. It has also played a key role in the music and cultural life of Macao residents and overseas audiences.
In 1983, Father Áureo de Castro of the St. Pious X Academy of Music and a group of music lovers founded the Macao Chamber Orchestra. In 2001, the Macao Chamber Orchestra was extended into an orchestra with double winds; it was renamed the Macao Orchestra. Today, it has developed into a medium-sized orchestra of around 50 outstanding musicians from more than ten countries and regions. In 2008, Maestro Lu Jia commenced his tenure as Music Director and Principal Conductor of the Orchestra, initiating the convention of "Concert Seasons" and in each season 90 different concerts and outreach programme would be held, presenting to the public, comprehensively and systematically, classics from both Western and Chinese.
The Orchestra collaborates regularly with numerous internationally renowned musicians, conductors and ensembles. In addition, OM has regularly been invited to perform in Mainland China and overseas, participating in the 2015 Austria Bruckner Festival as China's representative and attending the music festival "La Folle Journee au Japon" in Japan 2016. In 2017 and 2019, the Orchestra also participated in the "Belt and Road" International Music Season in Shenzhen. In celebrating the 40th Anniversary of the Establishment of Diplomatic Relations between China and Portugal and the 20th Anniversary of Macao's Return to the Motherland, OM made a Portugal tour in 2019, and in December of the same year, the Orchestra performed in the gala performance which celebrated the 20th anniversary of Macao's return to the motherland.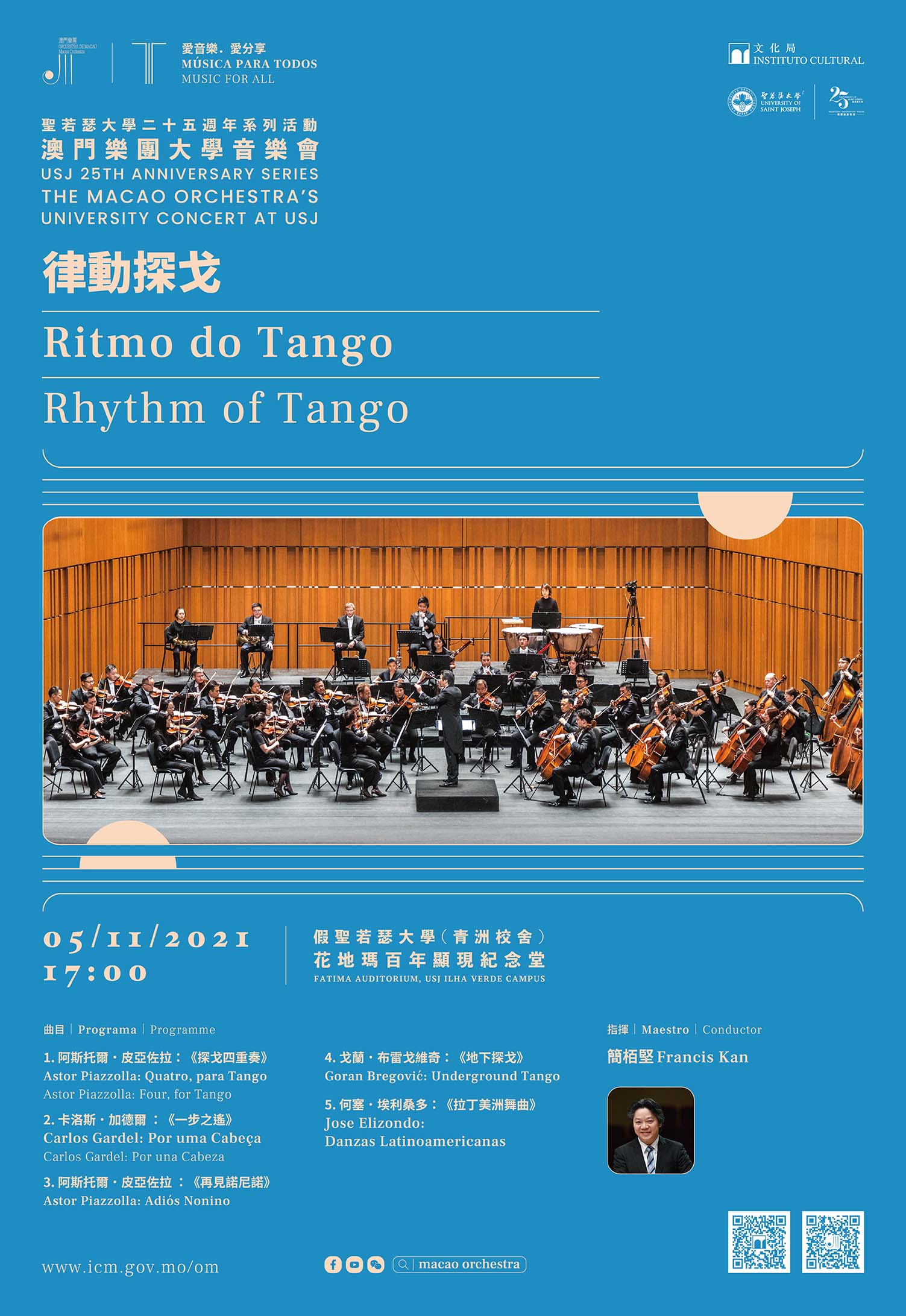 ---