Public Lecture | Start getting closer with the visually impaired students
event
Public Lecture | Start getting closer with the visually impaired students
The School of Education is holding a public lecture titled "Start getting closer with the visually impaired students" on May 8.
---
---
ABOUT THE TALK:
What is braille? Does every visually impaired person have to learn braille? Is braille outdated? Can screen reading software fully solve all the learning difficulties of the visually impaired students? How may we assist the partially sighted and/or low vision? Through the experiences shared by the speaker, this lecture aims to help the participants to know some ways to intervene the learning and life of the visually impaired.
ABOUT THE SPEAKER:
Mr. Eric LEONG Ka Chon
Mr. Eric LEONG Ka Chon, suffered from congenital glaucoma, became completely blind at the age of six. He received inclusive education in Macau since he was a child. He majored in psychology at university. He is currently working as a psychological counseling and activity coordinator at the Rehabilitation Centre for the Blind of the Macao Holy House of Mercy. Since June 2017, Mr. Leong has represented the Macao Holy House of Mercy as an appointed member of the Rehabilitation Affairs Committee of the Macao SAR Government, assisting the local Government in conceiving, implementing, coordinating and monitoring policies related to disability prevention, rehabilitation and social integration of the disabled. In 2019, he completed and was awarded a master's degree in counselling and psychotherapy.
Details:
Date & Time: Monday, 8 May, 2023 | 19:00 – 20:30
Location: Don Bosco Auditorium, USJ Ilha Verde Campus
Language: Cantonese
Moderator: Prof. Isabel Tchiang
Organised by: School of Education (SED) and Office for Students and Alumni Affairs (OSAA), University of Saint Joseph Macao.
---
*Free event, open to the general public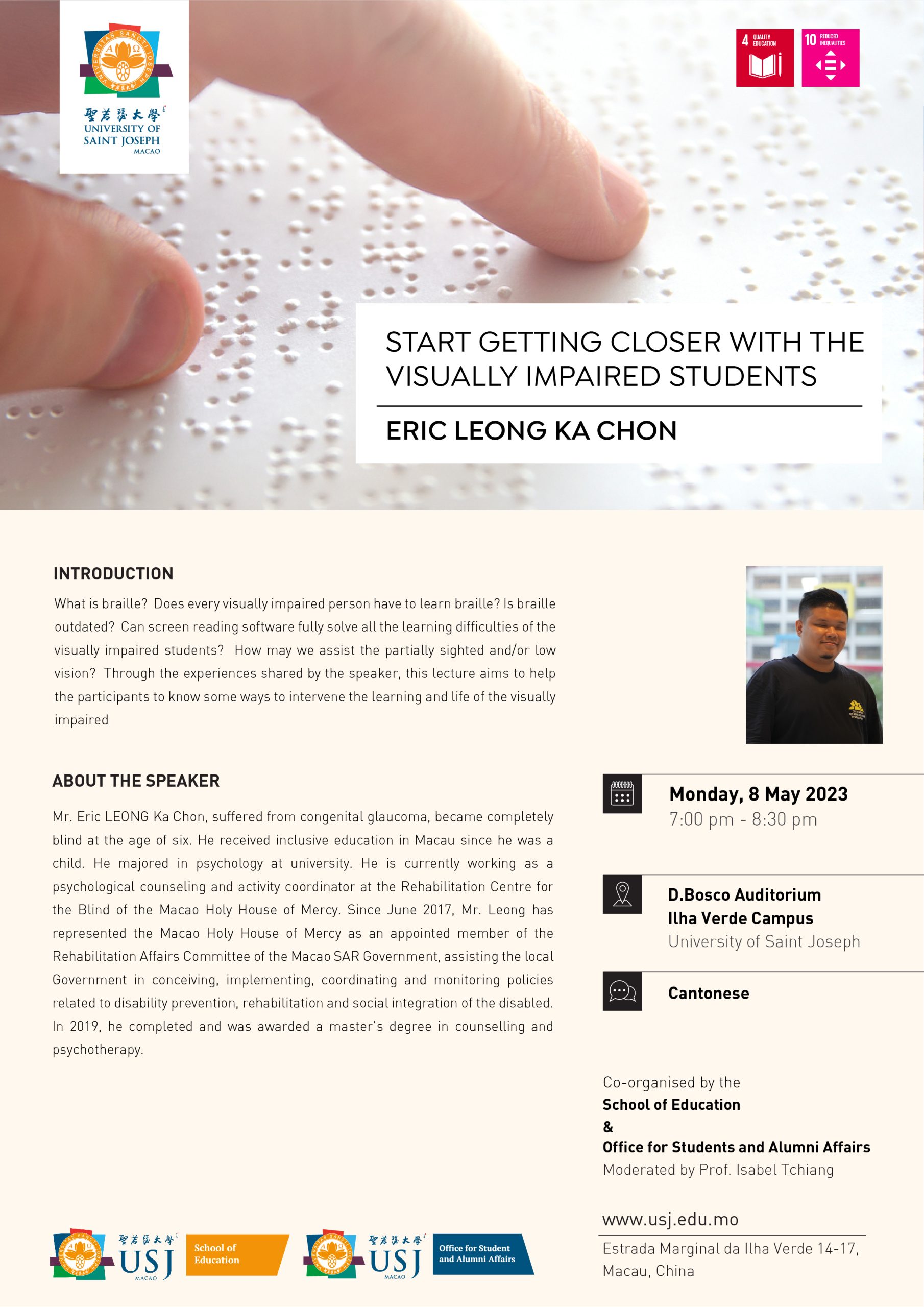 ---