ISE Science Seminar | Environmental and Ecological Characterization of Seagrass Halophila beccarii in Zhuhai, China
event
ISE Science Seminar | Environmental and Ecological Characterization of Seagrass Halophila beccarii in Zhuhai, China
The Institute of Science and Environment's Science Seminar "Environmental and Ecological Characterization of Seagrass Halophila beccarii in Zhuhai, China
" will be held on May 5.
---
---
ABOUT THE TALK:
Seagrasses are classified as higher flowering plants wholly submerged in coastal marine and estuarine waters. Today, there are only 72 species of seagrass have been identified in the world. Seagrass beds forms an important nursery habitat for marine wildlife in coastal ecosystem. As the global population of Ocean Turf Grass Halophila beccarii shows decreasing trend, together with its severer fragmented populations, this species has been listed as a vulnerable species on IUCN Red List. In Zhuhai (Guangdong Province, China), the distribution of H. beccarii is limited to a very small intertidal area at Tangjia Bay. Our research attempts to characterize the abiotic and biotic environment of seagrass beds at Tangjia Bay, the findings could help to plan the long-term conservation actions for seagrass H. beccarii in Zhuhai.
ABOUT THE SPEAKER:
Prof. Siu-Tai Tsim
Beijing Normal University-Hong Kong Baptist University United International College
Environmental Science Programme, Department of Life Sciences
Dr. Tsim received BSc and MPhil in Biology from the Chinese University of Hong Kong, recieved PhD in Biology from Hong Kong University of Science and Technology. He currently is the Associate Professor and Associate Head of Department of Life Sciences, serves as the Programme Head of Environmental Science in BNU-HKBU United International College (UIC) at Zhuhai.Dr. Tsim has long-term engagement in nature conservation. Before joining UIC, he was the Head of Ornithology Section in the Agriculture, Fisheries and Conservation Department of Hong Kong SAR Government (China), founder and manager of Fung Yuen Butterfly Nature Reserve, founding convener of the Swift and Swallow Research Group of the Hong Kong Bird Watching Society etc. Dr. Tsim is a strong supporter of the society, he has served as the Honorary President of Zhuhai Bird Watching Society since 2014. In academic community, Dr. Tsim is the editorial board member of journal "Environment and Ecology Research" and completed more than 30 projects in various areas including species (birds and butterflies) conservation management, habitat and conservation area management, biodiversity survey, bird ecological research, seagrass ecological research, environmental ecological impact assessment, and public environmental education etc.
DETAILS:
Date: Friday, 5 May 2023
Time: 18:00-19:00
Location: Speaker's hall, USJ NAPE Campus
Language: English
Moderator: Prof. Thomas Lei
Organised by: Institute of Science and Environment
Join with Zoom: https://us06web.zoom.us/j/89907088069?pwd=V3czYk93T3R1WVQ1ejNhVVdtaXBaQT09
Meeting ID: 899 0708 8069
Passcode: 000853
---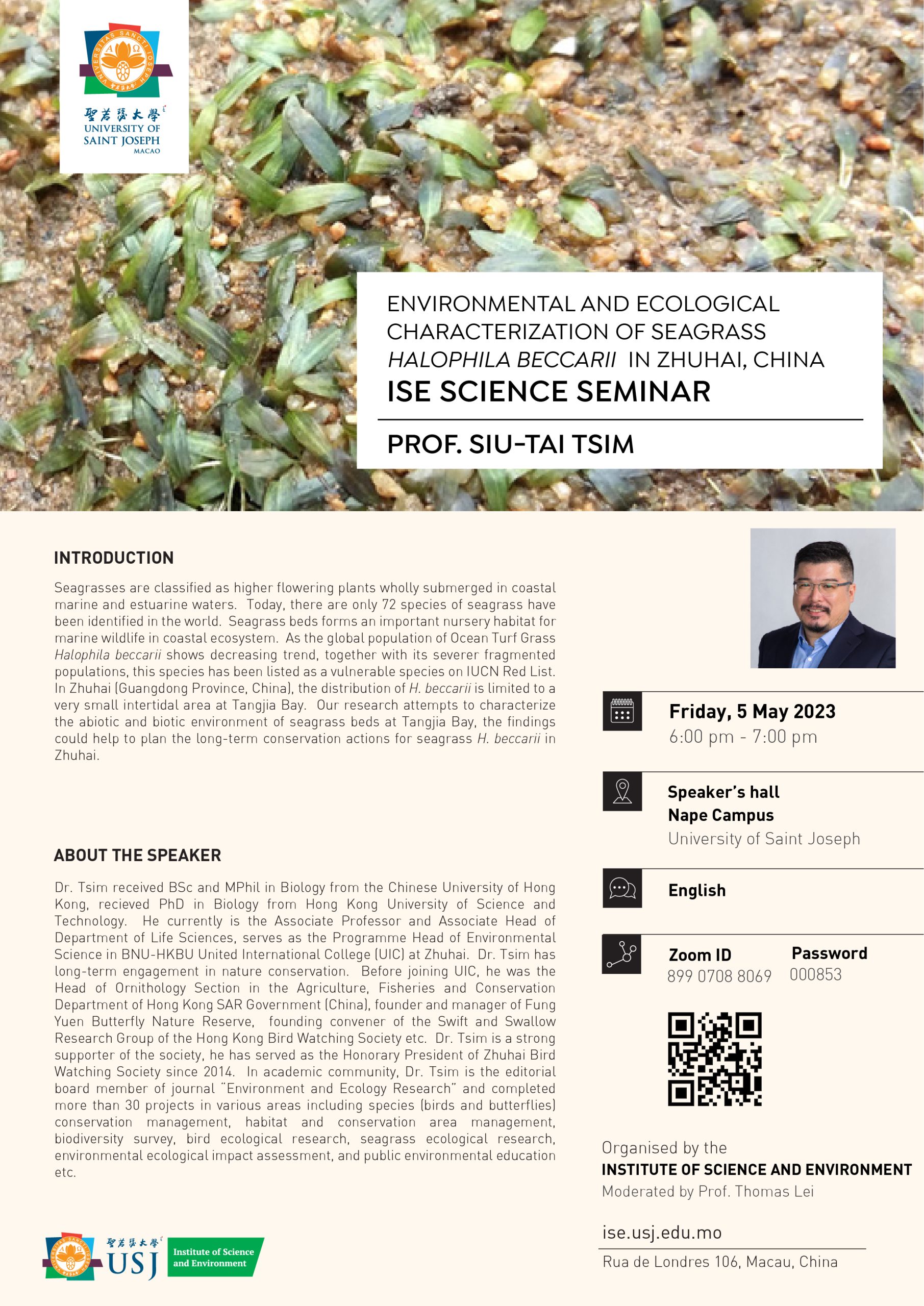 ---