Public Seminar – Human Resource Planning in Public Administration: Case of Macau
event
Public Seminar - Human Resource Planning in Public Administration: Case of Macau
The Faculty of Business and Law is hosting a Public Seminar titled "Human Resource Planning in Public" with Mr. Sou Chio Fai, policy planner in the Macau government, on the 15th of March.
---
---
About the Talk:
In response to society's growing needs and the continuing focus on citizen-centric public services, there is a strong need to understand better the importance of talent development and human resource preparation. This is not only true for the recovering economy of Macao and its human resources concerns of the SMEs; it also deals with the long-term well-being of the public administration of Macao SAR. In this talk, Mr. Sou will explore ideas within the context of human resource planning in public administration.
About the Speaker:
Mr. Sou Chio Fai, policy planner in talent development, education and youth affairs for the Macao SAR Government, served almost 10 years as Director of Youth and Education Bureau (DSEJ), and spearheaded the development of the Higher Education of Macau in the former Higher Education Bureau of Macau (DSES) as its director for another 10 years. He also served as the Secretary-General of the Talent Development Commission of Macao since inception until 2020, which laid the foundations of many programmes and policies we see in youth, talent and higher education development in Macao today.
---
Details:
Date: Monday, 15 March 2021
Time: 7.30 PM – 9.00 PM
Venue: Don Bosco Auditorium, USJ Ilha Verde Campus*
Organised by: Faculty of Business and Law
Moderate by: Prof. Emil Marques
*Due to high demand, our event will now take place in the Don Bosco Auditorium to accommodate more participants.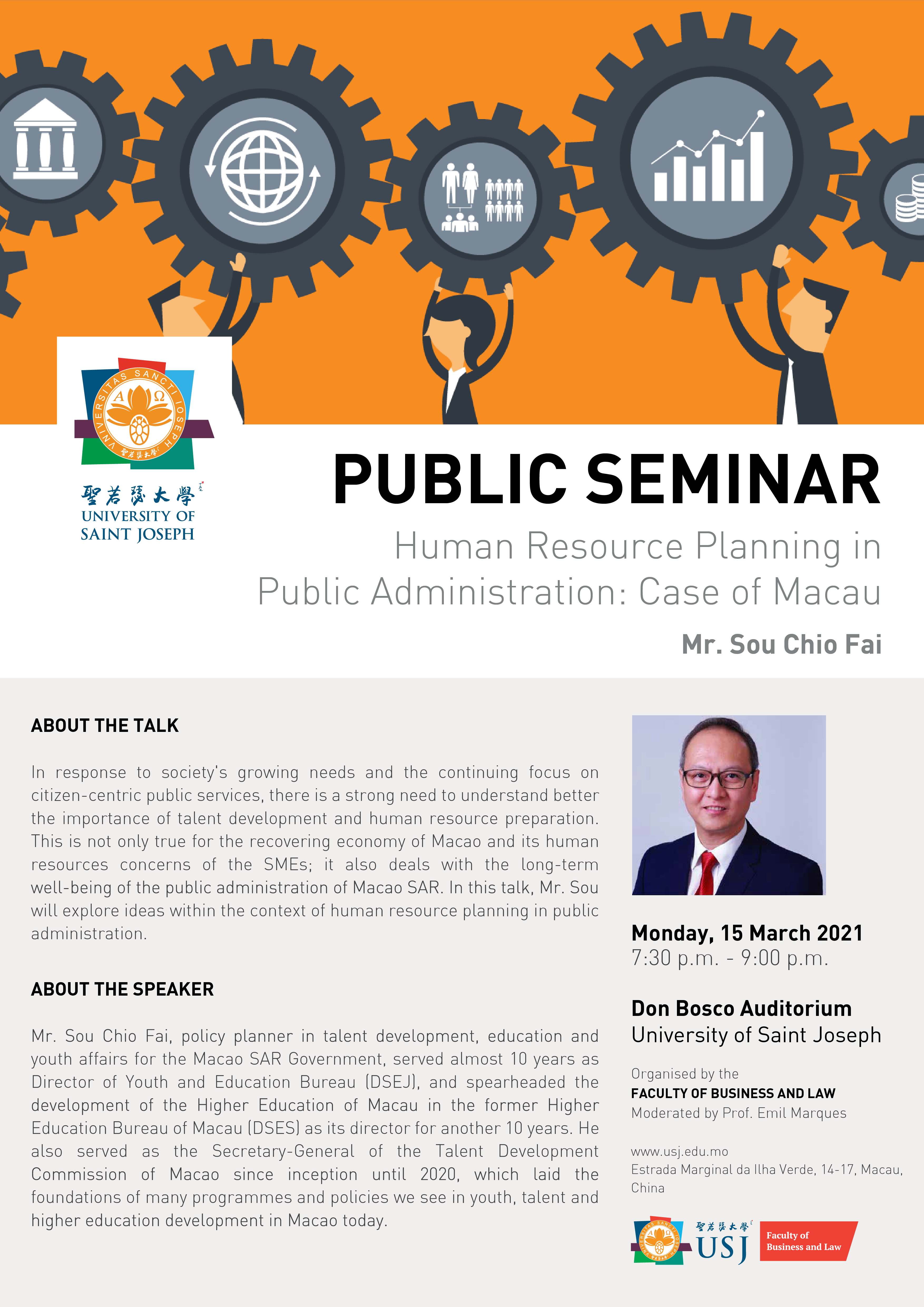 ---