Public Lecture: From Made in China to Designed in China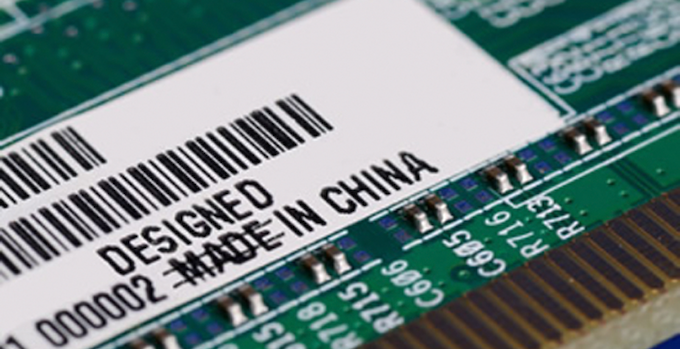 event
Public Lecture: From Made in China to Designed in China
Public Lecture: From Made in China to Designed in China by Faculty of Creative Industries on 5th May, 2016
---
---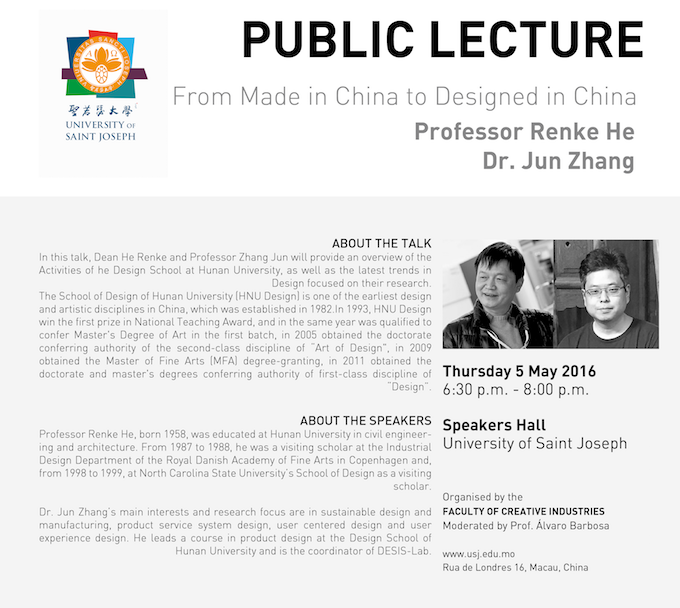 About the Talk:
In this talk, Dean He Renke and Professor Zhang Jun will provide an overview of the Activities of he Design School at Hunan University, as well as the latest trends in Design focused on their research. The School of Design of Hunan University (HNU Design) is one of the earliest design and artistic disciplines in China, which was established in 1982. In 1993, HNU Design win the first prize in National Teaching Award, and in the same year was qualified to confer Master's Degree of Art in the first batch, in 2005 obtained the doctorate conferring authority of the second-class discipline of "Art of Design", in 2009 obtained the Master of Fine Arts (MFA) degree-granting, in 2011 obtained the doctorate and master's degrees conferring authority of first-class discipline of "Design". HNU Design is director unit of the National College of Industrial Design Teaching Steering Committee, had excellent teaching conditions and take a leading position in the professional in the country. The Institute attaches great importance to international exchanges. In 2006 HNU join the international design art college alliance, and established close cooperation relations with Politecnico di Milano, Università degli studi di Roma La Sapienza, Turin Polytechnic University, design institute of Chiba university, Practice university school of design, Hong Kong Polytechnic University School of Design as well as Nokia, Motorola, Microsoft, Sony, Intel, Giugiaro design companies and other multinational companies. In October 2006, HNU School of Design was nominated as one of the world's top 60 design schools by the "Business Week".In November 2007, industrial design subjects was firstly named characteristics of professional subjects in the state-level, in 2008, Art and Design Experiment Teaching Center was named a National Experimental Teaching Demonstration Center, In 2009, become the state-level Art and design Personnel training base, in 2011, established the China-Italy Design and Innovation Centre (Hunan).
About the Speakers: 
Professor Renke He, born 1958, was educated at Hunan University in civil engineering and architecture. From 1987 to 1988, he was a visiting scholar at the Industrial Design Department of the Royal Danish Academy of Fine Arts in Copenhagen and, from 1998 to 1999, at North Carolina State University's School of Design as a visiting scholar. He is dean and professor of the School of Design at Hunan University in China and is also director of the Chinese Industrial Design Education Committee. Currently he holds the position of vice-chair of the China Industrial Design Association. From 2008 to 2012, he served as judge on the German Red Dot Design Award.
Dr. Jun Zhang's main interests and research focus are in sustainable design and manufacturing, product service system design, user centered design and user experience design. He leads a course in product design at the Design School of Hunan University and is the coordinator of DESIS-Lab. Jun is also the vice-director of the China-Italy Design Innovation Center (HUNAN).
After a one-year exchange for his research at Milan Polytechnic University in 2010, he co-founded the first sustainable design study platform in China together with Tsinghua University and has always been committed to promoting this field in his home country. Since 2012, Jun organized several workshops related to sustainable design, including the 3rd International Upcycling Design workshop sponsored by the British Council. He also has been active for the past 4 years in a joint cross-disciplinary research program together with researchers from the UK, US and China. This program focuses on bike-sharing systems in China, from a design, management and transportation planning perspective. Jun published 4 original research papers through this research.
---