Public Lecture: The Development of Cinema in Cape Verde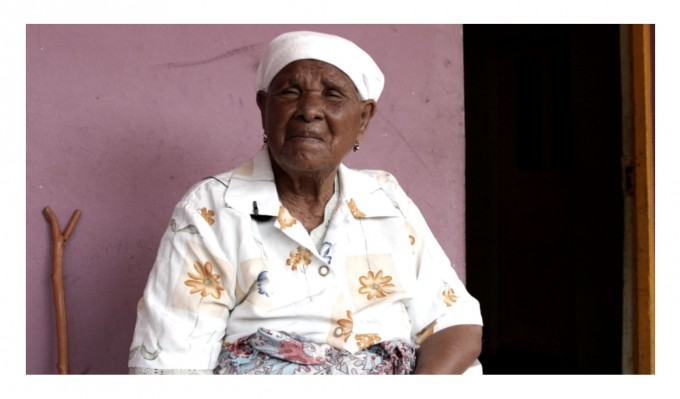 event
Public Lecture: The Development of Cinema in Cape Verde
On 23 May 2019, as part of the celebrations of the Africa Day, to be held on 25 May, USJ's FCI is organising a Public Lecture titled "The Development of Cinema in Cape Verde" by film director and producer Samira Vera-Cruz
---
---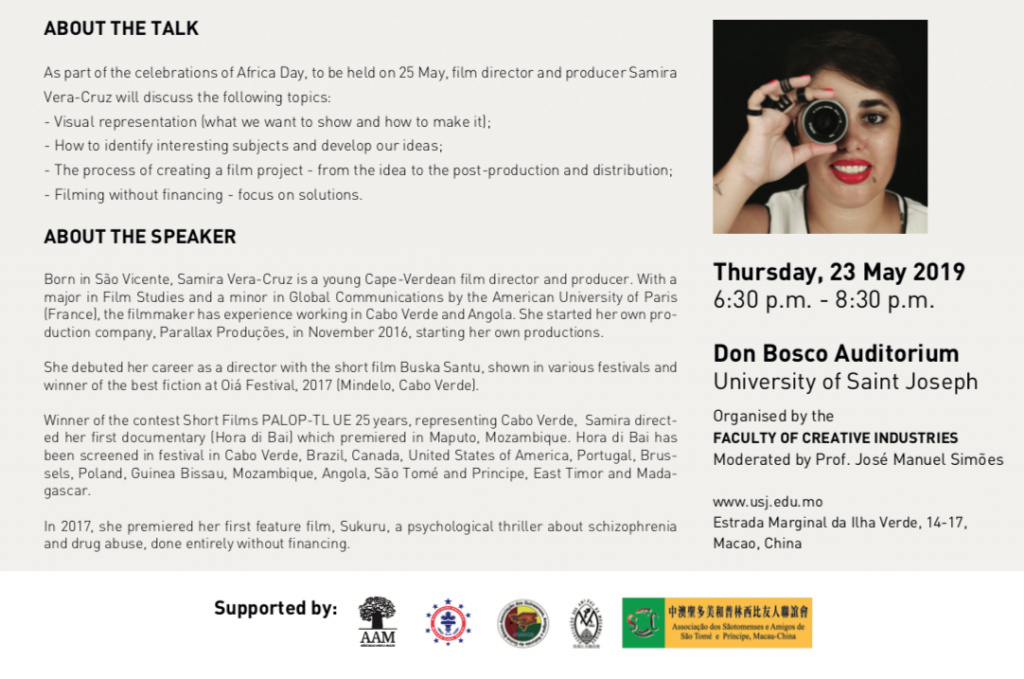 ABOUT THE TALK
As part of the celebrations of Africa Day, to be held on 25 May, film director and producer Samira Vera-Cruz will discuss the following topics:
Visual representation (what we want to show and how to make it);
How to identify interesting subjects and develop our ideas;
The process of creating a film project – from the idea to the post-production and distribution;
Filming without financing – focus on solutions.
ABOUT THE SPEAKER
Born in São Vicente, Samira Vera-Cruz is a young Cape-Verdean film director and producer. With a major in Film Studies and a minor in Global Communications by the American University of Paris (France), the filmmaker has experience working in Cabo Verde and Angola. She started her own production company, Parallax Produções, in November 2016, starting her own productions.
She debuted her career as a director with the short film Buska Santu, shown in various festivals and winner of the best fiction at Oiá Festival, 2017 (Mindelo, Cabo Verde).
Winner of the contest Short Films PALOP-TL UE 25 years, representing Cabo Verde, Samira directed her first documentary (Hora di Bai) which premiered in Maputo, Mozambique. Hora di Bai has been screened in festival in Cabo Verde, Brazil, Canada, United States of America, Portugal, Brussels, Poland, Guinea Bissau, Mozambique, Angola, São Tomé and Principe, East Timor and Madagascar.
In 2017, she premiered her first feature film, Sukuru, a psychological thriller about schizophrenia and drug abuse, done entirely without financing.
This activity is supported by: Associação Angola Macau; Associação de Amizade Macau – Cabo Verde; Associação dos Guineenses, Amigos e Naturais da Guiné-Bissau; Associação dos Amigos de Moçambique; Associação dos Sãotomenses e Amigos de São Tomé e Príncipe, Macau-China
For pictures of the event, click here.
---