Public Lecture: Aformal Armatures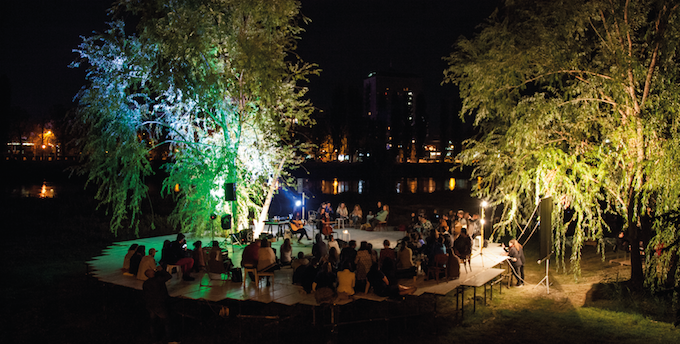 event
Public Lecture: Aformal Armatures
Public Lecture: Aformal Armatures by Faculty of Creative Industries on 3 March 2016.
---
---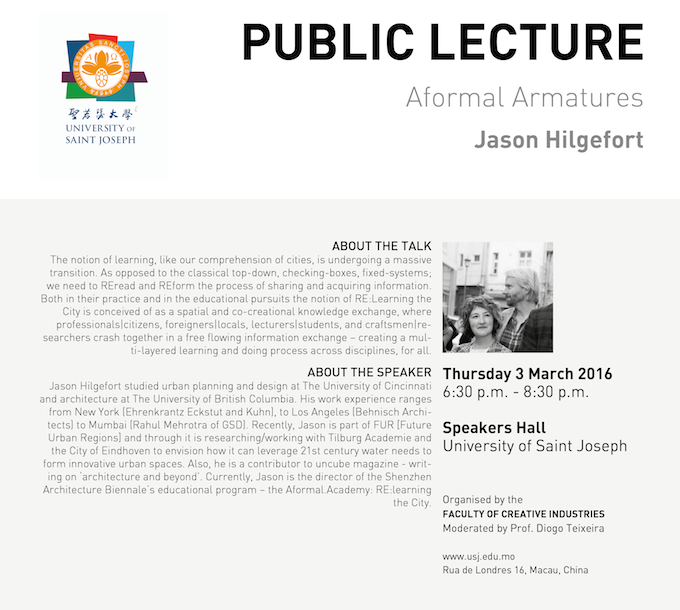 About the Talk
The notion of learning, like our comprehension of cities, is undergoing a massive transition. As opposed to the classical top-down, checking-boxes, fixed-systems; we need to REread and REform the process of sharing and acquiring information. Both in their practice and in the educational pursuits the notion of RE:Learning the City is conceived of as a spatial and co-creational knowledge exchange, where professionals|citizens, foreigners|locals, lecturers|students, and craftsmen|researchers crash together in a free flowing information exchange – creating a multi-layered learning and doing process across disciplines, for all.
About the Speaker
Jason Hilgefort studied urban planning and design at The University of Cincinnati and architecture at The University of British Columbia. His work experience ranges from New York (Ehrenkrantz Eckstut and Kuhn), to Los Angeles (Behnisch Architects) to Mumbai (Rahul Mehrotra of GSD). From 2000 to 2004 he worked with renowned New Urbanist and Sustainable innovator Peter Calthorpe. He joined Maxwan A+U in 2007, he was involved in the ongoing projects Moscow A101 and lead the projects for Central District Rotterdam and Barking Riverside in London. He was in charge of Maxwan's numerous competition victories – including Helsinki, Basel, Kiev, Brussels, Antwerp, Ostrava, Hannover, Magdeburg, and Kaunas. Jason won Europan 11 in Vienna. In 2012 he founded Land+Civilization Compositions for investigating issues of the built environment, ranging from daily objects, to infrastructures, to cultural research. Recently, Jason is part of FUR [Future Urban Regions] and through it is researching/working with Tilburg Academie and the City of Eindhoven to envision how it can leverage 21st century water needs to form innovative urban spaces. Also, he is a contributor to uncube magazine – writing on 'architecture and beyond'. Currently, Jason is the director of the Shenzhen Architecture Biennale's educational program – the Aformal.Academy: RE:learning the City.
Flickr Album here
---