Exhibition | Commute: University of Saint Joseph Design Student Graduation Project Exhibition 2016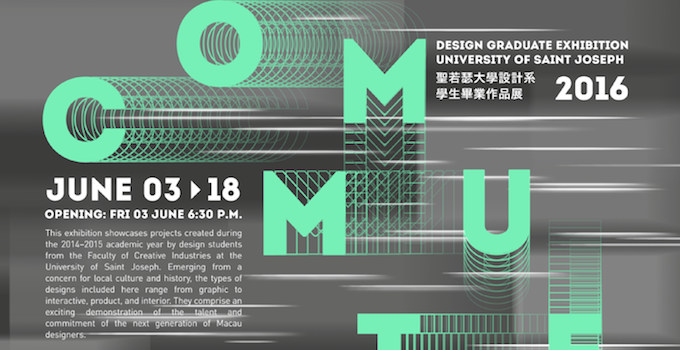 event
Exhibition | Commute: University of Saint Joseph Design Student Graduation Project Exhibition 2016
Exhibition | Commute: University of Saint Joseph Design Student Graduation Project Exhibition 2016 at Ponte 9 Creative Platform from 3rd June to 18th June 2016
---
---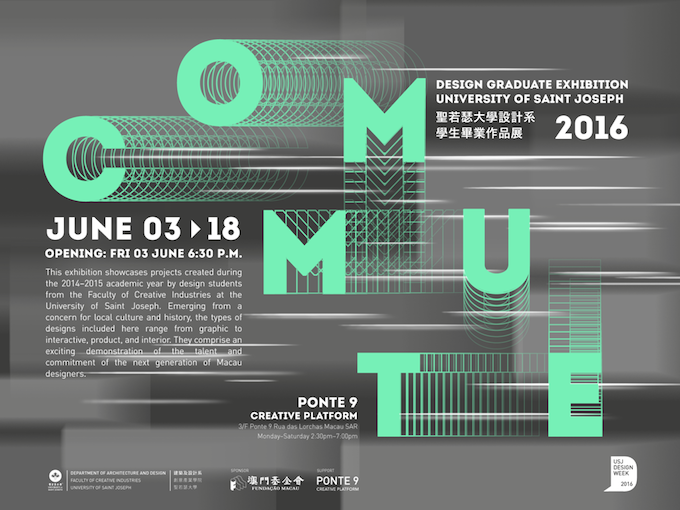 Commute
University of Saint Joseph Design Student Graduation Project Exhibition 2016
聖若瑟大學設計系學生2016畢業作品展「前進」
Opening: Friday, 3 June 2016 at 6:30 p.m.
Exhibition: 3–18 June 2016 (Monday–Saturday, 2:30–7:00pm)
Ponte 9 Creative Platform
3/F Ponte 9
Rua das Lorchas
Macau SAR
Organised by
Department of Architecture and Design
Faculty of Creative Industries
University of Saint Joseph
This exhibition showcases projects created during the 2015–2016 academic year by design students from the Faculty of Creative Industries at the University of Saint Joseph. Emerging from a concern for local culture and history, the types of designs included here range from graphic to interactive, product, and interior. They comprise an exciting demonstration of the talent and commitment of the next generation of Macau designers.
---