BOUNDLESS BAMBOO PAVILION OPENS
event
BOUNDLESS BAMBOO PAVILION OPENS
The Faculty of Arts and Humanities will hold the opening of The BOUNDLESS Bamboo Pavilion on 14 December 2022.
---
---
ABOUT THE ACTIVITY:
The BOUNDLESS Bamboo Pavilion, designed by third-year students of the Bachelor of Architectural Studies of the University of Saint Joseph (USJ), will officially open on Wednesday, 14 December, at the Ilha Verde Campus courtyard.
The latest iteration of the USJ architecture programmes' staple project – BOUNDLESS Bamboo Pavilion – will have its Opening Ceremony on Wednesday, 14 December 2022, at 5:00 pm. This ephemeral architectural structure is built on the long tradition of USJ bamboo pavilions, combining the vernacular bamboo techniques and local craftsmanship with the creativity and digital design skills of USJ third-year architecture students.
BOUNDLESS Bamboo Pavilion is a complex double-layer shell structure that proposes a dynamic spatial experience articulating a central Patio with a sinuous Gallery and an ample Community Hall. Its unique programme and inclusive concept of Boundless triggers curiosity and invites passersby to enter and discover its interior world – a temporary laboratory for sustainable design.
Under the framework of the United Nations Sustainable Development Goals (SDGs), students developed a thorough design process, from concept to design, construction and dissemination, creating a spatial opportunity for positive impact with close-to-zero waste and overall positive carbon footprint.
This communal space features two permanent exhibitions: "The Boundless Pavilion Exhibition" on the Patio, documenting the pavilion design process, and the "Manifesto to Design a Sustainable Macau" in the Gallery. This exhibition, developed by first-year design and architecture students, showcases a selection of proposals that aim to design for impact, tackling local challenges and at the same time contributing to implementing the SDGs in Macau.
The pavilion is open for activities by the USJ and the broader local community, standing as an invitation for cross-disciplinary collaboration, hosting exhibitions, lectures, workshops and other events. The BOUNDLESS Bamboo Pavilion is open to the public at USJ's Ilha Verde Campus, and all are welcome to visit during the University's opening hours.
---
Project Team:
Coordinator: Prof. Nuno Soares
Students: Bianca Dumsing, Vera Vong, Ana Samia, Loraine Raz, Katherine Zon, Maximas Wu, Leo Leong, Justin Wong, Jacky Cheong, Oscar Leong, Ian Ho, Paul Llanes, Evan Bertelsen
Technical Assistance: Prof. Filipe Afonso, Prof. Filipa Simões, Prof. João Brochado
---
DETAILS:
Event Opening Ceremony:
Date & Time: Wednesday, 14 December 2022, 5:00 pm
Location: Courtyard of the USJ Ilha Verde Campus
Exhibition:
Date & Time: Monday to Saturday, 9.00 am to 7.00 pm Closed on Sundays and Public Holidays
---
Organised by: Faculty of Arts and Humanities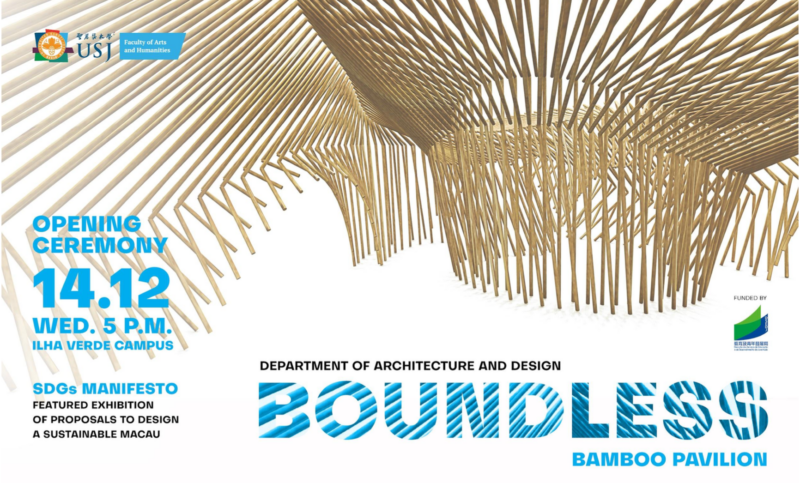 ---