1st National Flag Raising Ceremony on Saint Joseph Campus
680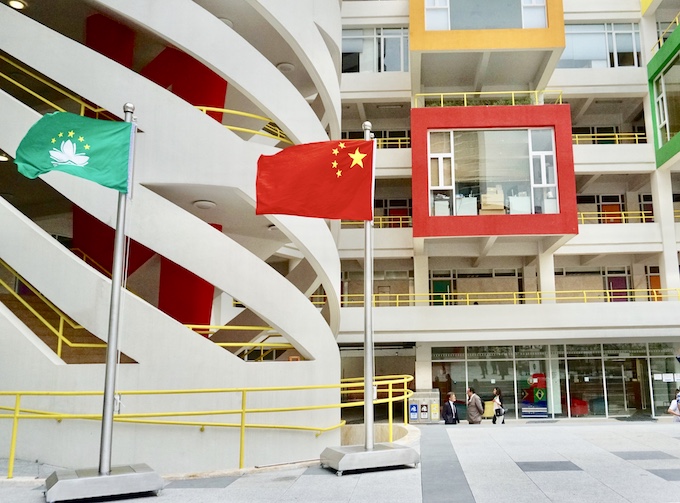 news
1st National Flag Raising Ceremony on Saint Joseph Campus
01/01/1970
1st National Flag Raising Ceremony on Saint Joseph Campus on 4th May 2018
---
---
The University of Saint Joseph (USJ) and Saint Joseph Diocesan Secondary School 6 (CDSJ6), held their first National Flag Raising Ceremony on Saint Joseph Campus at 8:15am on the National Youth Day (4 May 2018).
The ceremony began with a brief welcoming of the presiding guests Mr. Xue Xiaofeng, Deputy Director of Liaison Office of the Central People's Government and Ms. Sílvia Ho, Deputy Director of the Tertiary Education Services Office. Present at the ceremony includes also Mr. Hung Bo, Director of Department of Education and Youth Affairs of the Liaison Office, the Rector of USJ, Prof. Fr. Peter Stilwell, and the Principal of CDSJ6 Dr. Kio Su Iong.
Students, teachers, professors and staff from both USJ and CDSJ attended the ceremony, and it was the first time members of staff from both institutions participated in a Flag Raising Ceremony on the Ilha Verde Campus, as well as the first collaborative event between the two institutions on the Saint Joseph Campus.
Regarding the National Anthem and National Flag raising, the Rector of USJ, Fr. Peter Stilwell believes that"a flag and national anthem are the manner in which it is customary to symbolise a people and evoke its history and culture. The flag raising ceremony reminds us that the education we provide serves the common good of the Chinese people and the multicultural community China hosts in Macao."
---