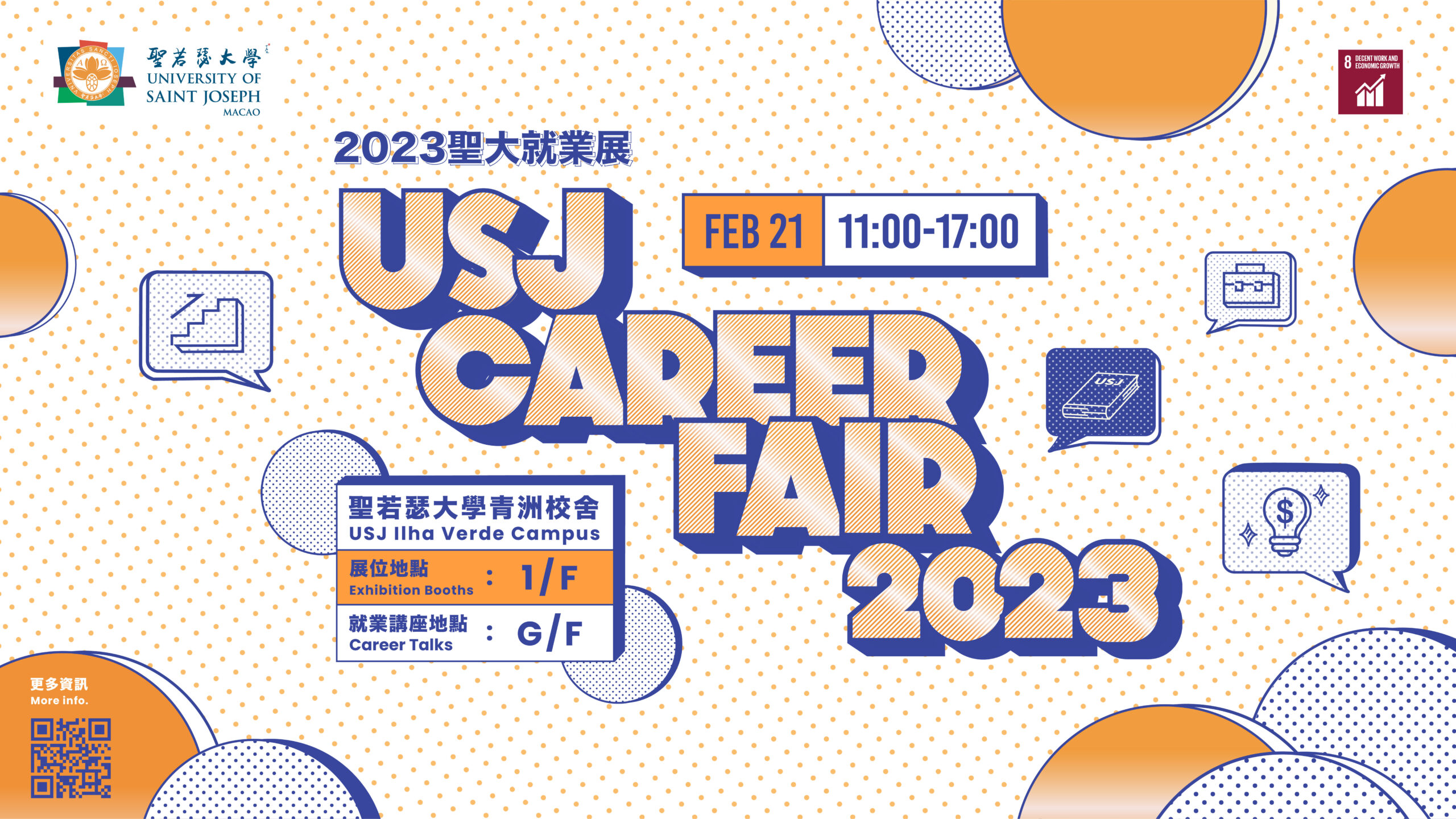 event
The USJ Career Fair 2023 is to be held on the 21st of Feb at the Ilha Verde campus.
---
---
This year, the University of Saint Joseph is organising its USJ Career Fair on the 21st of February from 11 AM – 5 PM, featuring 1,000+ jobs from around 30 enterprises and organisations for all its students and alums who are seeking job opportunities. The theme of this year is "Taking the Chance of Recovery – Entering the Workforce of the Career Opportunity".
DETAILS:
Date: 21st of February 2023
Time: 11:00 – 17:00
Location: USJ Ilha Verde Campus, 1/F
---
CAREER FAIR BOOTHS
The Career Fair booths are located on the 1/F of the Academic Building – Classrooms 101. 102, 104, 105.
USJ101:
USJ102
Education/Training
Social Services/Charity
USJ104
Banking
Public Services
Transportation/Logistics
USJ105
Food and Beverage
Insurance and Finance
Human Resources
Real Estate/Property Management
Retail
---
CAREER TALKS
All Career Talks will take place at the Don Bosco Auditorium located on the G/F of the Academic Building.  It is a free event and open to the general public.
---
CAREER TALK 1 | The Future of Finance and Economy in Macao and Hengqin
Time: 1:00 p.m. – 1:40 p.m (Macau)
Language: Cantonese
About the Speakers:
Miss FOK Nga Chi Associate Wealth Management Director and Assistant Unit Manager, LC District of AIA International Limited, and, Miss ZHOU ShuTing Assistant Unit Manager, LC District of AIA International Limited
---
CAREER TALK 2 | Empathy, Equity, and Excellence Empowers Everyone: Teaching and Learning Today for the World of Tomorrow
Time: 2:00 p.m. – 2:40 p.m (Macau)
Language: English
Today's students have faced challenges of uncertainty and the unknown over the past three years. Through all of this, however, they also represent the strength, resiliency, and determination needed to be the future of Macao and beyond. How can we as educators support the children of today for tomorrow's world and ensure the success of future generations of young learners? It is through empathy, equity, and the pursuit of excellence for each child that we can make a difference in their lives and prepare them for their lifelong journey.
About the Speaker:
Nick Chignall Elementary Vice-Principal, The International School of Macao
Nick Chignall is the Elementary Vice-Principal at the International School of Macao. He strives to have students develop socially, emotionally, cognitively, and physically through inquiry learning and views children as confident, capable, and active learners. Mr. Chignall believes a school is first and foremost a community of teachers, staff, and families that work collaboratively to provide the best possible environment for our children to grow and succeed. He believes that it is important for children to see themselves as part of a larger community and think about how their relationships and actions affect themselves, their community, and the world. Mr. Chignall completed his Bachelor of Education from the University of Toronto and has a Masters of Education in School Leadership and Administration from UNB as well as a Masters of Early Childhood Education from UBC. His areas of interest in education are culturally responsive teaching and how our context shapes community relationships and educational expectations.
---
CAREER TALK 3 | Youth Employment Talk
Time: 4:00 p.m. – 4:40 p.m (Macau)
Language: Cantonese
About the Speaker:
Mr. LAM Meng Po Employment Department of Labour Affairs Bureau
---